Detail Commercial Solicitors announces management restructuring
Summary
"This announcement gives me great pleasure because it speaks to organic growth with flavourings of longevity, diversity, and collegiality," said Ayuli Jemide, founder of DETAIL.
From left: DETAIL's new management Abiodun Oyeledun, Odunola Onadipe, Ayuli Jemide, Temidayo Ajayi-Bello, Chukwudi Ofili, and Dolapo Kukoyi
Detail Commercial Solicitors (DETAIL), a Nigerian leading firm of solicitors specializing exclusively in non-court room practice, has announced a restructuring in the firm.

In a statement sent to Financial Nigeria on Sunday, 5 September 2021, DETAIL said the founder and Lead Partner, Ayuli Jemide, will continue to Chair its Committee of Partners, with greater focus on client origination, high value transactions, talent growth, and building new practice areas.

Dolapo Kukoyi, a Partner at the firm where she has garnered 16 years' experience, is now the Managing Partner, taking over the role formerly held by the founder. The firm also announced its admission of three new partners: Abiodun Oyeledun, Temidayo Ajayi Bello and Chukwudi Ofili.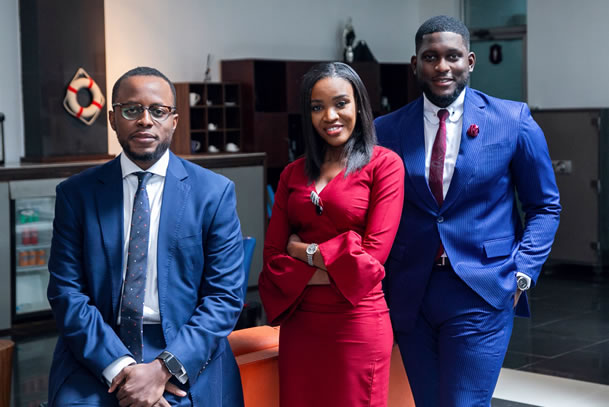 From left: DETAIL's new partners: Abiodun Oyeledun, Temidayo Ajayi Bello, Chukwudi Ofili

Erstwhile Lead Administrator, Odunola Onadipe, was elevated into a new role as Lead Interface Manager with greater business development, communication, and client interface responsibilities.

Apart from the founder, the four other Partners have a combined 42 years' experience working at the firm. They have all made remarkably distinct contributions to the growth of the firm, the statement said.

"This announcement gives me great pleasure because it speaks to organic growth with flavourings of longevity, diversity, and collegiality," said Jemide, who remains the Lead Partner of the firm. "The strength of any professional services firm are people who stay elastic in all dimensions."

On her part, Kukoyi, said: "I am enthused at the thought of building on DETAIL's ethos of efficiency in simplicity. I embrace this prospect of working with the team to grow an institution ready for the times ahead.

According to Oyeledun, DETAIL's diverse and savvy team is reputed for delivering outstanding client service with unique verve and flair. He added that he is inspired by what the future holds. On her part, Bello, said: "I enjoy the energy and enthusiasm at DETAIL. This now shifts into high gear as our wheels propel swifter to harness new opportunities." On being admitted to the firm's partnership, Ofili said that the DETAIL philosophy, identity and culture are strong brand propositions that will continue its chirp and tinkle. "I am elated to be a part of it all," he added.

Also commenting, Odunola Onadipe, said: "In my time at DETAIL, the firm's reputation for integrity and distinction have been strong pillars. I intend to leverage this and harness its benefits in my new role."

Based in Lagos, where it serves its diverse clients, DETAIL's practice specialties include Corporate & Commercial, Energy, Power & Infrastructure, Finance & Capital Markets, Legal Tax Advisory, Private Equity, Real Estate & Construction, and Technology & Digital Economy.

DETAIL has received various recognitions from influential, international bodies, including the following statement of validation from Chambers & Partners Global 2020: "I've found them extremely professional, focused on the details (as their name suggests), quick to respond and quite warm and pleasant to be engaged with. We have worked on a series of very detailed contracts with lots of potential manholes and I've found them to be patient, thoughtful, protective of our positions and creative in their solutions."

Find the link to the announcement video from DETAIL's YouTube channel: https://youtu.be/PhNHOj4HF4E