Recent projects of TCN in the Lagos region
Feature Highlight
About 30% of the energy generated in the country is being utilized in Lagos alone.
A new delivery of power transformer for TCN Lagos Region
The Lagos Region of Transmission Company of Nigeria (TCN) covers mainly Lagos State and some parts of Ogun State. Research statistics indicate that Lagos State alone has an estimated population of over 15 million people and about 30% of the energy generated in the country is being utilized in Lagos alone.

The Lagos Region comprises five Sub-Regions, namely Ikeja-West, Akangba, Egbin, Aja, and Papalanto. The Region has two major sectors, namely Transmission Service Provider (TSP) and Independent System Operation (ISO). The TSP, with its Regional Office located in the Ijora-Olopa area of Lagos, is headed by O.E.A. Ajiboye, while the ISO, headed by Joseph Johnson, has its Regional Control Centre at Ikeja-West. The Lagos Region has a total staff strength of 355.

The Region has nine 330/132kV and thirty 132/33kV transmission sub-stations. The sub-stations have a total wheeling capacity of 8,369MVA, made up of 3,960MVA on the 330/132kV level and 4,400 on the 132/33kV level. The Region interfaces with three Distribution Companies (Discos), namely Ikeja Electric (IE), Eko Electricity Distribution Company (EKEDC), and Ibadan Electricity Distribution Company (IBEDC).

Projects

The Region has several completed projects while many others are ongoing. The newly completed projects include the upgrading Egbin 330/132/33kV transmission substation with the installation of a new 60MVA, 132/33kV power transformer by TCN engineers.

On-going projects being handled by the Region are also numerous. However, ongoing projects being executed by the Project Monitoring Unit (PMU) arm of Transmission Company of Nigeria in the Lagos Region include the following: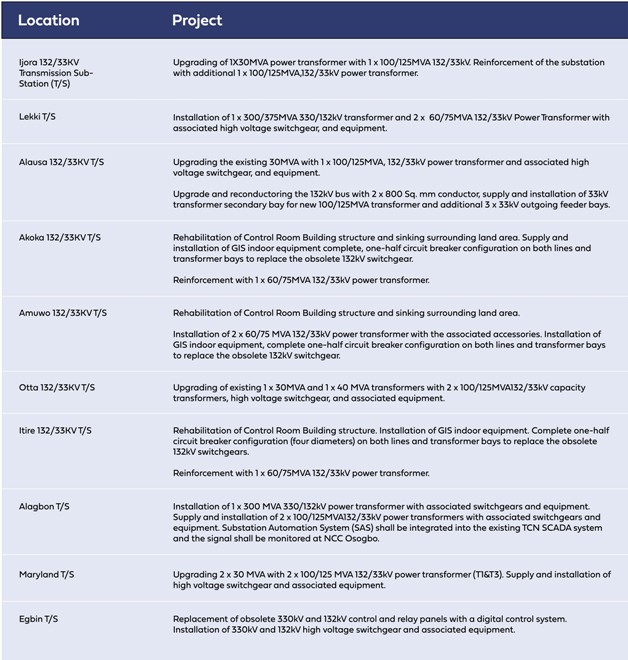 Right of Way Challenge

The Lagos Region is not spared the pervasive challenge of Right of Way encroachment that affects TCN operations nationwide. There are numerous cases of encroachment on transmission line routes throughout the Region, despite several measures to discourage the perpetrators. TCN, through the Regional Office, has engaged community leaders and their subjects severally, on the dangers of erecting structures under high tension power lines.
Quick Search for Upcoming Events
Event Categories