Latest News
Port Harcourt Region of Transmission Company of Nigeria
News Highlight
The Port Harcourt Region has eight 330/132kV Substations, including the largest switching station in Nigeria located at Ikot Ekpene.
Transmission Company of Nigeria MD/CEO Sule Ahmed Abdulaziz
The Port Harcourt Region of the Transmission Company of Nigeria (TCN) was created in June 2007, out of the Enugu Region. It covers two states in the South-East – Abia and Imo – and four states in the South-South – Akwa Ibom, Bayelsa, Cross River and Rivers – making a total number of six states.

Port Harcourt Region comprises four Sub-Regions and two Work Centres. These are Aba Sub-Region, Calabar Sub-Region, Afam Sub-Region, Port Harcourt Sub-Region, Owerri Work Centre, and Uyo Work Centre.

The Region interfaces with Port Harcourt Electricity Distribution Company (PHEDC) and Enugu Electricity Distribution Company (EEDC).

The Port Harcourt Region has eight 330/132kV Substations, including the largest switching station in Nigeria located at Ikot Ekpene, and eighteen 132/33kV Substations. These Substations collectively have a wheeling capacity of 3,318.8MW.

The Region exports/imports electric power to and from the grid through these circuits: T4A Onitsha-Alaoji 330kV Transmission line, F1A and F2A Afam-Alaoji 330kV Transmission lines 1 and II, Odukpani-Ikot Ekpene 330kV Transmission lines I and II, and Ikot Ekpene-Ugwaji 330KV lines I, II, III, IV.

Staff Strength

TCN's Port Harcourt region has a total number of 235 staff, with Inugonum Thomas as the Regional Transmission Manager (RTM), and Mike Nwagu as the Regional Operation Manager (ROM).

Projects

In a bid to achieve TCN's vision to transmit electricity in the most efficient and effective manner, several projects have been completed in the Region, while others are ongoing. The recently completed projects include perimeter fencing in the Regional office, Calabar, Afam and Owerri sub-regions, rebuilding of Elelenwo vandalized transmission lines, rehabilitation of 75MX reactor at Adiagbo, installation of 75MX reactor at Ikot Ekpene, installation of T2 33kV circuit breaker in Aba, rehabilitation of DO7 diameter done in house by CHQ and Afam Sub-Region crew in Afam 5, 330kV switchyard that has been out due to fire outbreak in 2017. This diameter will evacuate 138MW energy generated from GT 20.

The ongoing as well as proposed projects within the Region include: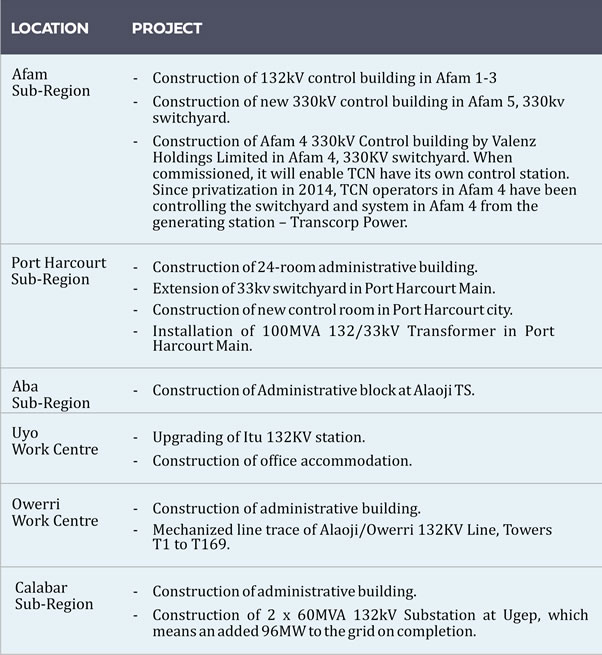 Vandalism

The Port Harcourt Region is one of the hotspots for vandalism. On April 8th, 2022, T104 Odukpani/Ikot Ekpene line was vandalized and led to a major outage for over two weeks in Akwa Ibom and some parts of Cross River states.

TCN rapidly responded to the situation by reconstructing the tower and reinforcing tower members that were affected. Other cases of vandalism include Afam and Onne 330KV DC lines and Towers T19, T20, T21, and T22. However, both lines are still under the supervision of the contractor.

In April 2022, Owerri/Ahoada 132KV DC lines T212, T213, T216, T218, T202, T199, T204, T210, T211 and T217 were vandalised but the tower members vandalised have been replaced. In July 2022, Afam IPP/Elelenwo 132KV DC lines T40, T43, T52, and T143 were also vandalised. In October 2022, Afam IPP/Elelenwo 132KV D/C Lines T42, T51, T46, T54 were vandalised.

Also, there was an instance of erosion on T18 Owerri/Ahoada 132KV Line as of the 14th of October 2022. The erosion was caused by excavation around the tower site.

Encroachment

TCN Lines Right of Way is heavily encroached in this Region. Illegal structures have been built on the Right of Way and at tower bases. These encroachment sites include:

• Afam/Alaoji 132KV DC lines: Tower T1, T2, T3 and T4 – building encroachment.
• Afam/Alaoji 132KV DC lines: Towers, T50, T52, T53 – oil bunkering.
• Afam/Alaoji 132KV DC lines: Towers, T67 and T68 – sand mining.
• Afam/IPP 132KV DC lines: Towers T1, T2, T3 to T9 – building encroachment.

It is hoped that encroachment on TCN Right of Way will become history. The Management plans to enact a committee for the Monitoring and Reduction of Encroachment on TCN Right of Way.
Related News
Macroeconomic analysis by global firm Tellimer Research shows upswings in Nigeria's interest and foreign exchange rates in ...

Investment to enhance capacity and expand coverage of the 4G network in Lagos and Ogun States.

The Bauchi Region has many completed, ongoing, and proposed projects.
Quick Search for Upcoming Events