Latest News
Macro analysis says the sky is likely the limit of the naira exchange rate
News Highlight
Macroeconomic analysis by global firm Tellimer Research shows upswings in Nigeria's interest and foreign exchange rates in two charts reproduced below.
Governor, Central Bank of Nigeria, Godwin Emefiele
Macroeconomic analysis by global firm Tellimer Research shows upswings in Nigeria's interest and foreign exchange rates in two charts reproduced below.

In a brief note shared with Financial Nigeria, Tellimer Research's Senior Economist Patrick Curran, said there has been a series of notable developments in interest and exchange rate realms since the Central Bank of Nigeria (CBN) hiked its policy rate and Cash Reserve Ratio (CRR) last September.

"Firstly, we have highlighted how, since the bifurcation of the OMO and NTB markets in October 2019, Nigeria's broken monetary policy transmission mechanism has led to a sharp divergence between the CBN's policy rate and prevailing yields in the primary and secondary markets," Curran notes. "However, the yield on Nigeria's 12-month T-bills has doubled to c17% from c8.5% in late September, as measured by the Nigerian Interbank Treasury Bills True Yield (NITTY), or 15.3% when measured by the T-bill maturing 26 October 2023, bringing market rates more or less in line with the CBN's 15.5% policy rate."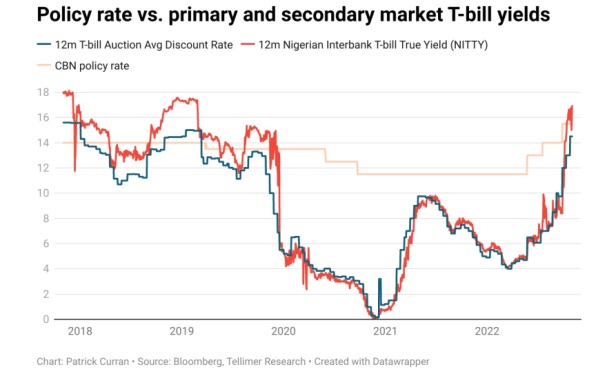 He said the rate increase has been driven by a number of factors, including the recent policy rate and CRR hike and rising inflation – which hit a 17-year high of 20.8% year-on-year in September. Other factors include the likelihood of greater domestic borrowing in the future due to the 2023 expansionary budget and plans to end monetisation of the deficit. Also mentioned as a driver of rate rise in Nigeria is the rising global interest rates. On Wednesday, the US Federal Reserve hiked interest rate by another 75bps. Fed Chair Jerome Powell said that the reserve bank still has "some ways to go" in its fight against inflation and may have to push rates to a higher terminal rate than previously expected, albeit possibly at a slower pace.

"In any case, after several years of artificially low yields due to weak monetary policy transmission and market distortions, Nigeria's government debt yields have finally capitulated to fundamentals," Curran wrote. "The rise in yields is welcome, but further increases may still be needed with 12-month T-bills still yielding between -4% and -5.5% in real terms."

The analysis noted that on the exchange rate front, the naira has continued to sell off sharply in the parallel market. From N725/US$1 at the end of September and N760/US$1 just a week ago, the exchange rate of the naira has exploded to somewhere between 820-N850/US$1 on the parallel market on Wednesday. With the official exchange rate inching up to N443/US$1, this represents a parallel premium of circa 85-90%, exceeding the previous high of 77% in May 2016.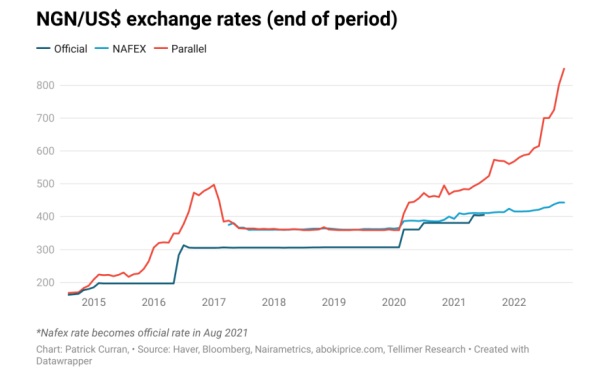 "While we have previously outlined some of the key factors driving the naira's parallel market depreciation, the more recent sell-off has been driven by the CBN's demonetisation plans announced last week," Curran noted. "As we predicted at the time, this has generated an environment of panic buying as holders of the soon-to-be-retired notes scramble to convert them to FX ahead of the 31 January 2023 deadline, echoing the large disruptions witnessed when India tried to implement a similar policy in 2016."

According to the research note, the naira will remain under pressure in the parallel market until the exchange rate regime is liberalized – something it says is unlikely before the February 2023 elections. "Until then, the sky is the limit for the parallel exchange rate, which continues to set new records by the day and is on pace to break through the psychological threshold of 1000/US$ imminently if something is not done to arrest its fall, intensifying the vicious cycle of panic buying and depreciation."
Related News
Elevated risk aversion amid increasing energy prices, heightened geopolitical and inflation risks, and tightening monetary ...


Addressing other issues, the CBN Governor Godwin Emefiele noted that the deadline for phasing out old naira notes would ...

The company has an infrastructure reach in over 34 African countries, including Nigeria, Uganda, and South Africa.