As Africa's free trade area enters its third year of operation
Feature Highlight
Despite some progress in its implementation, macroeconomic challenges have put AfCFTA on the backfoot since its operational launch two years ago.
A view of AfCFTA Secretariat's front office in Accra, Ghana
The African Continental Free Trade Area (AfCFTA) launched its operation in January 2021, nearly three years after African Union Member States meeting in Kigali signed the free trade agreement. Now in the third year of its operation, AfCFTA is still in its operational infancy. But the initiative requires more than time to fulfil its promise of boosting cross-border trade in goods and services made in Africa.

In 2017, trade between African countries was 17 percent of the continent's cross-border trade. This compares poorly with other regions of the world. For instance, trade between European countries accounted for 69 percent of the region's total trade. And intra-Asian trade was 59 percent of the region's total trade. By creating a single market of over 1.3 million people in 54 countries, AfCFTA can catalyse up to threefold increase in intra-African trade, creating employment and fostering regional prosperity to drive down the high rate of poverty on the continent. Indeed, it is estimated that Africa will have a combined consumer and business spending of $6.7 trillion by 2030 and $16.12 trillion by 2050, if AfCFTA is well implemented.

Challenging first two years

The global supply chain was just rebooting in January 2021 after the Covid-19 pandemic had crippled it over the previous nine months. While the monetary response to the pandemic had tended to be inflationary, Russia's invasion of Ukraine early in 2022 started to stoke sharper price increases for primary, intermediate, and consumer goods, especially food and energy, globally.

Resultant inflation rates at high levels unseen by the U.S. and Western Europe in decades set off the current cycle of interest rate hikes by the U.S. Federal Reserve and the European Central Bank – with other central banks similarly adjusting their policy-setting interest rates. Such a move in the U.S. tends to trigger global financial instability, spurring financial outflow in emerging markets and developing economies and subjecting the value of their currencies to downward pressures. This was the case for many African economies in 2022.

Many African countries have also been grappling with high levels of debt and debt-service cost. The dire fiscal condition caused rating downgrades for Nigeria, thereby limiting the country's ability to raise dollar debt and therefore slowing public investment. The spillover effects on domestic private investment, consumption, and foreign investment inflows have seen lower projection of the country's GDP growth.

These macroeconomic challenges have put AfCFTA on the backfoot since its operational launch two years ago. Broader economic data that the free trade area is expected to start to improve, including poverty and employment, has worsened. Nevertheless, the prospects of AfCFTA are not diminished, even if they are becoming harder to realise within the initial time horizon.

Progress already made

The AfCFTA is a game-changing initiative, notwithstanding its teething challenges. It has been hailed as creating the largest free trade area in the world by the number of countries participating in it. But irrespective of the potentials, there are serious tasks to be accomplished in order for AfCFTA to be successful. Some of the real work to be done are being attended to. A functioning AfCFTA Secretariat opened in Accra, Ghana in August 2020. The AfCFTA Initiative on Guided Trade has also been launched, covering products including ceramic tiles, batteries, pharmaceuticals, palm kernel oil, rubber, avocados, horticulture, tea, and components for air conditioners. The initial participating countries were Ghana, Tunisia, Egypt, Cameroon, Rwanda, Kenya, Tanzania, and Mauritius.

The Secretariat has been consulting with stakeholders, including business leaders, women, and youth. Last November, the inaugural AfCFTA Business Forum was held to provide a public-private platform to unlock trade and investment opportunities on the continent. The next meeting is slated to hold in March 2023 in South Africa. The Secretariat has also launched its efforts at developing the AfCFTA Protocol on Digital Trade.

Many African heads of state have been actively involved in promoting AfCFTA among themselves and to external parties, somewhat indicating high-level political commitment to the initiative. In the respective member countries, including Nigeria, governments are implementing or devising initiatives to ensure effective participation in the continental free trade area.

Not unexpectedly, African Export-Import Bank (Afreximbank) has also taken a leading role in enabling the operation of AfCFTA to gain traction. It launched the Pan-African Payment and Settlement System (PAPSS) in September 2021, describing the initiative as a revolutionary financial market infrastructure to enable instant, cross-border payments in local currencies between African markets, thereby reducing the dependency on hard currencies for such transactions. Last year, the African multilateral trade finance institution also renewed the approval of a $1 billion facility to operationalise the AfCFTA Adjustment Funds, as well as approved grant funding in the amount of $10 million to seed the Base Fund of the AfCFTA Adjustment Funds. Crucially, the Base Fund is aimed at helping to mobilise grants to address tariff revenue losses and to support AfCFTA State Parties to implement the various protocols under the free trade area.

Contribution by NEXIM Bank

The Nigerian Export-Import Bank (NEXIM Bank) is the country's trade policy bank and the sole export credit agency of the Federal Government of Nigeria. A major contribution the bank is making towards developing capacity for the country to harness the opportunities of AfCFTA is its facilitation of the Sealink project. Sealink aims to provide direct maritime links for the movement of Nigerian cargoes within the country and to other African countries. One of NEXIM Bank's latest milestones towards the operational launch of Sealink was its facilitation of the charting of the main channels of the River Niger and River Benue in 2021. As part of their collaborations on trade facilitation in Nigeria, NEXIM Bank and Afreximbank provided $400,000 and $350,000 grants, respectively, for completing the financing of the barthymetric survey and hydrograhic and hydrological studies of the lower Niger and Benue rivers to make them safe for navigation.

Until Sealink and other similar initiatives come on stream, the absence of maritime infrastructure to provide direct shipping connectivity for transporting cargo within and across African borders will continue to limit intra-African trade, making it cost uncompetitive and time consuming.

On enhancing access to finance, especially for MSMEs, NEXIM is also collaborating with Afreximbank to promote a legal and regulatory framework for factoring services in Nigeria. Factoring refers to a financial transaction and a type of debtor finance in which a business sells its accounts receivable to a third party at a discount, thus improving liquidity to suppliers who in many cases are producers. A factoring bill being supported by both trade finance institutions in collaboration with other stakeholders like the CBN FSS2020 is pending passage by the National Assembly in Abuja.

These efforts are in addition to the export financing being offered by NEXIM, either from its operational funds or under the special export development funds it is managing on behalf of the Central Bank of Nigeria. NEXIM is also working with stakeholders – including Manufacturers Association of Nigeria Export Group (MANEG), commodity associations, and sister agencies – to raise awareness, improve financing, and mobilise support for Nigeria's non-oil exports.

Litmus tests

Despite the efforts to get AfCFTA off the ground, the initiative is facing litmus tests. The first and perhaps most formidable is political will by African leaders to really collaborate to make AfCFTA work. The weak number of participants in the AfCFTA Initiative on Guided Trade highlights the lack of agility to get things moving very quickly. The concern is that many African countries are stuck in macroeconomic quagmire and are having to prioritise short-term challenges over long-term opportunities provide by AfCFTA.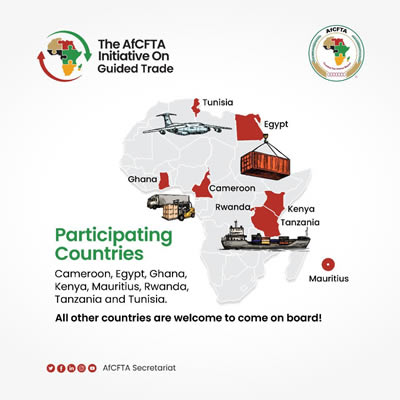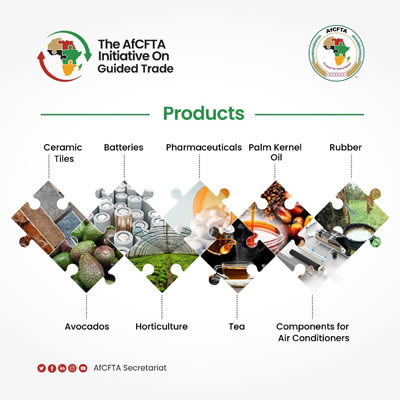 Second, subregional trade blocs like the East African Community (EAC) and the Economic Community of West African States (ECOWAS) may be taking precedence over AfCFTA. The Secretary General of EAC, Peter Mathuki, recently announced that trade within the bloc is on an upward trajectory, reaching $10.17 billion in September 2022, as members states demonstrated political will and as Covid-19 restriction were relaxed in the region. These blocs remain small markets and therefore have limited attraction for investment compared to the continental market.

Third, the U.S. and China see Africa as a frontier for their geopolitical contest and influence. Given the competitive attention from the world's two largest economic powerhouses, African leaders will be tested on their ability to focus on the continental trade agenda and not be distracted by countries that historically prioritise their own interests when not exploiting Africa in their engagements. Maintaining the necessary self-focus may have become harder for Africa as the continent that is very well endowed with natural resources has grown so needy and reliant on external support. So far, the more 'foreign assistance' Africa gets, the more of it it still needs.

Fourthly, Africa's transport infrastructure deficit is huge. Yet, we have not seen enough commitment to address it within and across the countries. In Nigeria, government should support efforts to get the Sealink project to launch without further delay to complement the progress being made with the launch of Lekki Deep Sea port. Without direct shipping connectivity, and wider development in the transportation sector, intra-African trade will be fraught with high cost and time-consuming trans-shipment arrangements that will see goods originating from Lagos first shipped to Singapore or Antwerp before making their way to their destination port in Mombasa.

And fifth, Many African countries are debt-stressed. But they can change the narrative of their dependency on aid and foreign assistance by managing their available resources more efficiently and prioritising areas where they can make progress and attract foreign investment partnerships to scale up industrialisation. Such areas include energy, agro-industries, and pharmaceuticals.

Conclusion

In a telling anecdote, the former Secretary General of the United Nations Conference on Trade and Development (UNCTAD), Mukhisa Kituyi, said new clothing exported from Kenya to the U.S. under the AGOA initiative were being returned to Kenya as used clothes. This suggests that Africa is the market for many African merchandise. Africa now needs to prioritise intra-African trade and avoid the distraction of superficial external trade partnerships.

Jide Akintunde is Managing Editor of Financial Nigeria and Director, Nigeria Development and Forum. Article was first published in the Intra-African Trade column of Financial Nigeria magazine (Feb. 2023 issue) supported by Nigerian Export-Import Bank.
Quick Search for Upcoming Events
Event Categories