Will the ECOWAS single currency see the light of day?
Feature Highlight
If well implemented, with realistic timelines, the Eco should have the real potential of stimulating intra-regional trade, investments, and ultimately economic growth and development.
ECOWAS headquarters, Abuja
Introduction

At the 56th Ordinary Session of the Authority of the Heads of State and Government of the Economic Community of West African States (ECOWAS), which held on December 21, 2019 in Abuja, leaders of the 15 member countries adopted EC as the symbol of the ECO – the proposed West African common currency. The leaders also adopted the Central Bank of West Africa (CBWA) as the name of the ECOWAS Central Bank.

In his opening remarks, President Mahamadou Issoufou of Niger Republic, who is the Chairman of ECOWAS Authority, noted that significant progress had been made by member countries in achieving the convergence criteria for launching a single currency in the region. The bloc said it aimed to launch the Eco in 2020.

Later on that same day, President Alassane Ouattara of Cote d'Ivoire announced that his country and the other countries in the West African Economic and Monetary Union (also known by its French acronym, UEMOA) had agreed to make three major changes. He made the announcement in Abidjan during a visit by French President, Emmanuel Macron, stating that Cote d'Ivoire, Benin, Burkina Faso, Guinea-Bissau, Mali, Niger, Senegal and Togo, had agreed to (i) change the name of their common currency from the CFA franc to the Eco, (ii) stop holding 50 per cent of their currency reserves with the French Treasury, and (iii) discontinue French governance in any aspect of managing the currency.

Like the CFA franc, the Eco – as proposed by the Francophone West African countries – will be pegged to the Euro. According to President Macron, "the Eco will see the light of day in 2020."

However, given the stringent but necessary convergence criteria, the myriad of issues member-countries of ECOWAS face in meeting those criteria, and the unilateral announcement by Francophone West Africa to adopt the Eco, is the year 2020 launch date for the single currency realistic?

Theoretical Foundations

Canadian economist, Robert Mundell, pioneered the theoretical fundamentals for monetary unions via his theory of optimum currency areas (OCA), which he described in his 1961 article, titled "A Theory of Optimum Currency Areas." In practice, a currency area is made up of two or more countries within the same geographical region who share a single currency with the aim of maximizing economic efficiency.

Professor Mundell identified the following four criteria for a successful currency area: (i) a significantly large and cohesive labour market that allows free movement of labour among all countries within the region, devoid of language or cultural barriers, and no institutional barriers; (ii) capital mobility and price and wage flexibility across all countries within the region; (iii) a regional fiscal transfer system that allows automatic transfer of funds from countries with revenue surpluses to countries with revenue deficits; and (iv) all countries within the currency area must have similar business cycles, otherwise their joint central bank would be unable to promote a uniform monetary policy.

The ECO Convergence Criteria

There are six (three primary and three secondary) ECO-specific convergence criteria that all ECOWAS countries must meet before they can join the currency union. The primary convergence criteria are:
(i) Budget deficit of not more than three per cent of GDP.
(ii) Single-digit inflation rate at the end of each year.
(iii) Gross foreign-currency reserves large enough to provide at least three months of import cover.

The secondary convergence criteria are:
(i) Public debt level that is not higher than 70 per cent of GDP.
(ii) Central bank deficit-financing of no more than 10 per cent of the previous year's tax revenues.
(iii) Stable exchange rate, i.e. nominal exchange rate variation of plus or minus 10 per cent.

Current Issues

(i) Perennial delays

Silja Fröhlich of Deutsche Welle reported that since the idea of the Eco was mooted in 2003, the target launch date has been postponed several times. The date was first moved to 2005, then to 2010 and subsequently to 2014.

Chairman of ECOWAS Authority, Issoufou, noted that, according to the revised roadmap, the Eco currency would be launched on July 1, 2020. However, speaking at the opening session of a meeting of the Ministerial Committee of Ministers of Finance and Governors of Central Banks in ECOWAS on December 6, 2019 in Abuja, Nigeria's Minister of Finance, Budget and National Planning, Zainab Ahmed – who is also the Chairperson of the committee – disclosed that it would be difficult to operationalize the single currency regime in 2020 as most countries in the region were not ready.

(ii) Meeting the target convergence criteria

During the committee's meeting in December, Ahmed explained that only Togo had met all the convergence criteria for the monetary union within the last two years. She added that it would be difficult to operationalize the single currency regime this year with Togo alone.

Charlie Robertson, Global Chief Economist at Renaissance Capital, noted that only five of the region's fifteen countries currently meet the criteria of a budget deficit not being higher than 3 per cent of GDP. The five countries, namely Cape Verde, Ivory Coast, Guinea, Senegal and Togo, also have inflation rates of not more than 5 per cent.

According to Simplice Asongu of the African Governance and Development Institute, "This disappointing reality led Mahamadou Issoufou, ECOWAS chairman and Niger's president, to confirm that while 'countries that are ready will launch the single currency' in 2020, 'countries that are not ready will join the programme as they comply with all six convergence criteria.'"

Nigeria is Africa's largest economy and accounts for an average of 67 per cent of the region's total GDP. The World Bank has noted that as a "key regional player in West Africa, Nigeria accounts for about half of West Africa's population with approximately 202 million people." As a result, the proposed currency area suggests that rather than it being a single currency area comprising 15 countries, in reality, it is 14 countries agreeing to adopt the Nigerian Naira to be renamed the Eco.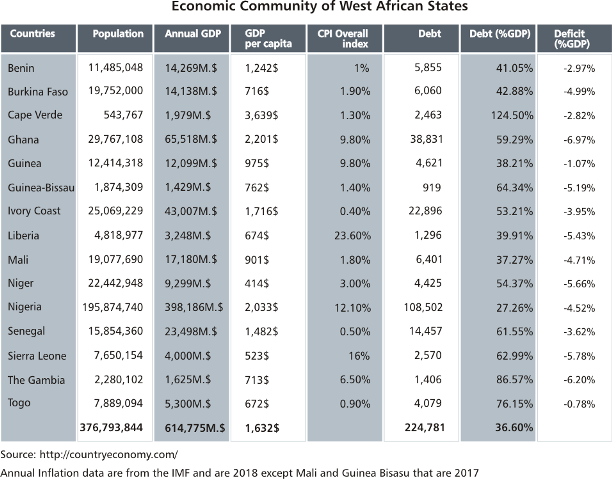 (iii) Myriads of cross-border barriers

A successful OCA requires free movement of factors of production, including labour, capital and investments, among all countries within the region. Although visa-free travel exists, the region is inundated with many random tariff and non-tariff barriers. For example, Nigeria's land boarders have been shut since August 2019. According to the government, the aim is to tackle smuggling of items such as rice, used cars, and petroleum products across the land borders.

Also, forceful repatriation of refugees and economic migrants is rife across the region. Apparently, there is a Ghanaian law that bars non-nationals from operating in the domestic retail space. As a result of this law, Ghanaian authorities regularly close down foreign businesses and institute business entry barriers such as licences or capital requirements that do not apply to Ghanaian citizens.

Changing national currencies and adopting a regional Central Bank will require changing statutes at national levels, harmonizing banking legislations and ratifying those changes by lawmakers in each country within the currency area. These processes are currently not in place.

(iv) Anglophone verses Francophone faceoff

Political and economic loyalties of individual ECOWAS countries to outside forces as well as the cultural attitudes and values of the countries to money will be tested under a single currency. Professor Asongu also argued that the extent to which outside forces, especially France, will shape the currency union's trajectory will further complicate matters.

France notably has an interest in the CFA franc because Francophone West African countries deposit 50 per cent of their foreign reserves in the French Treasury. The CFA franc has been printed by the Banque de France since the currency was created in 1945. The country is heavily involved in counter-insurgency operations in the region with more than 4,500 French troops based in the Sahel region (Mali, Niger and Burkina Faso) since at least 2014. Perhaps, the critical indication of France's plan to truncate or at least control the 15-member regional currency area was the deliberate timing of the press conference in Abidjan, between President Macron and President Ouattara.

Last month, the Anglophone West African countries – Nigeria, Ghana, Liberia, Guinea, Sierra Leone, and Gambia – met in Abuja and expressed their objection to the announcement by their French-speaking neighbours to adopt the Eco. It is not clear if this means that a separate Francophone Eco will operate alongside an Anglophone Eco.

Additional issues that immediately arise from this lack of clarity include: (i) what the role of the newly-created Central Bank of West Africa would be in the Eco currency management and in regional monetary policies; and (ii) whether Nigeria, which has the largest market and population in the region, will accept French involvement in a new ECOWAS currency area.

(v) Corruption and Fiscal Discipline

ECOWAS countries appear overwhelmed by insecurity and corruption issues. Several ECOWAS countries, specifically Mali, Burkina Faso, Niger, and Nigeria, have spent billions of US dollars trying to contain an upsurge in militant attacks by numerous al-Qaeda and Islamic State-aligned groups, as well as religious and pastoral clashes.

In addition, Nigeria's struggles with corruption are well documented. Adopting a single regional currency may inadvertently fuel corruption upsurge as a regional currency, by definition, promotes cross-border investments and capital transfer across member economies. Money laundering can potentially fester under the environment a single currency area will create.

In addition, a necessary condition for an OCA is an automatic fiscal transfer mechanism. However, how realistic would it be for (say) Nigeria to permit its fiscal surpluses from (say) domestic tax collections or crude oil revenues to be transferred to pay for the debts or fiscal deficits of (say) Liberia or Burkina Faso?

Conclusion

As can be imagined, there are significant challenges that remain and need to be surmounted for a single currency area to take off in ECOWAS. The chances that these challenges will be surmounted by mid-2020 are slim to none. However, if well implemented, with realistic timelines, the Eco should have the real potential of stimulating intra-regional trade, investments, and ultimately economic growth and development. As explained by Solomon Jamiru, Sierra Leone's Deputy Minister of Information, "ECOWAS is ultimately about regional economic integration. Ultimately, that cannot be achieved without the currency."

Tade Oludare, PhD, is an economist and a professionally qualified accountant, banker, and stockbroker. He has significant experience working or consulting for financial institutions and the academia in Europe, the United States of America, and Africa.
Quick Search for Upcoming Events
Event Categories