Top law firms and lawyers: Chambers Global 2019 Nigeria rankings
Feature Highlight
According to Chambers, top law firms in Nigeria have truly excelled in the past one year. Some of the law firms have earned various accolades, with some being called "truly up to the task," "solutions-driven" and "vibrant."
From left: Dan Agbor, Senior Partner; Myma Belo-Osagie, Of Counsel; Aniekan Ukpanah, Managing Partner, all of Udo Udoma & Belo-Osagie
The Chambers Global 2019 rankings of Nigeria's best law firms and lawyers were released on February 14 by Chambers and Partners (www.chambersandpartners.com), the world's leading research and analytics firm for the legal profession. The Nigeria rankings are among the regional guides of the firm's Global Guide 2019 – described as the most comprehensive rankings of the world's best lawyers and law firms.

The Global Guide is also a resource for any organisation looking for trusted professional advice or reliable information on the global legal profession. Published since 2000, the 2019 guide ranks lawyers in more than 200 jurisdictions. Chambers Global's coverage of the legal profession in Nigeria has also continued to expand. The total number of law firms ranked in 2019 rose to 33, from 32 last year. The new entrant in the latest rankings is ADVISORY – Legal Consultants, a specialist boutique law firm, providing services to businesses and projects in the Nigerian energy, resources and infrastructure sectors.

The annual regional rankings rate leading law firms and lawyers in various practice areas, including Banking and Finance, Corporate/Commercial, Dispute Resolution, Intellectual Property and Projects & Energy. A notable change in this year's coverage of Nigeria is the re-labelling of the 'Energy and Natural Resources' practice area to 'Projects & Energy.' Chambers said the renaming was necessary in order to reflect the wide range of infrastructure developments – in addition to energy projects and transactions – taking place in the country.

Over the last four years that Financial Nigeria has been the Publishing Partner to Chambers & Partners for its regional guide to the top law firms and lawyers in Nigeria, the coverage has grown substantially and has reflected the growing diversity of legal practice in Nigeria.

In a note to Financial Nigeria, Nisha Sawon, Deputy Editor of the Chambers Global Guide, said, "Nigeria continues to be one of the most significant and sizeable jurisdictions we cover in Africa. We always see great participation from the lawyers and we're keen to ensure our rankings reflect the extent of the country's diverse legal market."

A product of in-depth research on Nigeria, as well as increased focus on data analysis, Chambers said the rankings are an indication of Nigeria's dynamism and the country's position as an active, thriving market, with an array of high-class legal talent. The rigorous approach and analysis that has produced the latest ranking also reflects the change in management the firm has undergone in the last one year.

According to Chambers, top law firms in Nigeria have truly excelled in the past one year. Some of the law firms have earned various accolades, with some being called "truly up to the task," "solutions-driven" and "vibrant."

As Africa's largest economy, Nigeria is undoubtedly a key market for various infrastructure project, mergers and acquisitions (M&A), as well as initial public offering (IPO) deals. Last month, TMT Finance forecasted over $10 billion in the African telecom, media and technology (TMT) industries in 2019. Indeed, lawyers and law firms have an important role in helping companies that are weighing sale or investment options in structuring the transactions, resolving potential disputes, and also helping investors interpret and navigate regulatory guidelines.

The efficiency of Nigeria's legal system is a key factor – along with stable regulatory environment – for attracting capital flows into the country. For instance, the Nigerian Stock Exchange (NSE) said it recorded 11.75 percent increase in fixed income market capitalisation last year, from N9.10 trillion recorded in 2017 to N10.17 trillion. The Federal Government dominated capital raising with N1.16 trillion raised in a bid to finance fiscal and infrastructure deficits. State Governments raised N125.59 billion in new debt capital, while corporates raised a total of N31.47 billion.

The Chambers Global 2019 provides a go-to guide for prospective clients to identify the top Nigerian law firms and lawyers with the skills and experience to help them with some of the most complex, cross-border and multi-jurisdiction briefs. The guide ranks Nigerian law firms and lawyers in categories or bands, with Band 1 having the highest rating. In Band 1 under the Banking and Finance practice area, Aluko & Oyebode, Banwo & Ighodalo, G. Elias & Co., Olaniwun Ajayi LP and Udo Udoma & Belo-Osagie are the top-ranked law firms.

Only four law firms, out of the 33 firms in the latest guide, are featured in all five practice areas covered by the rankings. The law firms – which also dominated the rankings in the 2017 and 2018 – are Aluko & Oyebode, one of the largest integrated law firms in Nigeria; Banwo & Ighodalo, leading Nigerian corporate law firm; G. Elias and Co, one of Nigeria's leading business law firms; and AELEX, a full-service commercial and litigation law firm.

Three firms – namely Jackson, Etti and Edu, Templars, and Olaniwun Ajayi LP, all some of Nigeria's leading full-service law firms – are ranked in four different categories.

Other leading Nigerian law firms in the rankings are Udo Udoma & Belo-Osagie; Detail Commercial Solicitors; ACAS-Law (Adepetun, Caxton-Martins, Agbor & Segun); Abdulahi, Taiwo & Co; and Odujinrin & Adefufu. Others are F.O. Akinrele & Co; Sofunde, Osakwe, Ogundipe & Belgore; Ajumogobia & Okeke; Stillwaters Law Firm; O. Kayode & Co; George Ikoli & Okagbue. Also in the rankings are Wole Olanipekun & Co; Giwa-Osagie & Co; Olajide Oyewole & Co; Solola & Akpana; Allan & Ogunkeye; Kola Awodein & Co; Strachan Partners; Babalakin & Co; SPA Ajibade & Co; Advocaat Law Practice; Streamsowers & Köhn; Perchstone & Graeys; and G.O. Sodipo & Co.

Gbenga Oyebode, Chairman of Aluko & Oyebode, is the only lawyer featured in a new section of the Chambers Global 2019 called Senior Statespeople. Chambers said the section is for recognising distinguished older partners. Oyebode features across three practices – Banking and Finance, Corporate/Commercial and Projects & Energy.

Top-tier Nigerian lawyers, according to Chambers Global 2019, include Dan Agbor, Senior Partner at Udo Udoma & Belo-Osagie; Dr. Konyinsola Ajayi, Managing Partner at Olaniwun Ajayi LP; Prof. Gbolahan Elias, Principal Partner at G. Elias & Co; Asue Ighodalo, Founding Partner at Banwo & Ighodalo Partner; Femi Olubanwo, Partner at Banwo & Ighodalo; Kofo Dosekun, Managing Partner at Aluko & Oyebode; Ayuli Jemide, Lead Partner at Detail Commercial Solicitors; and Funke Adekoya, Partner/Head, Dispute Resolution Practice Group, at AELEX.

Others are Chinyere Okorocha and Uwa Ohiku, both Partners at Jackson, Etti & Edu; Sola Adepetun, Founding Partner at ACAS-Law; Omolara Kayode, Founding Partner at O. Kayode & Co.; and Oghogho Akpata, Managing Partner at Templars.

The report also provides information on some associates whose legal careers are rising quickly in various practice areas. Abayomi Adebanjo, a Senior Associate in the Banking Finance and Infrastructure unit of Jackson, Etti & Edu, is one of the associates to watch out for. Others are Aderemi Ogunbanjo, a Senior Associate in Odujinrin & Adefulu's Energy Practice; and Uzoamaka Emerole, a Senior Associate in the Corporate & Commercial Practice Group of ACAS-Law.

Chambers and Partners said the 2019 guide was compiled by nearly 200 researchers using data from thousands of interviews with leading legal firms and professionals, as well as clients and General Counsels. Firms were invited to provide submissions with information about the work they conducted over the past year. Referees were also engaged to provide feedback on their experience working with the firms. The Researchers also spoke to the lawyers about their impressions of the market.

The full rankings are produced below.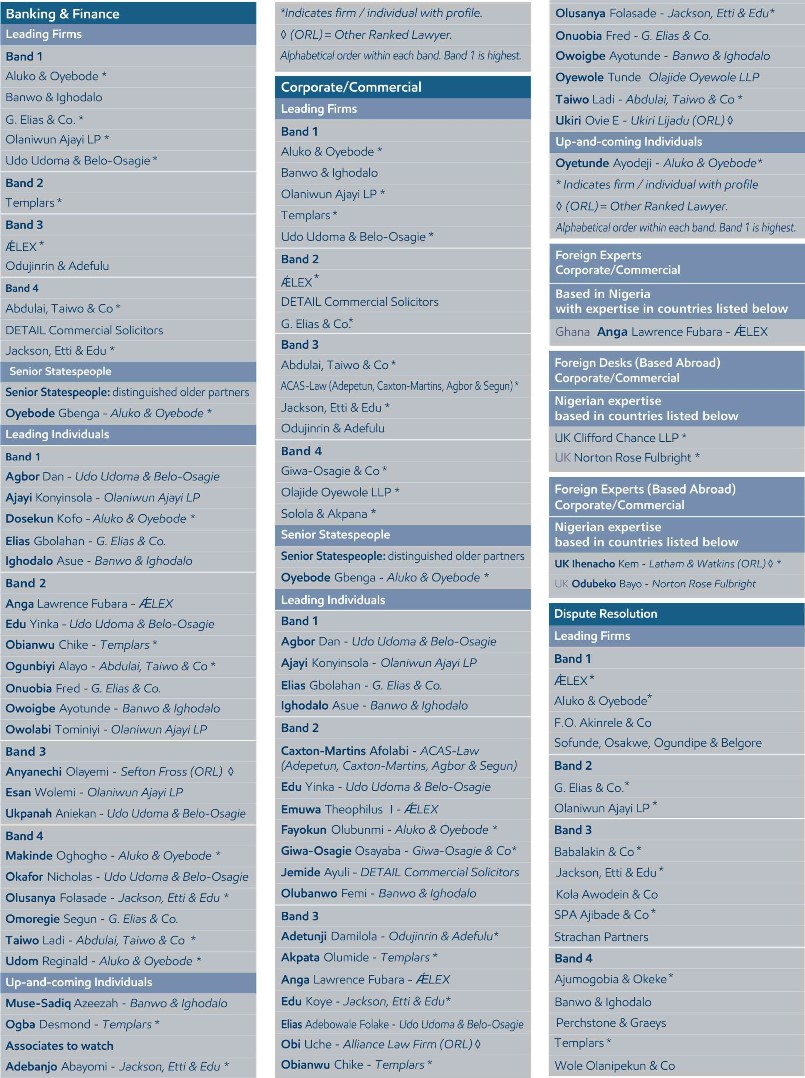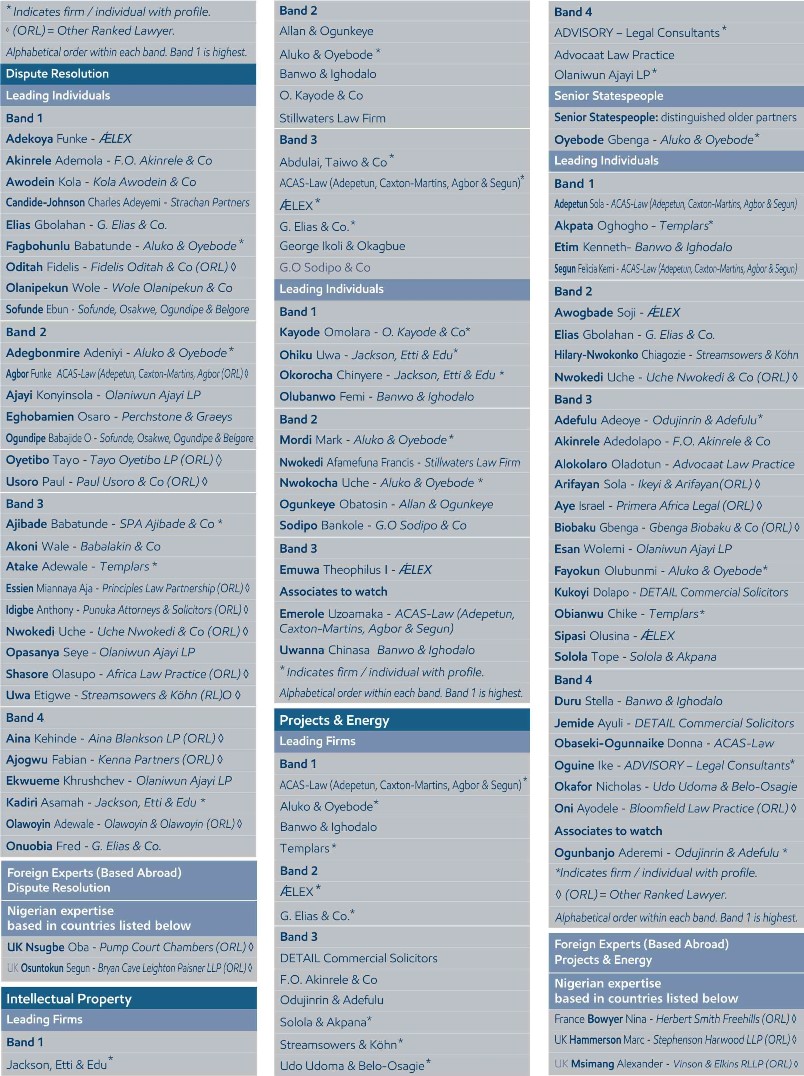 Martins Hile is Executive Editor, Financial Nigeria magazine
Quick Search for Upcoming Events
Event Categories