Nigeria's best law firms and lawyers in fintech practice
Feature Highlight
Chambers said the FinTech 2020 is a research-based directory of the best legal professional advisers with the ability to guide fintech companies through challenges and obstacles they might face.
The Nigerian financial technology (fintech) sector has continued to attract venture capital (VC) investments. Demand for professional services has also been growing in the country. Chambers and Partners (www.chambers.com), the world's leading research and analytics firm for the legal profession, considers professional services, including legal, VC and consulting, to be central to the growth of the Nigerian fintech sector.

The London-headquartered firm publishes the Chambers FinTech guide every year, providing information on leading law firms and lawyers whose expertise include "fintech" practice. Chambers said it found it necessary to expand its coverage of legal professional services in the fintech practice area because the use of technology in the delivery of products, services and processes to consumers of financial services has been growing.

The Chambers FinTech (CF) 2020 covers 37 jurisdictions, including three in Africa, namely Nigeria, South Africa and Kenya. The number of jurisdictions in the latest guide increased from 22 that were featured in the 2019 report. The CF 2020 was released in January ahead of the Chambers Global (CG) 2020 rankings for Nigeria – which were released exclusively to Financial Nigeria and published in the March edition of this publication.

Out of the 34 firms in the CG 2020 Nigeria rankings, only seven law firms in the country are featured in the dedicated CF 2020 guide. The top law firms in fintech practice – featured in bands, with the highest being "Band 1" – are Olaniwun Ajayi LP (OALP) and Udo Udoma & Belo-Osagie (UUBO) (Band 1); Banwo & Ighodalo (BI) and TNP – The New Practice (Band 2); ǼLEX (Band 3); Olajide Oyewole & Co and Templars (Band 4). Last year's report featured only UUBO, a Lagos-based full-service multi-specialisation firm, in Band 1.

Chambers said the FinTech 2020 is a research-based directory of the best legal professional advisers with the ability to guide fintech companies through challenges and obstacles they might face. By becoming one of Africa's financial innovation hotspots, Nigeria offers vast opportunities, but also challenges that require professional services for fintechs to navigate.

According to a recent report by Disrupt Africa, an online platform that provides news and information on Africa's tech startups, Nigeria received the second largest VC investment in Africa in 2019 – attracting $122 million – after Kenya, which received $149 million investment. The African fintech sector was the second most popular among investors last year.

The ranking of the best law firms in the fintech practice area, according to Chambers, also points out what their teams are known for. For instance, Olaniwun Ajayi was recognised for its expertise in payments, cryptocurrency and blockchain regulatory matters. The firm reportedly has exceptional capabilities in advising on investment transactions and the development of new fintech payment products.

In January 2019, OALP advised Flutterwave, a Nigerian fintech startup, on its partnership with Visa, an American multinational financial services corporation. The partnership enabled Flutterwave to launch GetBarter, a consumer payment product, which enables existing Visa cardholders to send and receive funds. It also allows non-cardholders to create a virtual Visa card to link to the app.

On its part, UUBO advised Segovia Technology, a software development company, on the implementation of a mobile money infrastructure to enable cash-less donations to Save the Children, to support the humanitarian organisation's programmes in northern Nigeria.

The Chambers Fintech 2020 report also includes information on top-flight lawyers in the fintech practice area. Among the legal practitioners featured in the CF 2020 are six partners and a senior associate. Yinka Edu is a Partner and head of UUBO's Fintech team. She has, notably, advised clients on complex issues involving mobile lending, as well as cryptocurrencies and crowdfunding. Another partner who is featured from UUBO is Folake Elias-Adebowale. She is co-head of the firm's M&A and Private Equity teams.

Another practitioner ranked in latest fintech guide is Damilola Salawu, Partner at OALP and head of the firm's Technology, Innovation and Fintech practice. Others are Babajimi Ayorinde, TNP's Founding Partner who also heads the firm's Telecoms, Media and Technology (TMT) practice; Isa Alade, Partner at BI and expert in fintech transactions; and Davidson Oturu, Partner at ǼLEX's Intellectual Property, TMT, corporate and commercial practice group.

Tolulope Osindero, Senior Associate in UUBO's Fintech team, is considered by Chambers as an associate to watch out for in Nigeria's fintech legal practice. She has reportedly advised clients on the launch of peer-to-peer and mobile lending platforms.

In doing its rankings of the best lawyers in Nigeria, Chambers said the qualities its researchers look out for include technical legal ability, professional conduct, client service, commercial awareness/astuteness, diligence, commitment, and other qualities most valued by clients.

The full ranking is produced below.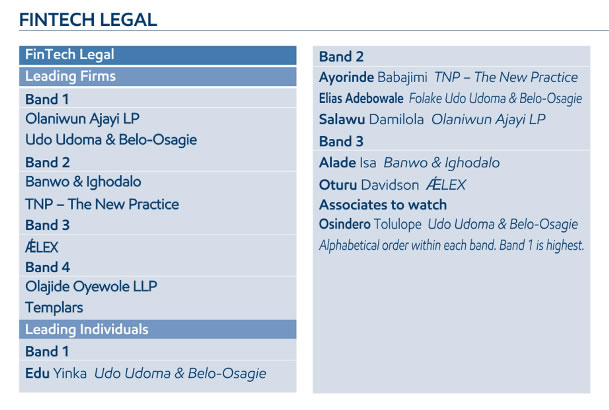 Quick Search for Upcoming Events