Appraisal of Nigerian Electricity Supply Industry 2019 policy framework
Feature Highlight
In view of proposals to increase bilateral arrangements between Gencos and end users, it is expected that access to electricity will improve as the unserved or underserved end-users will have the ability to procure electricity directly from generating companies.
Alaoji power generation plant
Background

The Federal Ministry of Works, Power and Housing (MOP) recently issued the following documents: the Power Sector Policy Statement (the Policy Statement); the Power Sector Recovery Plan Policy Statement (the PSRP Policy) and the Power Sector Policy Directives and Timeline (the Directives). (The Policy Statement and the Directives were issued in June 2019; the PSRP Policy was issued in February 2019. While forming his cabinet on August 21, 2019, President Muhammadu Buhari separated the Ministry of Power from Ministry of Works and Housing.)

The three documents were developed further to the powers of the MOP to make policies (www.nigeria.gov.ng) and issue directives as contained in Section 33 of the Electricity Power Sector Reform Act (EPSRA). This article discusses the key highlights of the PSRP Policy, the Directives and their likely impacts on the Nigerian Electricity Supply Industry (NESI).

Key Highlights of The Directives

The key directives to each stakeholder as contained in the Directives are summarized below: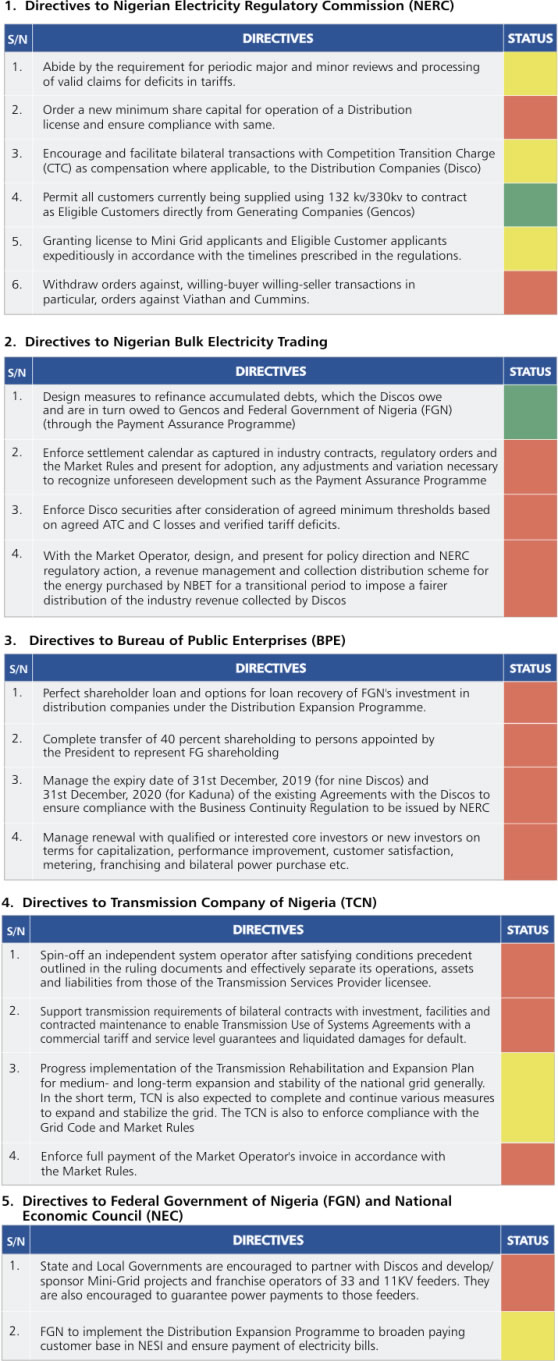 Key Highlights of The Power Sector Recovery Plan Policy Statement

The PSRP Policy Statement reflects the policy direction of the Power Sector Recovery Programme (PSRP) of the Ministry and it provides guidance for regulatory action by NERC. The objective of the PSRP Policy is to reset the NESI to sustainably deliver electricity services at fair pricing. The Policy seeks to achieve this by focusing on five areas:
• Collection Efficiency
• Payment Discipline
• Capitalization and Liquidation
• Tariffs
• Incremental power

The action points for each of the areas of focus are summarized below.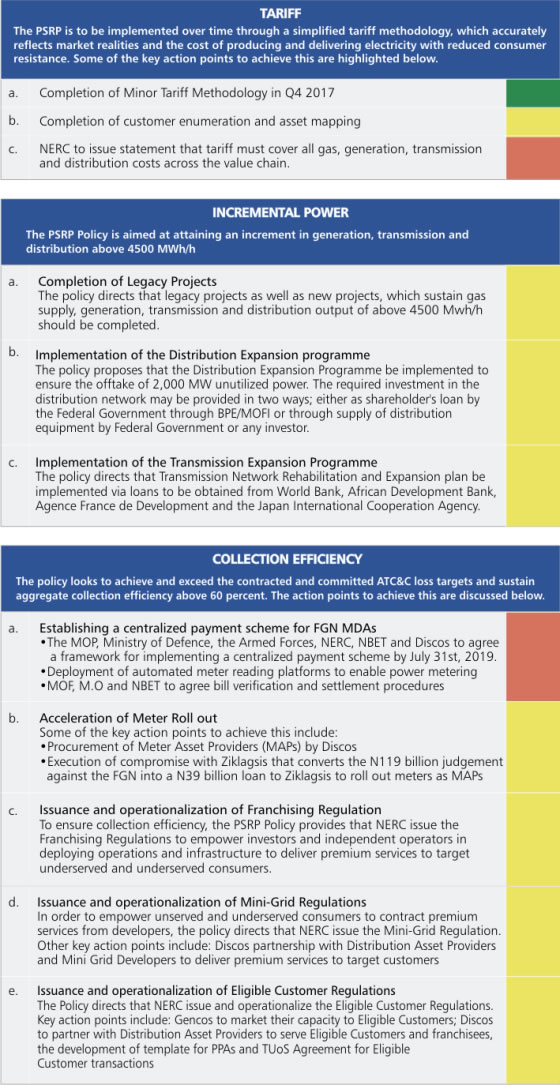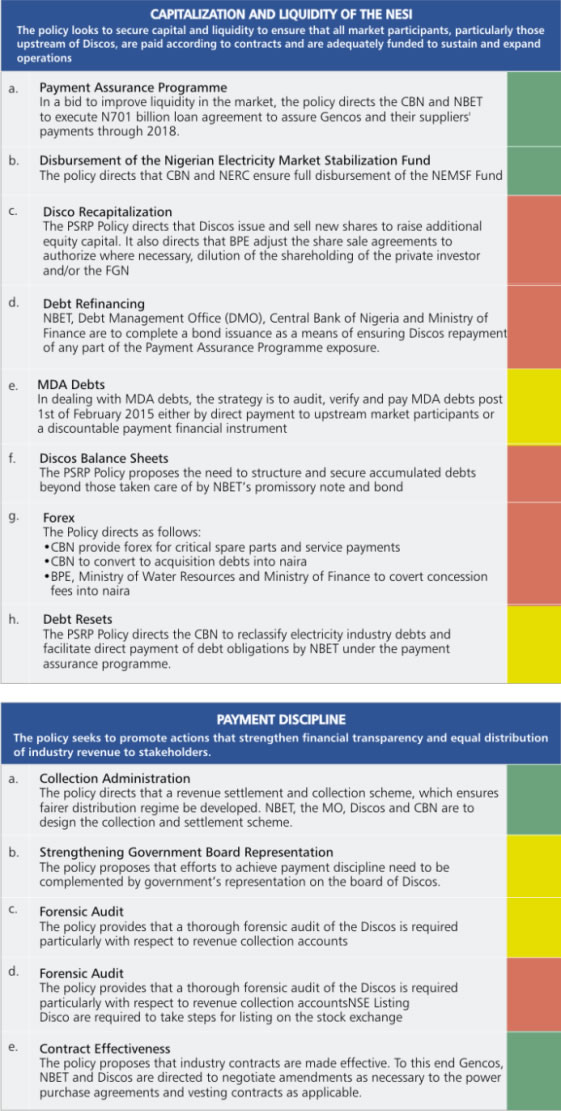 Key Highlights of The Policy Statement

The Power Sector Policy Statement, similar to the PSRP Policy, provides guidance for regulatory action by NERC. The Policy Statement has identified five key issues/objectives it seeks to achieve and highlights the regulatory direction for each objective.
They are as follows:

1. Bilateral Market: The Policy Statement proposes that the NESI is opened up for more bilateral trading between Gencos and end users. The proposed structure for the proposed bilateral NESI is as follows:
i. The Gas suppliers provide gas to the Gencos under a gas sale agreement
ii. The Gencos supply power to end users under a power purchase agreement
iii. The Gencos also execute a transmission use of system agreement (TUoS) with TCN as well as Distribution Use of System Agreement (DUoS) with the Discos.
iv. The only contractual relationship between the Discos and the end users will be a service agreement.

2. Regulatory Framework: The Policy Statement proposes that policies and regulations, which enable customers procure services at negotiated prices with Discos, their partners or from independent investors/developers with minimal disruption of services, should generally be put in place. Such regulations (some of which are already in place) include: Eligible Customer Regulations, Meter Asset Provider Regulations, Electricity Distribution Franchising Regulations; and the Competition Transition Charge Regulation

3. Licensing and Approval: NERC is encouraged to cooperate with consumers, project developers and investors and make conditions for the issuance, amendments, cancellation and enforcement of permits and licenses easy.

4. Distribution Expansion Programme: The Policy provides that the Federal Government, being a shareholder in Discos, will invest in new distribution infrastructure required to deliver available generation and transmission capacity to consumers.

5. Recapitalization of Discos: In order to improve the services of Discos through investment in distribution networks, the Policy Statement proposes that additional capital is raised by Discos.

6. Vision 30:30:30: The Government is enjoined to re-invigorate its initiatives to achieve 30GW delivered to consumers with 30 percent from renewable sources by the year 2030. This will be achieved through strategic projects like Zungeru, Mambilla, Afam Three Fast Power, Gurara etc. as well as the Transmission Rehabilitation and Expansion Programme poised to achieve 20,000 MW transmission capacity in 2023. (We note that the Policy mentions the Afam Three Fast Power as a renewable project. However, our research shows it is a gas-powered plant. Vanguard March 27, 2018.)

Key Considerations to The Implementation of The Directives and Policy Documents

This section highlights some of the key considerations necessary for the proper implementation of the Directive/Policy.

1. Development of framework for the migration to bilateral Power Purchase Agreements (PPAs): It is imperative that a framework is established for the migration of vesting contracts into bilateral contracts between Genco's and Discos. A key consideration to be managed under such framework is the process for such migration/ procurement.

2. Development of Infrastructure: In order to effectively achieve the policy objectives, the infrastructure deficit in the industry needs to be remedied, particularly in achieving incremental power in the NESI. While we note that the policy enumerates key action points for investment in distribution and transmission lines, it remains to be seen if the infrastructure deficit can be remedied.

3. Credit worthiness of Off-takers: While the Directives, the Policy and Policy Statement focus on the improvement of bilateral trading in the NESI, a key issue that arises is the credibility of the off-takers. Eligible customers, sub-franchisees and other trading entities must be credit worthy to meet payment obligations under the bilateral contract, otherwise the illiquidity issues in the market will subsist.

4. Licensing of Traders: Since privatization in 2013, NBET has remained the sole trader in the NESI, carrying out bulk purchase of electricity from Gencos for resale to the Discos. In view of the intention to increase bilateral trading and subsequently phase out of NBET, NERC will need to develop a framework for granting of subsequent trading licenses to interested entities.

5. Tariff Structure for Bilateral Contracts: Pursuant to the Multi-year Tariff Order (MYTO) 2015 (Section 15 of MYTO 2015 for Abuja Electricity Distribution Company from 1st of January, 2015 to December 2024), where a Disco elects to procure electric power from a Genco or an Independent Power Producer (IPP), NERC is to recognize such bilateral rates to be agreed, provided that procurement procedure is done prudently even where the agreed prices are higher than the MYTO benchmark price for generation. While this suggests that parties are able to agree a cost-reflective tariff, developers must be mindful that the current regulated Disco customer tariffs are not cost-reflective. As such, there is still a credit risk in dealing directly with the Discos.

6. Injection of Capital/Fresh financing: The Directives, the action points contained therein and policy documents all show that an influx of capital is required in the NESI. We note that while this funding is seriously required in the NESI, the industry does not have a good credit reputation for reasons that include over-exposure in the NESI, single lender obligation limit and poor collections and remittance. These limitations are also unlikely to change until some improvement is seen in the market. Stakeholders are encouraged to explore alternative funding options to meet the capital requirements in the NESI.

7. Enforcement of Payment Security: One of the action items to NBET under the Directives is the enforcement of the payment securities provided by the Discos under the vesting contracts. (Paragraph 2e of the Directives.) This directive may be impossible to execute in light of the subsisting injunction given by the Federal High Court, Abuja restricting, among others, NBET and Gencos from enforcing the payment securities provided by the Discos. The injunction will need to be lifted in order for NBET to comply with the directive.

8. Regulatory Framework: The proper implementation of the Directives is contingent on the establishment of a permissible framework for competition transition charge, distribution franchising and distribution asset providers, which are an integral part of the action plan contained in the Directives and policy documents.

9. Political Will and Stakeholder Willingness: In order to achieve its intended objectives, a key consideration required for all stakeholders (especially government parties) is the willingness and drive to ensure the compliance and execution of the Directives and PSRP. Although the Directives are direct instructions from the Ministry, which must be followed by stakeholders, the PSRP Policy and Policy Statement are policy documents with limited effect under law. Thus, since stakeholders may not necessarily be penalized for non-compliance with the PSRP, the onus then lies on all stakeholders to promote the Ministry's agenda for the NESI.

Impact of The Directives and Policy Documents

The following are likely implications of the Directives and policy documents on the NESI:

1. Medium-Term Market Phase: Based on a combined review of all the documents, it appears the MOP is intent on transitioning the market to the Medium-Term Market Phase as both documents contain provisions, which enable bilateral relationships between generating companies and distribution companies/end-users, thereby promoting competition and full liberalization of the NESI.

2. Improved Access to Electricity: In view of proposals to increase bilateral arrangements between Gencos and end users, it is expected that access to electricity will improve as the unserved or underserved end-users will have the ability to procure electricity directly from generating companies.

3. Improved Distribution and Transmission Network: As highlighted above, if properly implemented, the distribution expansion plan will lead to increased investment in the distribution and transmission networks, ultimately improving the strength and capacity of electricity networks.

4. Ceding of Disco Franchise Areas: Based on the Directives, it is expected that the Distribution Franchising Regulations will be established. This regulation will provide a framework for the ceding of distribution franchise areas to qualified investors and operators. As is, many Discos are unable to provide electricity at optimal service levels to all end-users within their franchise areas. The franchising regulations will therefore create an opportunity for Discos to cede portions of their franchise areas, which will ultimately lead to improvement in services. (AEDC & Ors. v. NERC & NBET (Judge Abang presiding) and EEDC & Ors. v. NERC (Justice Ademola))

5. Improved Liquidity in the NESI: If implemented properly, the Directives and policy documents are poised to improve liquidity in the NESI. It should be noted that as the market liquidity improves, the credit ranking of the NESI will also improve and participants will be able to access more financing for projects.

6. Minimization of Government Intervention in the NESI: If properly implemented, it is expected that the improvement in the market's liquidity will reduce and eventually eliminate NESI's reliance on government interventions or grants.

Detail Commercial Solicitors is distinct as Nigeria's first commercial solicitor firm to specialize exclusively in non-courtroom practice. Based in Lagos, Nigeria's business capital, DETAIL is totally committed to its clients' business objectives and reputed for dealing with the minutiae. Email: info@detailsolicitors.com
Quick Search for Upcoming Events