Latest News
Afreximbank and partners to promote factoring in Africa
News Highlight
FCI, an association of institutions offering factoring services around the world, said the global factoring market was valued at €2.59 trillion in 2017.
Kanayo Awani, Managing Director of Afreximbank's Intra-African Trade Initiative and Chairperson of FCI's Africa Chapter, speaking at a meeting with the Nigerian Senate Committee on Banking, Insurance and Other Financial Institutions, on Jan. 28, 2020 at the National Assembly complex Abuja, to promote the Nigerian Factoring Bill
The African Export-Import Bank (Afreximbank) and its partners, the African Development Bank (AfDB) and FCI, have created a special-purpose grant (SPG) to support the capacity building of emerging factoring firms and other stakeholders in Africa.

Developing the capacity of individuals and organisations in factoring will provide the required skills and knowledge to drive the development of the African factoring market, which is still in its infancy, according to a statement by Afreximbank.

Factoring is a form of structured trade finance, involving the purchase of accounts receivable, for example the outstanding invoices of a company, at a discount. It, therefore, provides immediate source of cash for companies to continue their operations.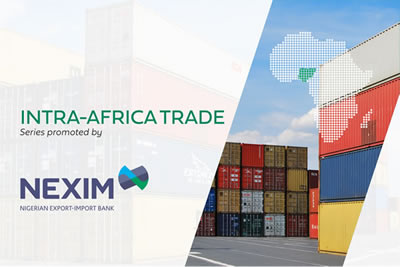 FCI, an association of institutions offering factoring services around the world, said the global factoring market was valued at €2.59 trillion in 2017. Africa accounted for less than 1 per cent of the global factoring activity in that year, according to Kanayo Awani, Managing Director of Afreximbank's Intra-African Trade Initiative and Chairperson of FCI's Africa Chapter.

Factoring is expected to address a key constraint to the growth of African small and medium scale enterprises (SMEs), namely access to finance. In a statement released last week, Afreximbank and its partners said they expect the SPG to increase the positive impact of their lending and other interventions on the African continent.

"The challenges faced in accessing finance has greatly impacted the ability of many SMEs in Africa to grow and to pursue business opportunities," said Awani. "Afreximbank sees factoring as an important solution to bridge the funding gap facing SMEs, and the FAPA Grant will complement our strategy to grow intra-African trade and facilitate greater SME contribution to regional and global supply chains."

The SPG will be funded by the AfDB's multi-donor thematic trust fund, called Fund for African Private Sector Assistance (FAPA). The value of the funding was, however, not disclosed. The grant includes consultancy services to advise the establishment of factoring companies, in legal, operations, risk, administration and technology. It will also provide advisory and mentoring services to entrepreneurs, finance companies and commercial banks.

According to Bleming Nekati, AfDB's Chief Trade Finance Officer, small businesses in Africa face major constraints in accessing finance, not only due to a general underdevelopment of the financial sector, but also due to other constrains, such as the lack of information and awareness about what factoring is and its benefits as an alternative trade finance instrument.

FCI, previously known as Factors Chain International, announced the appointment of Nassourou Aminou as the Regional Manager of its Africa Chapter on January 4, 2021. To be based in Cairo, Egypt, Aminou will help in expanding the African factoring market. He will also work alongside the Factoring Working Group of Afreximbank, which chairs the FCI's Africa Chapter. Aminou is charged with the responsibility of deploying the SPG.

Peter Mulroy, FCI's Secretary General said the organisation looks forward to "launching together with our partners this very exciting initiative."

The SPG will also organise conferences and workshops to train and sensitise users and government officials. It will offer scholarships to various stakeholders to participate in the FCI Academy's online courses.

Nigerian Export-Import Bank (NEXIM Bank) is promoting factoring as a trade finance instrument and an SME development strategy in Nigeria. Tayo Omidiji, Head of Strategic Planning at NEXIM Bank, said in an article in Financial Nigeria last year that it is believed that increased access to trade finance will also positively impact the entire non-oil export value chain, from production to exports.

"Over the past few years, NEXIM has been partnering with other key stakeholders in the public and private sectors under the auspices of the Financial System Strategy (FSS) 2020 of the Central Bank of Nigeria to develop factoring in Nigeria through sensitization and capacity building," Omidiji wrote. "This partnership, which has leveraged significantly on the technical and moral support of the Afreximbank, has culminated in the drafting of the Nigerian Factoring Bill, which is currently being considered for passage by the National Assembly.

A delegation of African Factoring Working Group, including Kanayo Awani and Peter Mulroy of FCI visited Nigeria in January 2020, along with NEXIM Bank executives led by the Managing Director/CEO, Abba Bello, had engagement with National Assembly and other stakeholders towards the passage of the Bill.

The factoring bill has yet to be passed by the National Assembly. The bill went through First and Second Reading, and public hearing of stakeholders were held before the 8th National Assembly disbanded in May 2019.
Related News
The conference focused on four key sectors of activity: renewable energy, sustainable infrastructure, financial and professional ...

The AfCFTA created the world's largest free trade area, a $3.4 trillion market that will ease trade across borders for the ...

Accredited institutions in Nigeria are Access Bank Plc, First City Monument Bank Ltd, Fidelity Bank Plc, First Bank of Nigeria ...
Quick Search for Upcoming Events