Anderson Uvie-Emegbo, Executive Vice President, Business Development and Distance Education, Chicago Institute of Business
Follow Anderson Uvie-Emegbo

@andyemegbo
Subjects of Interest


Africa
Hospitality and Tourism
Private Sector Development
SMEs
Taking a bigger bite out of the Nigerian QSR industry
06 Jul 2015
I have always been fascinated by the business of food retailing. My love for food can be traced back to my grandmother (affectionately known as Sisi) who has been running a popular food shack in Nigeria's Niger Delta region since the 1960s.

She handpicked her ingredients from the local market. Sisi prepared all the meals in an open makeshift kitchen located by the roadside. Firewood was her energy source. Such was her popularity in the area that her buka (local parlance for roadside restaurants) became a household name, especially among residents, taxi drivers and commercial motorbike operators.

As the years went by, the buka did not move with the times. It lost its appeal to its old customer base while being out of touch with the new, trendier Generation Y and Z. Naturally, the business lost customers, while failing to attract a critical mass of new customers.

Even when we attempted to upgrade Sisi's operations to a modern kitchen equipped with gas cookers, she resisted. She would have it her way or not at all. Truth be told, it was simply a matter of time before Sisi's model faded. The decline coincided with the rise of casual dining restaurants and quick service restaurants (QSRs).

Mr Bigg's

Around 1986, UAC Restaurants Limited launched Mr Bigg's. The franchise took off with a bang all over Nigeria and it soon represented different things to different people. Mr Bigg's restaurants became the favourite meeting places for lovers. Families stopped for lunch after Sunday church services. Many children loved the mini-playground within the restaurants. It was the place to be seen at. While it was not the first Quick Service Restaurant QSR, its franchise model revolutionized the industry and made it the brand to beat.

Africana meets continental

Sweet Sensation (1994), Tantalizers (1997) and Tastee Fried Chicken (1997) joined the fray and broadened the menu choices. In addition to the kind of meals and snacks offered by Mr Biggs, Sweet Sensation and Tantalizers offered popular native Nigerian dishes – a culinary delight which was widely received. Mr Biggs eventually launched its own offerings of local dishes, termed "Village Kitchen," within its outlets. On its part, Tastee Fried Chicken specialised in its brand of Fried Chicken and pottage.

Enter the swag

From 2004, Chicken Republic raised the bar with sizzling hot chicken chips and rice meals. The ambience of its outlets, industry-leading customer service and overall professionalism of its staff was a great attraction to the growing middle class and discerning aspirational Nigerians. Chicken Republic became to the quick service restaurant industry what Guaranty Trust Bank was to the banking industry. It offered a glimpse of what authentic quick service restaurants should be. It was one of the first QSRs that allowed customers to use laptops in its outlets, further cementing its claim to this customer segment.

In 2009, world famous Kentucky Fried Chicken (KFC) opened its flagship food retail business in Nigeria. KFC outlets started showing up around or beside Chicken Republic outlets. With identical customer segments as Chicken Republic, it seemed like the logical thing for KFC to do.

Pizza and ice cream

In the last few years, three chains have redefined class, style and innovation in the industry. They include Debonairs Pizza, Domino's Pizza and Cold Stone Creamery (Ice Cream). Besides making deliveries, they introduced technology to reduce waiting time and ensure operational excellence. At Domino's Pizza, customers' names are requested when placing orders. Each order is displayed on a screen accessible to customers. The screen displays the name of the customer, number on the queue, time it will take for the order to be ready and the stage of the order. These details are updated on a real-time basis. Customers' phone numbers are captured in the system during payment. This serves as a unique identifier that is retrievable during return visits.

Size still matters

As at June 2015, publicly available records detail the following number of outlets per quick service restaurant: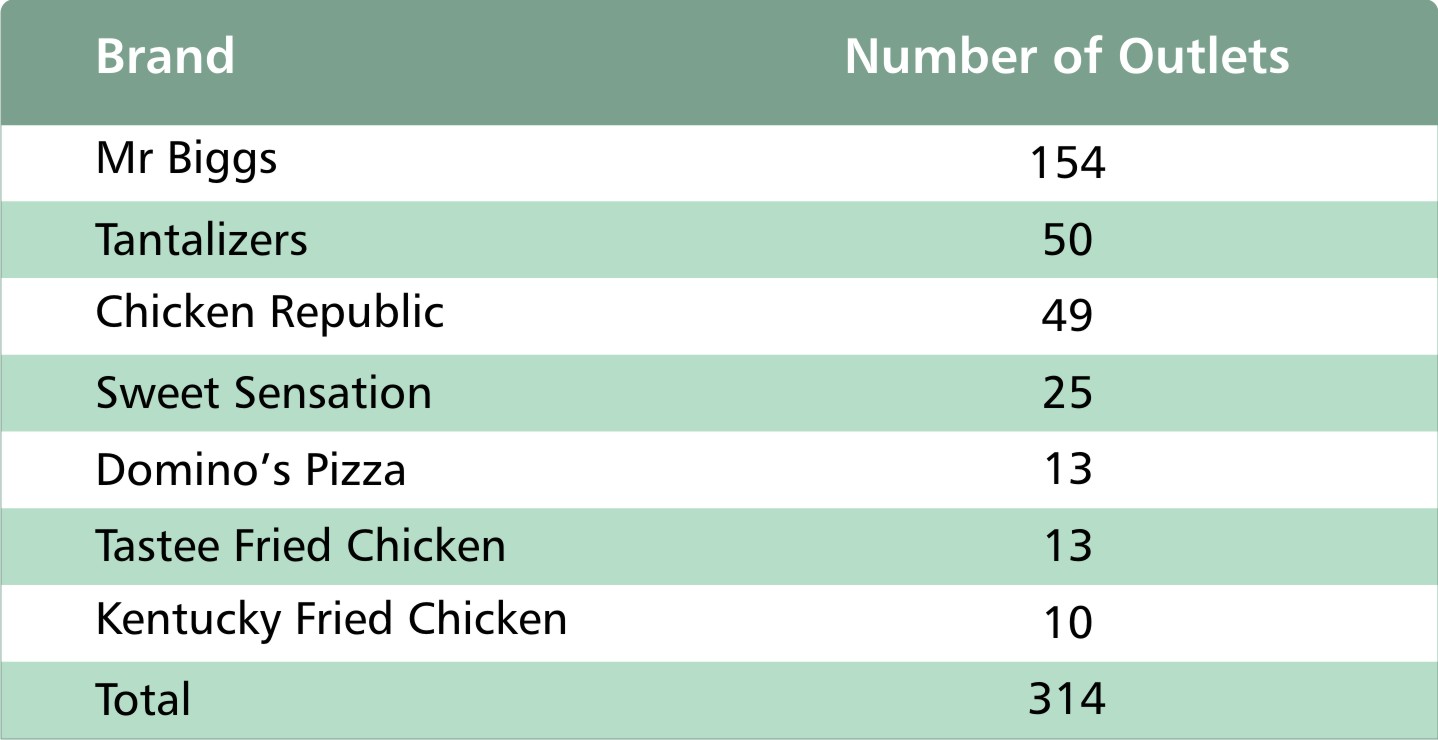 Mr Biggs remains the only QSR in Nigeria with national spread. Most other brands are either largely regional or concentrated in 2-3 major cities. While number of outlets does not necessarily translate to profitability, it is unlikely that any of these brands are as profitable as Mr Biggs whose profit before tax as at December 2014 stood at 108 Million Naira (about 541,000 dollars).

Technology defines customer retention

Domino's Pizza has shown that queue management and building customer intimacy is possible even at busy sales points of QSRs. Its point of sale systems are integrated with an Enterprise Resource Planning (ERP) solution. Its sales personnel use the touch-friendly POS interface to quickly record a Bill, its Payment and the resulting Inventory reduction.

The system helps to capture unique customer identifiers (like names and mobile numbers) and generates reports about purchase history for specific customers. This enables loyalty incentives such as discounts to be offered. Eventually, discerning brands will be able to drive communication with customers, thereby, helping to improve customer retention.

Click and Brick (CAB)

Customers live dual lives – online and offline. The continuing impressive growth of the Nigerian e-commerce market has opened up a new competitive frontier. As at June 2015, popular online food order service www.hellofood.com had 11 of its 40 country operations in Africa.

Customers in Nigeria are able to conveniently order their palate's delight either from the nearest restaurant or from their choice restaurants – all from a mobile app or a website. The best part is that the price of the food ordered through www.hellofood.com is the same as buying directly from the restaurant.

Chicken Republic and KFC stand out here. Orders for Chicken Republic meals through Hellofood.com have one-hour delivery time and a flat delivery fee of N150. Those for KFC take 45 minutes to be delivered with delivery fees ranging from N300.

Chicken Republic has a website where it offers real-time online delivery service every weekday, from 8.30am till 6.00pm, and Saturdays, from 12.00am till 7.00pm in Lagos and every weekday, from 10am to 6pm in Abuja.

Every brand in the retail consumer space must build a business model that combines an online order service (click) with the fulfillment of the service at a location that is convenient for the customer (brick).

Repositioning Quick Service Restaurants

While market data about QSRs is not readily available, the figure below shows the performance of UAC Restaurants (Mr Biggs) for the 2013 and 2014 financial years. All amounts are in Nigerian Naira.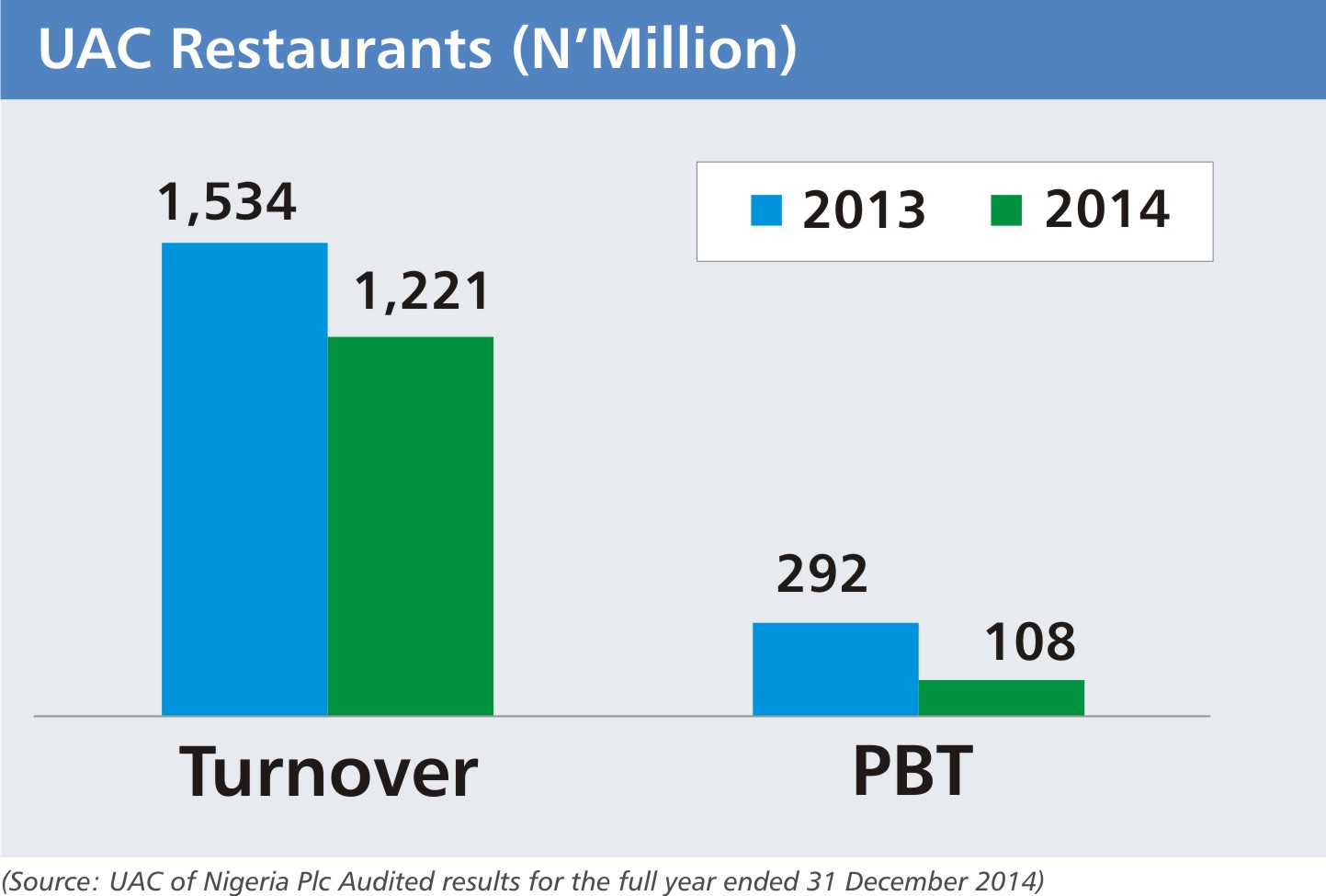 From the figure above, Profit Before Tax (PBT) experienced a 63% decline in 2014 from 292 Million Naira in 2013.

The reasons for this decline may not be farfetched. For one, QSRs in Nigeria are beset by insecurity challenges. Many outlets do not open beyond 8pm. They have rising operational costs. Managing the supply chain for reliable, quality ingredients is a perennial challenge, especially for challenger brands like Domino's Pizza, Debonairs Pizza, Cold Stone Creamery, Chicken Republic and KFC. These are also not the best of times for consumers with reducing disposable income.

However, while not yet commanding large numbers of customers, challenger brands (with their trendy outlook) are experiencing a rising cult following, especially in major cities. Traditional QSR brands can play on their strengths such as strong brand names, trust, and top of mind awareness, heritage and wider spread to defend their market share. There is no better time for the likes of Mr Biggs and Tantalizers to revamp their brands and offerings. Like Sisi's buka, the generation that grew up with these legacy brands has increasingly switched to trendier challenger brands. To complicate matters, traditional QSR brands are unlikely to be the brand of choice for smartphone-holding, Instagram-and-twitter-hooked, convenience-looking Generation Yers and Zers.

Discerning QSRs must offer a more professional service. This will mean creating and deepening a culture of service, improving employee wellbeing and embedding technology to enhance operations, service delivery and customer retention. Like Chicken Republic, they must explore ways to offer both online delivery (click) and in-store sales (brick). It is not an option between click or brick but an integration of both.

However, with challenger brands offering feel-good immersive experiences, the QSR industry might experience tectonic shifts in market share as the battle for customer acquisition and retention intensifies.
Subscribe
Subscribe now to receive newsletter from Financial Nigeria.