Nigerian Export-Import Bank is 30 years old
Summary
At 30, Nigerian Export-Import Bank is more relevant even as demand for its intervention has grown.
Nigerian Export-Import Bank MD/CEO Abba Bello
Managing Director and CEO, Nigerian Export-Import Bank (NEXIM), Abba Bello, shares his thoughts on the Bank at the occasion of its 30th anniversary, in this conversation with Jide Akintunde, Managing Editor, Financial Nigeria magazine.

Jide Akintunde (JA): Hearty congratulations to NEXIM, its Management, and staff, on the 30th anniversary of the bank. What are your reflections in leading the bank at such a time that it attained this institutional milestone?

Abba Bello (AB): Thank you very much and I must say that I am humbled and honoured and feel quite excited to be leading an institution like NEXIM, whose mandate cuts through the heart of one of the key economic objectives of President Muhammadu Buhari, which is to promote economic diversification and increased non-oil export revenue. Given this objective, NEXIM to me, is one of the most important government institutions in this country and a critical driver of economic growth like other Export Credit Agencies (ECAs) globally.

The Bank has gone through several challenges over time, both internal and external. But overall, I think some successes have been achieved, particularly at its early stages. When NEXIM was newly established, I was in commercial banking. At that time, NEXIM was a net lender as its capital base was at least 10 times the regulatory capital base of commercial banks. Hence at that time, many commercial banks funded their export transactions through NEXIM, using a product called RRF (Rediscounting and Refinancing Facility).

NEXIM was also the main catalysts for many government programmes such as the Presidential Initiative on Cassava and value addition in the Cocoa Industry, which led NEXIM to sponsor the establishment of most of the cocoa processing plants in Nigeria. To foster stability and sustainable operations, we are currently embarking on an institutional transformation programme to reposition the Bank in light of recent developments and ensure that the institution truly lives its vision of becoming one of the leading export development banks in Africa.

JA: NEXIM was established as the Export Credit Agency of the Federal Government of Nigeria in 1991. Why was this necessary?

AB: Typically, export credit agencies promote exports from the domestic economy. Accordingly, ECAs function to mitigate the constraints to export and investments that impact the export sector of the economy with financing, guarantees, and political risk insurance instruments.

Export-led policy strategy promotes economic growth through better resource allocation, economies of scale, job creation, and other factors. This was evident in the case of the East Asian economies in the early 1970s up to the 80s. It was in view of this that Nigeria has pursued an export-led growth strategy since 1986, when it adopted the Structural Adjustment Programme (SAP).

The emphasis of the country's export-led strategy was on non-oil exports given the volatility in the international oil market. To encourage and develop the export sector, government liberalised the naira exchange rate and abolished the commodity boards, which had been exclusively responsible for export trade in commodities such as cocoa, groundnut, cotton, palm produce, rubber and grains. Also, the Export Incentives Miscellaneous Provision Act of 1986 was promulgated under which exporters were allowed to open Export Proceeds Account with unfettered use of their foreign exchange earnings, in addition to other export incentives that are being managed by the Nigerian Export Promotion Council. This subsequently led to the establishment of the Nigerian Export-Import Bank to provide finance and risk bearing services to support the export sector.

Past and Current Board Chairs of NEXIM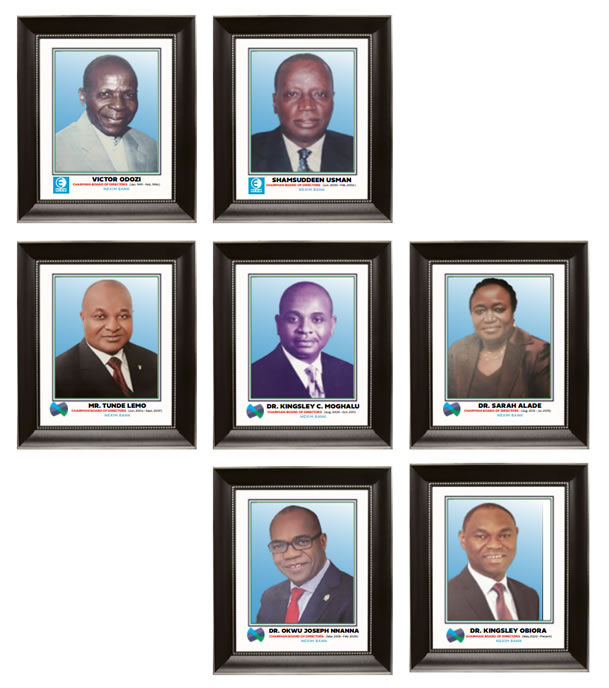 JA: How still relevant is the institutional purpose of the bank at its founding compared to the current economic reality of the economy?

AB: Indeed, the purpose and relevance of NEXIM have become even more pronounced today. I must first observe that since we adopted SAP and following the rebasing of the Nigerian economy in 2014, our production base has become more diversified and many more products and services now account for a significant share of our Gross Domestic Product (GDP). However, in spite of the increased diversification of the production base, Nigeria has remained largely a mono-product economy with the oil and gas sector, which currently accounts for less than 10 percent of the GDP, contributing about 70 percent of government's revenues and over 90 percent of export revenues.

This meant that economic growth in Nigeria tends to bear direct relationship with the developments in the oil sector such that when oil prices are high, and therefore high oil revenue, (assuming production target is achieved), then growth tends to be high. When oil prices are low, and possibly combined with oil production below set benchmarks, the economy can contract. We have seen evidence of this over the years, with the recent ones being in 2015 when oil price collapsed following over-supply from the US shale oil programme, amongst other factors and more recently owing to the Covid-19 pandemic. Indeed, the Nigerian economy slipped into recession two times over the last five years, and this is usually associated with drastic fall in government revenues, depreciation of the naira exchange rate, high inflation, which ultimately leads to collapse of industries, and significant job losses.

With the above in mind, you will agree with me that the diversification drive has become even more important and urgent. NEXIM as an ECA, is more relevant today than at inception because of developments in the global and regional value chains as well as the emergence of the African Continental Free Trade Area (AfCFTA) which comes with enormous opportunities.

JA: You have said in a different context that the Nigerian domestic economy is broadly diversified but what is lacking is "external diversification." What do you mean by this?

AB: Yes, as I earlier mentioned, the structure of our economy reveals that the services sector, made up of subsectors such as telecommunications, banking and finance, professional services and the creative economy, to mention a few, currently accounts for about 52 percent of the GDP; agriculture accounts for about 26 percent, while oil and gas accounts for about 8 percent. But in spite of this, oil remains the dominant product in our export revenue receipt. Indeed, the external sector report released by the Nigerian Bureau of Statistics indicates that the oil and gas sector contributed 90.80 percent of the export revenue, while the non-oil sector accounts for 9.11 percent in Q2, 2021. So, enhanced concerted efforts must be made to boost exports of non-oil products and services.

Currently, only about 6-8 commodities accounts for 70-80 percent of our non-oil export. Efforts must therefore be made to broaden the export basket, in addition to enhancing value added exports.

JA: What impact would external diversification have in the economy?

AB: External diversification will help to address the current dependence on a single commodity and the problems associated with the oil price volatility. Remember also that oil price and our production quota is exogenously determined. Why should our economy be dependent on one commodity whose fundamentals are beyond our control?

With diversification, we can mitigate the risk and insulate the economy better. Every country needs foreign exchange since no country is self-sufficient and resources are not evenly distributed in nature. But to import from other countries, you also need to export to earn the foreign exchange. Hence external diversifications will mitigate the impact of economic shocks because market downturn does not usually affect every commodity at the same time.

But more importantly is the need to fully realise the inherent potentials of our economy and create more jobs to address the problem of unemployment currently at 33 percent (42 percent for youth unemployment). With external diversification, our producers are producing for the global market, hence they can earn more money and the government can also generate more tax revenues, while at the same time address the problem of economic empowerment, which are major concerns in the country today.

Past and Current CEOs of NEXIM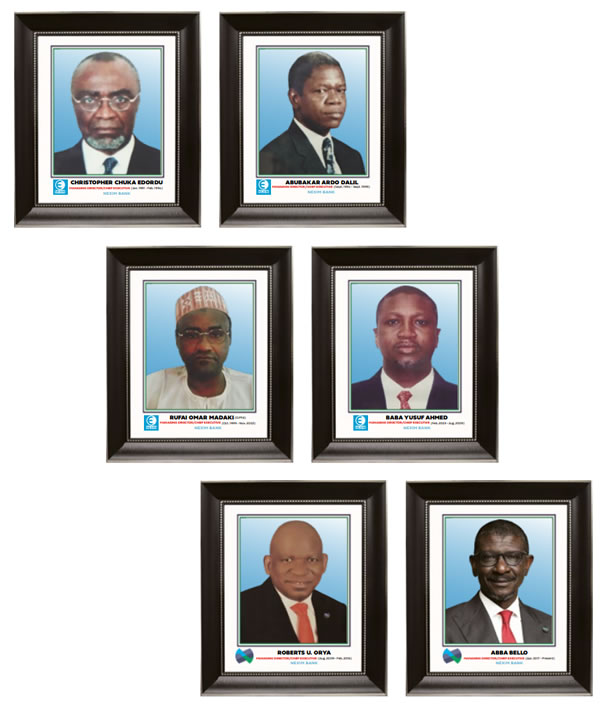 JA: NEXIM has the mandate to finance this broader base of non-oil exports. Where are the opportunities for this in the various sectors of the economy?

AB: The opportunities are enormous. It is often said that Nigeria is an agrarian economy and even as inefficient as we may be and with the suboptimal investment in agriculture, the country currently ranks amount the top five producers in several cash crops. In the latest report from the Food and Agricultural Organisation of the United Nations (FAO), Nigeria is the highest producer of shea and cassava in the world, ranks second in production of ginger and groundnut and fourth in cocoa, to mention a few. The country has huge solid minerals endowment with over 44 solid minerals in commercial quantities, largely untapped. In the services sectors, our professionals are making waves round the world. Nollywood is about the most prolific in the world and ranks high in revenue generation. Nigerian institutions are also doing very well in professional services and in such areas as Business Process Outsourcing (BPO).

The opportunities are huge and more interestingly, every part of the country has at least one commodity that can be exported. This is why we have launched a product we call State Export Development Programme to drive the current programme of the federal government of 'One State One Product', under the Zero Oil Plan. Under the programme, we have earmarked at least N1 billion per state and we now plan to increase the amount to N5 billion. This will also help to promote regional industrialisation and economic development.

JA: You have led the bank for four years. What are the achievements that have been recorded during your tenure as CEO of NEXIM?

AB: We came into the Bank in April, 2017 and met an institution that was going through a lot of challenges and experiencing operational difficulties. But all these are now history. We immediately developed a five-year strategic plan, which we have implemented since then and we are even about to revisit because of the drastic changes in the global environment. We have grown the Bank's balance sheet by over 200 percent to about N200 billion and working to surpass this before the end of the year.

Very important to us is our developmental impact to the economy. Exporters, particularly small-scale exporters, now have better access to the financial products of the Bank. We have developed series of new products to promote financial inclusion such as the Small & Medium Enterprises Export Fund (SMEFF) and the Women and Youth Export Facility (WAYEF). Also, we recently launched the Project Preparation Fund (PPF), through which ourselves and Afreximbank have agreed to raise US$50 million to support the pre-investment phase in a project preparation cycle. This will ultimately increase the pipeline of bankable projects and mitigate the project selection difficulties, particularly amongst the SMEs.

We have improved relationship with our stakeholders and are currently collaborating with the Central Bank of Nigeria (CBN) to manage two funds. The N500 billion Non-Oil Export Stimulation Facility, which was designed to support medium- to large-scale export-oriented projects with medium- to long-term funds. We also have the N100 billion Export Development Fund, which is targeted more at the small and medium scale enterprises (SMEs). The Federal Ministry of Finance has been supporting in funding our risk bearing funds, towards issuance of the political risk insurance to support export market diversification.

Our funds are available at concessionary interest rate and our objective is to intervene in all aspects of the export value chain through what we describe as PAVE (Produce, Add Value & Export).

Let me also add that through our intervention between 2018 and now, NEXIM's clients on the list of top 100 exporters as published by the CBN have grown from less than 10 to over 30.

JA: How can the bank make more impact in achieving external diversification of the economy, especially drawing from the impacts of its peer institutions around the world?

AB: Our objective is to make NEXIM the key driver of export in Nigeria and to achieve this we need to grow our capital base and grow our product offering. A review of the composition of global trade in merchandise goods as released by the World Trade Organisation (WTO) indicates that manufactured goods contribute about 70 percent, agricultural products 10 percent, while mineral/fuel account for 15 percent. What this tells us is that we would not be able to make much impact unless we develop our manufacturing capacity. This is why NEXIM has adopted the PAVE philosophy and I will give some examples as I normally do. Four countries in West Africa -- Cote d'Ivoire, Ghana, Nigeria and Cameroon -- are responsible for about 75 percent of the world's cocoa production, most of which are exported as raw cocoa beans. Now, the global market for raw cocoa beans is only US$10 billion, while the market for chocolate and other processed cocoa products is valued at about US$200 billion annually. The same goes for hides and skins, where our exporters would only earn about US$12 per square metre, whereas the same product when processed could earn up to US$100 per square metre.

Now, I earlier told you that we are in the process of reviewing our strategy in view of the dynamic business environment and global developments. As part of this, we have also recently commissioned a study to review the export landscape in Nigeria towards positioning the country and NEXIM for the challenges ahead. As you know, opportunities for trade and economic cooperation are being created, especially by developments such as AfCFTA, Brexit and of recent, Russia is putting more focus on Africa for strategic reasons. The Covid-19 pandemic has also impacted the global supply chains, with implications for trade. But some of these opportunities could also become threat if we do not properly position ourselves, as Nigeria could easily remain import dependent.

This is why we are taking steps to enhance our capital base and position NEXIM to play the role of institutions like EXIM China, EXIM India and other EXIMs in emerging markets.

Aside enhancing our funding capacity, we are also collaborating with other institutions to address other pertinent issues such as packaging and quality standards, logistics issues and many more like that. I am sure you are aware of our role in developing a regional transport and logistics company, which we call the Sealink project. Besides promoting trade within the region, this project is also targeted at developing Nigeria's inland waterways to facilitate evacuation and trade in bulk commodities, thus addressing some of the problems associated with the lack of multimodal transport system.

JA: You probably had a vision of transformation for NEXIM when you were appointed as the CEO. What is that vision and what is needed in fully realising it?

AB: Yes, as I earlier mentioned, my vision was to reposition NEXIM to become the main catalyst of government economic diversification programme through promotion of non-oil exports. We are already on track to achieve this with our various funding and risk bearing programmes. I also mentioned our partnerships with other government agencies to address other problems relating to quality, product certification and logistics issues. Central to the achievement of our plans is the need to raise adequate operational funds. We are already getting a lot of support from our shareholders: the Federal Ministry of Finance and the Central Bank of Nigeria, to increase our share capital.

The economy has become bigger since the establishment of NEXIM, and the growth of the Bank has not kept pace with the growing opportunities. We will need to raise equity. But over and above this is the need to leverage our balance sheet more. To do this, we need to get a credit rating and as part of getting a good rating we need to increase our capital. It is expected that the Bank can be rated by the next financial year.

But do not misconstrue my comment about the size of our balance sheet. As a government institution, we have the features of a sub-sovereign. Currently, we have lines of credit from institutions such as Afreximbank and EXIM Taiwan, while those of EXIM India and the African Development Bank (AfDB) recently expired, and efforts are ongoing towards renewal. All these are possible through the support of our shareholders.

However, over the past few years, we have prided ourselves as a government institution with commercial orientation. We are, therefore, taking steps to approach the market for much bigger transactions on the strength of our balance sheet. This will also be in line with our mandate of attracting suitable funds from external sources to develop the export sector.

JA: Any concluding remarks?

AB: One last comment I would like to make, which summarises all we have been saying, is that the objective of the Bank has always been the same since inception, but the missing link has been the inability of the country to industrialise fast enough. In the case of the East Asian economies, which I earlier cited, the export-led strategy worked in those countries because it was accompanied by industrialisation, which was driven by technology acquisition and increased FDI inflows. These countries were also able to attract investment from more advanced economies, who seized the opportunity of lower wages to outsource large scale production and then export to all parts of the world.

As a country, we would not be able to achieve much if we continue to export primary produce, and related to this is the need to attract foreign direct investment and promote partnerships that will accelerate the pace of technology acquisition. To achieve this, we must continue to pursue economic reforms to attract investment, whilst also improving physical infrastructure as well as soft infrastructure such as education, including entrepreneurship education, as well as research and development. The good news, however, is that the current government under the leadership of President Buhari is already implementing necessary reforms through the Presidential Enabling Business Environment Council (PEBEC). This initiative should be sustained and improved upon.
Subscribe
Subscribe now to receive newsletter from Financial Nigeria.