Olajide Olutuyi, Co-Founder/ CEO, Top-Olax Energy Limited
Follow Olajide Olutuyi

@jideolutuyi
Subjects of Interest


Frontier and Emerging Markets
Private Sector Development
Sustainable Development
Like Lee, Tinubu must deliver on bold fiscal and structural reform
10 Oct 2023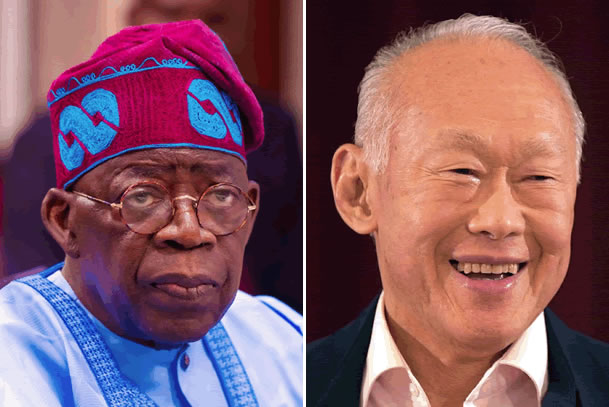 Nigerian President Bola Tinubu and late Prime Minister Lee Kuan Yew of Singapore

In my column of December 2017, I called on President Muhammadu Buhari to implement bold fiscal reform to support Nigeria's budget expansion. Amongst other mechanisms, I suggested VAT increase and introduction of a wealth tax to increase government's revenue. Some of these suggestions were implemented – though rather haphazardly – and the others were not. President Bola Ahmed Tinubu has come into office with a credential that touts dramatic increases in the Internally Generated Revenue (IGR) of Lagos State beginning from when he served as governor of the state between 1999 – 2007. But can he repeat a similar feat at the federal level?

Surely, the President has indicated that he can take tough decisions in the interest of the long-term performance of the economy. He straightaway announced the end of petrol subsidy and introduced a market-based exchange rate. While both decisions have been applauded as tough decisions, but have brought enormous hardships to Nigerians, it is too early to know the effect of these decisions in the long term.

Tinubu needs to follow the footsteps of Lee Kuan Yew, the founding father of modern Singapore, who embarked on bold fiscal and structural reforms that transformed the nation from a poor country to one of the wealthiest countries, in per capita terms, in the world. The first Prime Minister of Singapore, who ruled from 1959 to 1990, recorded remarkable achievements. He prioritised education, rule of law, and economic stability. Over time, this transformed his country from a struggling nation with limited resources into a global economic hub. His leadership left behind an unmatched legacy in modern history.

There are certain political similarities between Lee and Tinubu that depict their proclivity for bold actions. Lee co-founded his own political party, the People's Action Party, and served as the opposition leader in parliament. On his part, Tinubu was the founder of one of the parties (Action Congress of Nigeria (ACN)) that fused together to form the ruling All Progressives Congress (APC) in Nigeria. Tinubu's ACN, and later APC, were opposition parties at the federal level before 2015.

The successes recorded by Prime Minister Lee were brought about by fiscal and structural reform. The well-orchestrated reform measures are best highlighted by their successes. Singapore's gross national product per capita increased from $1,240 in 1959 to $18,437 in 1990. Unemployment rate decreased from 13.5% to 1.7% over the same period, while external trade rose from $7.3 billion to $205 billion. Also, life expectancy at birth in Singapore increased from 65 years in 1960 to 74 years in 1990, telephone lines increased from 3 per 100 people to 38 per 100 people, and growth in visitor arrivals rose from 100,000 to 5.3 million.

Contrary to the situation where Singapore has become one of the most prosperous and best countries to live in today, Nigeria faces numerous challenges, including high poverty and unemployment rates, corruption, insecurity, inadequate infrastructure, and high economic inequality. These now constitute obstacles to realising the potentials of the country. Nevertheless, the President has a job of addressing these challenges with vision, boldness, and competent execution.

Bold fiscal reform

Under the umbrella of fiscal reform, President Tinubu needs to introduce effective anti-corruption measures, efficient tax administration, adequate level of investment in education, and business-environment reform to drive inward investments. There has been a lot of motion and no movement in the fight against corruption in the country. Despite multiple institutions pursuing anticorruption mandates in one form or another, and in spite of the personal disavowal of corruption by the immediate past president, the problem has only grown worse.

To make anticorruption more effective, there is the need to consolidate the plethora of state agencies acting in the space. Anticorruption statutes also need to have more bite. Despite the misgivings citizens have about the National Assembly, the President needs to work with the legislators to strengthen the legal frameworks for anti-graft. For instance, there should be more legal clarity on plea bargain, disposal of confiscated property on grounds of corruption, and penalties for acts of corruption have to be stiffer to serve as an effective deterrent. The prevention of corruption in the delivery of services to the public must optimise the use of technology while wages in the public service should be reviewed upward across board while promoting competency and merit in the service. The most important measure would be to foster inclusive prosperity, thereby raising the sense of human dignity of Nigerian workers.

With regard to taxation, President Tinubu has made a proactive move for comprehensive tax reform by constituting a presidential committee on fiscal policy and tax reform, chaired by Taiwo Oyedele. A new regime in taxation in Nigeria should prioritise increased government revenue. But this should not be pursued as an end in itself. Indeed, boosting tax revenue could entail improving the business environment first. This is given the dire economic situation of the country today where businesses are grappling with multiple headwinds, including high inflation, high interest rates, and dwindling disposable income.

A prosperous Nigerian economy would be one that is knowledge driven. This requires adequate investment in education. In the meantime, there are mixed signals on what the pathway to improved education would be in the country. Would it be by increasing public funding or by making parents pay more for the education of their wards? The place to start is by providing clarity on policy. But without a doubt, the government needs to increase investment in universal access to basic education, science and technology education, continuous education and training that provide evidence of learning for public sector workers, and programmes for training the trainers. Measures that currently suggest that students that are currently enrolled in school could drop out because of sharp increases in fees should be reconsidered. Government should view its spending on education not as an expense but as an investment. If such investment delivers on appreciable quality, it will pay off, just like it did in Singapore.

Finally for fiscal reform, President Tinubu must find the scope to catalyse foreign investments into the country. Apart from raising the country's daily oil production to meet its export quota and increase foreign exchange earnings, attracting foreign investment is the other strategy to improve forex liquidity in the country and ease the downward pressure on the value of the naira in the immediate term.

Whilst Africa has struggled for decades to attract foreign capital flows like other developing regions of the world, global competition for foreign investment has become harder as the oil economies of the Gulf states are implementing investment strategies for transitioning to post-oil economy. Again, despite public unease about seeming junketing by public officials, the country needs to embark on an aggressive campaign and road shows with the aim of attracting foreign direct investment (FDI). However, such efforts require a powerful vision and integrated policy, including for also transitioning the Nigerian economy into low carbon production and technologising it.

Bold structural reform

In the sphere of structural reform, there are many bold measures to take. I have identified eight areas for action, namely civil service reform, economic diversification, investment in healthcare, decentralisation, mass housing, innovation and digital economy, population control, and youth development.

The country has delayed action on a comprehensive civil service reform since the efforts in the 2000s. Instead, piecemeal actions, especially digitalisation of public service, have held sway. Progress has been slow or unclear in many areas. Since the government owns and runs many commercial entities, raising the competency of public sector workers is germane to raising productivity in the sector.

The Nigerian economy is broadly diversified but the many of the sectors are informal and weak. The low quality of locally manufactured products has seen public and private procurements favour foreign manufactures. This has to change. Local brands like Innoson must begin to see improved patronage of its vehicles by government and public institutions. The same should be the case for services, including software and digital solutions, which is an area to harness the creativity of the vast youth population.

Improving Nigeria's healthcare system is crucial and urgent. Happily, a public health expert of global renown now serves as the Coordinating Minister of Health and Social Welfare. His notion of a whole of government approach to the development of the health sector needs to receive a strong backing by the President. The country also needs to leverage its strong consumer market to foray into manufacturing of pharmaceutical products. It is a matter of urgency to curtail, and reverse, the emigration of health workers and medical experts abroad.

With regard to decentralisation of market governance, it has noticeably begun in the power sector as electricity transmission – and indeed the entire value chain of the industry – has been removed from the Exclusive List. State governments can now promote and regulate electricity in their jurisdictions. This and other steps to address the structurally rigid economic system fostered by Nigeria's awkward form of federalism should be addressed to unlock investment and productivity. Prime Minister Lee made similar policy moves to empower local authorities and enhance public service delivery at the regional and local levels.

On mass housing, the country has to close the housing deficit estimated at 28 million units. A dramatic improvement in housing supply is important for Nigeria's urban renewal. With rural-urban migration growing apace, many of the country's urban centres have many slum areas. Lee Kuan Yew pursued a housing policy which saw public housing rise from 22,975 units in 1959 to 667,575 in 1990. Nigeria can make similar stride, too.

And there is much the country can achieve with digital transformation of the economy. It will create jobs and can potentially make the country a major exporter of digital and information technology solutions. Nigeria must become very ambitious in building an innovation economy. President Tinubu must marshal the policy and investment to deliver on this goal.

But, admittedly, one of the most difficult but necessary reforms that the government will struggle with is population control. Religious believes and social norms in Nigeria – and elsewhere in Africa – discourage birth control. The Nigerian population is growing at a faster pace for its weak economic growth, especially in recent years. Public enlightenment on the advantages of family planning, combined with incentives for having smaller family size, could be helpful. Fearing that Singapore's growing population might overburden the developing economy, PM Lee started a "Stop at Two" family planning campaign. In the later years, incentives were introduced to encourage having fewer kids.

Finally, the Nigerian youth population must be harnessed. There is currently a growing disorientation in the demographic, with alarming tendencies to drug abuse. This can be linked to high youth unemployment or underemployment. As the saying goes, "an idle man is the devil's workshop." A national emergency should be declared for youth employment. This should be a symbolic gesture matched with real policy actions to create wealth and jobs with young Nigerians across the country.

President Tinubu has a unique opportunity to lead Nigeria into a brighter future, drawing inspiration from Lee Kuan Yew's successful legacy. Nigeria can emulate Singapore's success story and become a leading global economy in the 21st century. This is a decisive moment for transformative leadership.

Singapore's success came at the cost of human rights. But economic progress and political freedom are not mutually exclusive. Therefore, President Tinubu should work tirelessly to improve Nigeria's socio-economic indicators while still respecting the rights of every Nigerian.

Olajide Olutuyi, a Financial Nigeria Columnist, holds first degrees in Computer Science from the Federal University of Technology Akure (FUTA) and Management from the University of Lethbridge, Canada; an MBA from the Australian Institute of Business; and a certificate in Social Impact Leadership from University of California, Berkeley, Haas School of Business. He is an Instructor at Bow Valley College's Chui School of Business, Calgary. He is also the Co-Founder/CEO Top-Olax Energy Limited and the Executive Director, Samuel Olutuyi Foundation. Email: Olajide@samuelolutuyifoundation.org.
Subscribe
Subscribe now to receive newsletter from Financial Nigeria.