The U.S.-Iran confrontation: How did we get here?
Feature Highlight
The United States' campaign of "maximum pressure" against Iran has been no bluff. In announcing its intention to deprive Tehran of all oil revenue, Washington is moving into uncharted territory, as it previously offered sanctions waivers to importers of Iranian oil.
Image of Strait of Hormuz choke point
The Geopolitics of Iran: Holding the Centre of a Mountain Fortress

Dec. 16, 2011: Iran is secure from conceivable invasion. It enhances this security by using two tactics. First, it creates uncertainty as to whether it has an offensive nuclear capability. Second, it projects a carefully honed image of ideological extremism that makes it appear unpredictable. It makes itself appear threatening and unstable. Paradoxically, this increases the caution used in dealing with it because the main option, an air attack, has historically been ineffective without a follow-on ground attack. If just nuclear facilities are attacked and the attack fails, Iranian reaction is unpredictable and potentially disproportionate. Iranian posturing enhances the uncertainty. The threat of an air attack is deterred by Iran's threat of an attack against sea-lanes. Such attacks would not be effective, but even a low-probability disruption of the world's oil supply is a risk not worth taking.

What 'Energy Security' Looks Like in the 21st Century

Sept. 19, 2017: Rather than preserving its access to oil, then, the United States is more interested in protecting itself from price changes in the market at large. After all, sharp dips in Middle Eastern oil production would push energy prices upward worldwide – including in the United States. A lengthy shipping shutdown in the Strait of Hormuz, moreover, would wreak havoc among Asian economies by restricting their energy supplies, carrying consequences that would ripple throughout the global economy as well. In light of these concerns, it is no surprise that the United States and Saudi Arabia remain such close allies: Riyadh has a long-standing policy of maintaining enough spare capacity to quickly ramp up its production in order to stabilize oil-starved markets.

Why Iran Is Threatening to Close the Strait of Hormuz

July 5, 2018: If all U.S. allies stop importing Iranian oil, the country could ultimately see its oil exports drop to as low as 1 million barrels per day (bpd) from its current 2.28 million bpd, resulting in a big loss of revenue. That dire prospect, amplified by the need to hit back at Washington and save face in some way, is prompting Iran to dredge up its familiar threat to shut off the Strait of Hormuz to any trade. The mere threat of closing the strait increases market uncertainty, stokes oil prices and creates some leverage for Iran without requiring that it follow through.

Back Under U.S. Sanctions, Iran Looks for a Plan B

July 23, 2018: The Iranian government will probably try to postpone negotiations with the United States until after the next U.S. presidential election in 2020 in hopes that Trump does not win a second term. A president from the Democratic Party would likely be less aggressive toward Iran and may even emphasize the nuclear issue, ignoring some aspects of regional strategy – as former President Barack Obama's administration did. The trick, of course, will be withstanding the Trump administration's pressure in the meantime. If economic conditions in Iran continue to decline, more large-scale protests like the ones that happened earlier this year or like the 2009 Green Movement could erupt. The IRGC will, in turn, try to suppress public unrest – all the while trying to gain control of the political system. But if it fails, the threat of a popular uprising may be enough to force the government to compromise in negotiations with the United States on the issues it once considered red lines.

Deciphering the War of Words Between the U.S. and Iran

July 24, 2018: Similar to its handling of North Korea, the Trump administration, now stacked with Iran hawks, believes that in a best-case scenario a maximum pressure campaign – one that involves ditching the Joint Comprehensive Plan of Action, snapping back all sanctions against Iran and denying waivers to Iran's trading partners while threatening military action – could eventually drive the Iranian government back to the negotiating table to rewrite the nuclear deal. Short of that highly dubious outcome, at least during the Trump presidency, the White House has been remarkably open about its intent to use a combination of economic turmoil, propaganda efforts and potentially covert activity in collaboration with Israel and Saudi Arabia to create the conditions for regime change from the ground up.

Iran Faces Bleak Options as the U.S. Turns the Screws

April 24, 2019: The United States' campaign of "maximum pressure" against Iran has been no bluff. In announcing its intention to deprive Tehran of all oil revenue, Washington is moving into uncharted territory, as it previously offered sanctions waivers to importers of Iranian oil. So what does Iran do now? Until now, Tehran has adopted a pragmatic response to U.S. President Donald Trump's harsh stance, remaining within the Joint Comprehensive Plan of Action (JCPOA), as the 2015 nuclear deal is formally known, and avoiding other retaliation even if it hasn't benefited economically from maintaining its moderation. But given Iran's bleak economic prospects as a result of the United States' punishing line, Tehran's patience could soon wear thin. An Iranian retaliation in the form of renewed uranium enrichment or attacks on shipping would certainly invite a furious U.S. response, yet it's not clear if Washington's aggressive campaign would ever achieve the United States' ultimate goal: altering Iranian foreign policies that undermine U.S. allies in the Middle East.

The Ripple Effects of the U.S. Move to Stop Oil Flows From Iran

April 22, 2019: Iran will ratchet up its rhetoric about shutting down the Strait of Hormuz or using Yemen's Houthis to halt maritime traffic through the Bab el-Mandeb, but the country faces significant restrictions in actually shutting down either chokepoint even if it could stage a one-off attack on a tanker. Tehran will also take a long look at whether it wants to respond by withdrawing from the Iran nuclear deal – although doing that could prompt the United States to stage a limited military strike on nuclear targets in Iran, which, accordingly, would threaten more oil production in the region.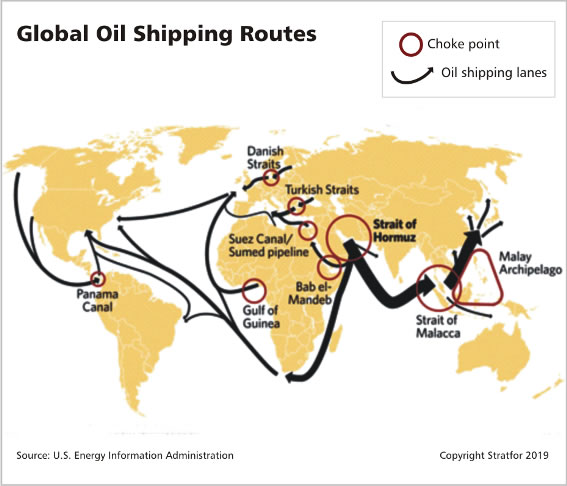 What the U.S. Withdrawal Will Do to the Iran Nuclear Deal

May 8, 2018: To counter Trump, Iran will emphasize its resistance-economy strategy, which entails less dependence on imports and better relations with other countries willing to navigate – and risk – U.S. sanctions. These moves will increase opportunities for Iran's domestic heavy industries, but it is uncertain what effects they will have on Iran's economic assault on the Islamic Revolutionary Guard Corps. The government will also try to mitigate the sanctions by reducing economic ties to places that are likely to buckle under to U.S. pressure or take steps toward more friendly partners such as China, Russia, Qatar and India.

Why the EU and Iran Have Little Hope of Rescuing the Nuclear Deal

May 16, 2018: Brussels has few options if it wishes to sidestep the U.S. sanctions on non-energy trade. The European Union could impose "blocking" regulations to inhibit the imposition of U.S. sanctions on EU territory by prohibiting European companies from complying with Washington's sanctions. The bloc considered similar regulations, including freezing U.S. assets, in the 1990s to protect firms conducting business with Cuba and Iran from running afoul of U.S. sanctions, which Brussels viewed as an extraterritorial application of U.S. law that undermined European sovereignty. The blocking regulations protected companies doing business with Cuba, although the European Union never required the measures for Iran because it reached an exemption deal with the United States for investments in Iran's energy sector. This time, however, the United States is unlikely to be as accommodating.

Iran Is Inching Away From the Nuclear Deal. What Happens Now?

May 8, 2019: Iran's leadership has assessed that, over the next few years, it must respond to the U.S. provocations against the JCPOA, not only to ensure its own negotiating credibility but to gain leverage if future talks materialize. Today's moves may not cross the threshold into those that cause the European Union to immediately reapply sanctions or the United States to conduct a limited military strike on Iranian nuclear facilities. However, those actions could come 60 days from now, if Iran follows through on threats to enrich uranium above the 3.67 percent level enshrined in the JCPOA and start modernization work on the Arak heavy water reactor. Both of these directly shorten the breakout timeline for Iran to produce a nuclear weapon.

"The U.S.-Iran Confrontation: How Did We Get Here?" is republished under content confederation between Financial Nigeria and Stratfor.
Quick Search for Upcoming Events