Martins Hile, Editor, Financial Nigeria magazine
Follow Martins Hile

@martinshile
Subjects of Interest


Governance
SMEs
Social Development
The rise of Generation Y and the future of Nigerian politics
18 Dec 2017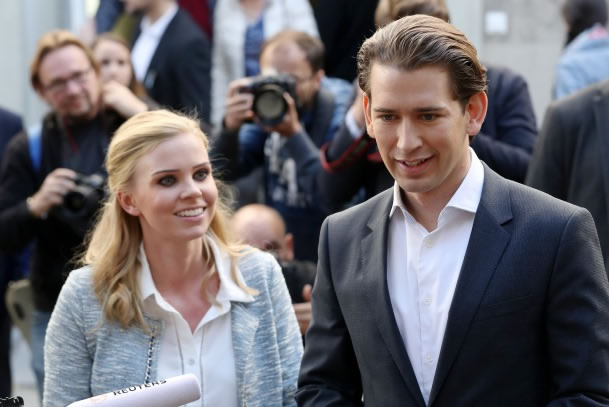 Austrian People's Party leader Sebastian Kurz and his girlfriend Susanne after they cast their votes in the legislative election in October.
After 31-year-old Sebastian Kurz led his Austrian People's Party (OVP) to victory in the 2017 general election, the Wall Street Journal published an article on October 18, with the cheeky subhead: "Why would anyone turn over the future of their country to a 31-year-old leader?" If ongoing coalition talks, set to conclude before Christmas, go as planned, Kurz would become the youngest chancellor in Austrian history. He will also be the world's youngest head of government.

At the age of 39, Emmanuel Macron was elected in May to become the youngest leader of France since Napoleon. While Kurz's party, which has only been around for 30 years, defeated political parties that have ruled Austria since World War II, Macron entered the presidential race on the platform of a party he founded and was barely one-year-old during the 2017 presidential election.

As world leaders become younger, it is important to examine and understand what this means and whether it portends a transformational change in political governance. One thing that is certain, however, is that the electorates in France and Austria do not consider grey power in political leadership as sacrosanct. Furthermore, the rise of millennials or the Generation Y – those born between 1977-1998 – has proved that they can potentially upend old political orders. In Saudi Arabia, for instance, 32-year-old Mohammad bin Salman, who became crown prince in June, is on the cusp of modernising the oil-dependent economy under Saudi Arabia's Vision for 2030.

The big question is whether the rising tide of millennials taking over political leadership in some countries would inspire competent young people in countries like Nigeria to become more politically engaged. For far too long, the Nigerian Generation Y cohort has narrowly viewed its political participation in terms of occasional voting. Perhaps due to the largely primordial nature of politics in Nigeria, this demographic has scarcely engaged in political movements to help shape and influence government, much less summon the courage to run for president.

Over the years, Nigerian geriatric politicians have subordinated the youths to simply working for them as Personal Assistants. However, there are exceptions like the Governor of Anambra State, Willie Obiano, who appointed young people like then-30-year-old Mark Okoye into his first cabinet; and Governor of Cross River State, Benedict Ayade, who appointed Asuquo Ekpenyong as Commissioner for Finance in 2015 at the age of 30.

After becoming victims of the bait-and-switch politics of the All Progressives Congress (APC), it is time for a new political and governance paradigm in Nigeria, championed by well-enlightened young people. It's time for young people in Nigeria to be emancipated from the stranglehold of the old brigade. The old political order, which has clearly failed, has to be replaced by a new one. It is unlikely that much of the current political class can bring about bold transformation, properly harness the spirit of enterprise in the youth and significantly improve the living standards of the vast majority of the citizens.

We might not know yet what the political ideologies of Nigeria's millennials are. To be clear, this generation cannot be monolithic in its politics. However, young people have to be far more progressive and nationalistic in their worldview. It would be a waste of time canvassing a power transition so that these younger Nigerians will replicate the retrogressive politics and inclinations of their older compatriots in government today.

But let's not think real change is impossible; after all, what was previously unthinkable politically happened in 2015 when an incumbent administration – inspite of its war chest – was defeated at the polls. The real challenge for the youth is how to organise a political disruption, knowing full well that to dismantle ossified political structures will not be an easy task.

We need competent young people who are not in the grip of religious and ethnic particularities to come together and develop a visionary and nationalistic agenda for the country. Then, they have to take advantage of every civic tool available to engage and improve our political awareness and participation.

It is still unclear what youthful energy and zest will produce in France, Austria and Saudi Arabia. Although Macron – who will be 40 this month – won the election, his centricism has caused his popularity to nosedive over the last few months. The probable next Austrian chancellor, Kurz, is a populist anti-immigrant who is called "the whiz kid" by his country-people. Young and brash, the Saudi crown prince is reportedly behind the escalating war in Yemen and the diplomatic crisis with Qatar. Last month, he ordered the arrest of prominent figures in the kingdom, including 11 princes and billionaire Prince Alwaleed bin Talal, one of the world's richest men.

Notwithstanding, the arrival of these young men on the political scene is an indication that people want change – and not the kind still garbed in the old political system.

If anyone asks if millennials are prepared to take on the responsibility of political leadership in Nigeria, they should reply: "Why should the future of our country perpetually be in the hands of men in their old age, many of whom are well compensated in their moral bankruptcy?"
Subscribe
Subscribe now to receive newsletter from Financial Nigeria.