Rotary and polio-free Africa
Summary
Infrastructure built by Rotary for polio eradication is now used for COVID-19 and to protect children from other vaccine-preventable diseases.
Dr. Tunji Funsho, Chair of Rotary's Nigeria National PolioPlus Committee. Image credit: ©Rotary International
Dr. Tunji Funsho, Chair of Rotary's Nigeria National PolioPlus Committee, spoke with Jide Akintunde, Managing Editor, Financial Nigeria Magazine – Africa's premier development and finance journal – on the historic milestone of the certification of Africa as free of wild polio by the World Health Organization, and Rotary's efforts in addressing public health challenges in Nigeria.

Jide Akintunde (JA): It is heart-warming, indeed, the news of the eradication of the wild poliovirus in Nigeria and throughout Africa. What are the dimensions of the positive implication of this development?

Tunji Funsho (TF): It is an absolutely incredible public health achievement for Nigeria, the World Health Organisation (WHO) African region, Rotary members, our Global Polio Eradication Initiative (GPEI) partners, local and national government officials, and every individual who helped us reach this milestone. These individuals include health workers, parents and religious leaders.

Now that the WHO African region has been certified wild polio-free, five of the six WHO regions – representing over 90 per cent of the world's population – are free of the wild poliovirus. Nevertheless, our efforts must continue. The disease continues to spread in Pakistan and Afghanistan.

Hence, we must strengthen routine immunization in Africa and vaccinate every child in order to keep immunity levels high to prevent a return of the virus.

JA: What was the role of Rotary International in the global efforts at eradicating polio; and, in particular, what were the contributions of the Nigeria chapter of the service organisation?

TF: Polio eradication has been Rotary's top priority for more than 30 years. At the international level, Rotary has contributed more than $2.1 billion and countless volunteer hours to fight polio. In 1988, we became a founding partner of GPEI, along with WHO, UNICEF, and the United States Centers for Disease Control and Prevention (CDC). Later, the Bill & Melinda Gates Foundation and Gavi, the Vaccine Alliance, joined our efforts.

In regard to Nigeria, there are more than 10,550 Rotary members in the country. In all 47 countries of the African region, there are nearly 32,000 Rotary members. Rotarians in the African region, including Nigeria, have played an integral role in helping to achieve polio-free status. Some of their efforts include raising funds for polio eradication; working with leaders across the globe, in Africa and local communities to secure support for immunization activities; holding events; and raising awareness.

And, it might interest you to know that Rotary members from around the world regularly travel to Nigeria to join Nigerian Rotary members as volunteers in immunizing children against polio during the country's National Immunization Days. We are so grateful for the invaluable efforts of Rotary members and GPEI partners in Africa. Following the polio-free certification, we held a special celebratory online event on the 29th of August to honour their contributions.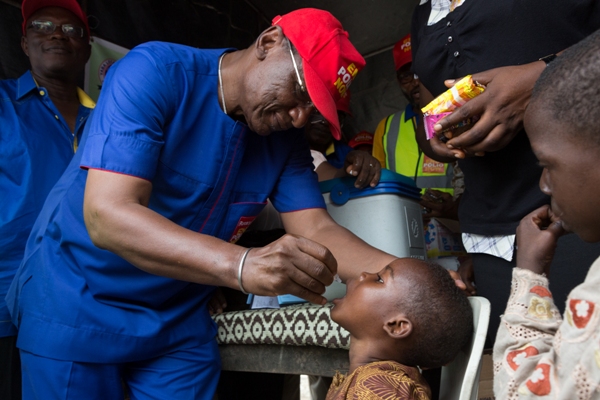 Dr. Tunji Funsho participating in polio immunizations in Lagos,
Nigeria in 2017. Image credit: ©Rotary International

JA: As a physician, and being the chair of the Rotary's Nigeria National PolioPlus Committee, what are the lessons from the eradication of polio that are key in addressing the burdens of, for instance, malaria, and other noncommunicable diseases that are also major public health challenges in Nigeria?

TF: Broadly, Rotary members helped in building the polio eradication infrastructure that's now being used to respond to COVID-19 and protect children from other vaccine-preventable diseases. This is what we mean by the "Plus" in our "PolioPlus" programme. This programme dates back to 1985, before the formation of the GPEI.

For instance, in Nigeria and across the African region, the "PolioPlus" programme involves the support of polio workers who help in routine immunization against other vaccine-preventable diseases. These workers helped to stop Ebola and yellow fever outbreaks. They also deliver bed nets to protect against malaria and even provide information to new mothers on the benefits of breastfeeding.

The polio eradication programme is also at the foundation of disease surveillance systems across Africa, serving as a prototype for the establishment of other disease-specific laboratory networks across the region. It has helped in the surveillance for diseases such as measles, rubella, meningitis, rotavirus, and yellow fever.

JA: What are the interventions of Rotary against the COVID-19 pandemic in Nigeria where testing has been grossly inadequate to establish the extent of community spread of the novel coronavirus?

TF: As noted in my previous response, the polio eradication infrastructure that Rotary and its GPEI partners built is being used to help protect communities against COVID-19. Building on decades of experience, GPEI's workers and resources are playing an important role in the fight against the pandemic.

For instance, the GPEI's polio staff have been brought in to conduct coronavirus contact tracing in Nigeria as well as lead disease surveillance and data collection in all the 36 states and the Federal Capital Territory, Abuja. What's more, a 20,000-person network of polio Volunteer Community Mobilizers is dedicated to raising awareness in communities about best hygiene practices and social distancing measures."

In Akwa Ibom State, Rotary clubs are focused on raising awareness and preventing transmission of coronavirus. Members of the organization provide awareness to students about the illness and share information on how to prevent infection through hygiene practices.

I encourage readers of your publication to visit Rotary's online platform to learn about how our members are responding. (https://www.rotary.org/en/rotary-clubs-help-fight-covid-19-pandemic).

JA: More broadly, the Nigerian social realities, including endemic poverty, poor access to quality education and healthcare, and polarization along ethnic and religious lines must be of concern to Rotary. What is your message to key stakeholders in addressing the challenges?

TF: Rotary is a global membership organization that thrives because it brings diverse people together to create meaningful connections and positive change in communities around the world. Yet, I readily admit that there is not a simple message to offer or an easy solution to all the challenges Nigerian society faces.

However, I can say, again using polio as an example, that philanthropic organizations like Rotary can help fill the gaps that governments and marketplaces haven't been able to address. For example, thanks to Rotary's established partnerships (within the GPEI), we have been able to combat a major disease like polio and are now helping the COVID-19 pandemic response.

So, I would encourage those with vested interest in Nigeria's geopolitical success to consider how NGOs, public/private institutions and civil society may all work together for the greater benefit of the country and its people.

JA: How can the work of Rotary be supported in Nigeria?

TF: As I mentioned, wild polio continues to circulate in Afghanistan and Pakistan. In order to protect the African region's progress against the disease, we must maintain high levels of immunity and vaccinate every child.

Rotary and its members have contributed nearly $890 million to support polio eradication activities in the African region, of which $276 million was dedicated to activities in Nigeria. To maintain the region's newly-secured wild polio-free status, we must work together with donors, governments, and GPEI partners to strengthen political and financial commitments in order to end polio for good.

To that end, Rotary is focused on raising $50 million per year – as every dollar donated to Rotary's PolioPlus fund is matched with two additional dollars from the Gates Foundation. So, we encourage your readers to visit endpolio.org to see how they can support us to help end polio for good.

JA: What is your outlook of Nigeria and the world, in terms addressing especially the challenge of sustainable development in the next decades?

TF: As long as polio exists anywhere, it is a threat to children everywhere. So, my outlook remains focused on strengthening routine immunization in order to maintain high immunity levels in Nigeria and Africa. My hope is that we can, one day, achieve the global eradication of polio.

As I've said, Rotary and its partners in the GPEI still have work to do. But the African region's wild poliovirus-free milestone shows that polio eradication is possible, even in the face of enormous challenges and in the midst of a global pandemic.
Subscribe
Subscribe now to receive newsletter from Financial Nigeria.