Efem Nkam Ubi, Acting Director General, Nigerian Institute of International Affairs
Follow Efem Nkam Ubi

@PapaFemo
Subjects of Interest


Economic Development
Geopolitical Analysis
International Affairs
International Trade
One country, one continent summits with Africa
11 Dec 2019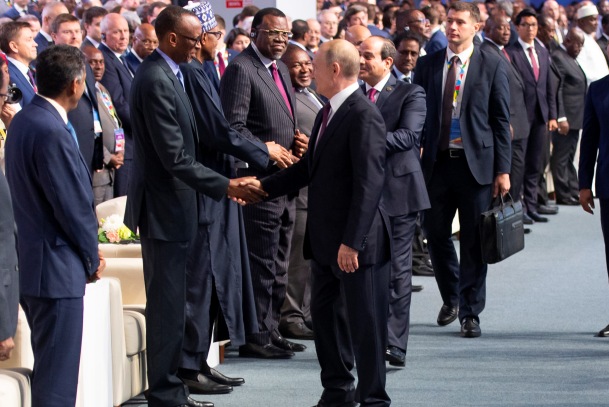 Russian President Vladimir Putin welcoming African leaders to the Russia-Africa Summit last October in Sochi

It is now commonplace to hear of any single-country hosting African countries to a summit. Interestingly, these summits are not the conventional ones that are often held within the ambits of multilateral institutions like the United Nations (UN), African Union (AU), Economic Community of West African States (ECOWAS), etc. On the contrary, these summits are hosted, one after another, by emerging market countries.

On 23-24 October, 2019, the Russia-Africa summit held at the Black Sea resort of Sochi, Russia. The event drew representatives from the 54 African countries, out of which 45 heads of state and government were present. Also, the heads of the executive bodies of eight African regional organisations and 109 foreign ministers were in attendance. According to Russia, the event was aimed at rebuilding ties with the African continent.

In summation, the outcome of the summit saw US$12.5 billion worth of deals struck, with majority being memorandums of understanding (MOUs), especially with regards to defence cooperation, which has remained paramount in the relationship between countries of Africa and Russia. In that stead, more than 30 African states entered into "military technical co-operation agreements" with Russia to supply weapons, with some of these weapons to be delivered free of charge.

Other promises and obligations included, but not limited to, education and healthcare, joint exploration of oil and natural gas resources, building of new infrastructure projects, nuclear power, missile defence system, and expansion of trade and investment. For instance, the summit hoped to build on the trade relations, which currently stands at about US$20 billion and relies heavily on Russian exports of arms and export of African grain. At the summit, the Russian President, Vladimir Putin, promised to double trade with Africa within the next "four to five years."

All this, is a charm offensive designed to win back influence on the African continent by Russia. From all indications, the above largesse offered to Africa is not new; these have been offered to Africa by other economies. Again, most of the agreements were done on the sidelines between Mr. Putin and individual presidents of the various African countries, which could have been done bilaterally without a summit of showmanship.

The summit, like others before it, was aimed at cooperation that will boost development in the African continent. The question is: has Russia offered something different from what the West, Japan, and the newly-emerging economies like China and India offered or are offering Africa? Is the passion for the development of Africa by the advanced and emerging economies more genuine than the passion for development that African leaders have for their countries?

More questions. Why this new 'single country, one continent' summit relationships? How are African countries viewed by the emerging economies calling for these meetings? Why is Africa so subordinated and underrated?

This summit relationships could mean different things to the participants and studied observers. Whereas these summits tend to have an element of good, I would contend that they are essentially a relationship of superiority and inferiority, of super-ordinate and subordinate. To put it differently, it is baffling to see how a single country, (herein referred to as the "head-country"), could call out a continent of 54 countries with a population of about 1.2 billion to a meeting regarding discussions that have to do with their own development.

This single-country-one-continent summit depicts an asymmetry between a superior and a subordinate. There is a long history associated with it, from the epoch of the commoditization of human beings from Africa through slave trade by the West, to the present neo-colonial imperialism. The new-fangled emerging economies want to expand this prejudicial relationship with Africa.

There are discernible trends with these summits. The first is that, more recently, the emerging economies are the ones spearheading these calls, a shift away from Africa's traditional partners in the West. Thus, this new summits are depicted by China-Africa Forum, under the Forum on China-Africa Cooperation (FOCAC), established since the year 2000; India-Africa Forum Summit (IAFS), since 2008; Japan-Africa Summit under the aegis of Tokyo International Conference for Africa Development (TICAD), since 1993; and much more recently Russia on 23-24 October, 2019.

Three of the four BRIC (Brazil, Russia, India and China) countries have succeeded in summoning the African continent for such summit. Only Brazil is yet to do so. However, we need not be surprise if in the next couple of months and years Brazil decides to also summon the African continent to its own summit.

The second trend is, of course, the claim of passion for Africa's development through partnership and collaboration. But then, if the issue is about Africa's economic development, suffice to say, why can't these meetings be bilateral, since individual African countries have their own socioeconomic peculiarities? In fact, the evidence is that most of the summit meetings are sideline meetings, which are pseudo bilateral meetings in multilateral settings. Therefore, to what end is the purpose of a single country gathering the continent as a bloc, if the side meetings exist?

The third trend is the same old promisory nature of the summit, whereby the head-countries offer prescriptions that had existed even before their recent economic advancement, which are not different from what the West had promised decades earlier. By the way, promises do not make any headway without obligations or commitments. Despite the old and new promises, African countries remain in the rote of underdevelopment.

The common impetus for the summits is prestige and power projection by the head-countries. The emerging economies are gathering the 54 African countries to announce that they have come of age, and as a sign of their progress in the competition with the Western powers.

Beyond this, we may still ask: why the romance with Africa? Evidently, the future of the world's economy is in Africa, based on the enormous deposits of mineral resources on the continent and Africa's huge and growing population. African countries are still relying heavily on commodity exports, their future economic strengths could be projected in natural capital, resource-based industries, vast human resources, and a big market.

I had argued in one of my past articles in Financial Nigeria, albeit contentious, that Africa's population size and demographic have remained major prospects of the continent's economic strength. In recent years, economic growth rates are falling in Africa; however, growth on the continent is still higher than any other part of the world. Africa's population of 1.2 billion currently accounts for 15 percent of the world's population, and it is set to increase to 2 billion by 2050.

The future of the world's labour force will be in Sub Saharan Africa. As such, the FDIs of both the advanced and emerging economies will be oriented to the African continent, where demand for products and services are projected to grow dramatically.

Recent statistics shows that Africa's share of trade with the emerging markets has gone up by almost 50 percent, with the prospect that it could grow to as much as 70 percent by 2020. The leading countries in FDIs in Africa for now are the United States, the United Kingdom and France. These three countries, combined, hold the biggest share of investments in Africa, totalling about US$178.2 billion.

The BRICS countries collectively hold investments valued at US$67.7 billion, of which Chinese investment alone in Africa is US$27.7 billion. The remaining US$40 billion is shared among the rest of the BRICS countries. With regards to trade, Russia-Africa trade currently stands at US$20 billion, a tenth of China-Africa trade. Brazil-Africa trade was US$28.4 billion in 2013, although it declined to US$12.4 billion in 2016.

Thus, competition between the advanced Western economies and the BRIC countries, on the one hand, and competition among the BRIC economies on the other hand, are factors driving the summit relationship with Africa. International relations remains rooted in 'national interest', an idea that is seemingly less understood in practice by African leaders who continue to look up to the more developed countries for help. The promises of foreign aid, loans and even technology transfer are abstractions, if the (prospective) recipient country cannot heuristically fashion-out its own development plans and implement them.

Many countries in Africa do not have strategic development agenda in their external engagements. The successive African leaders have remained beggarly. They seem to be waiting for the next invitation for summits, which are mainly fruitless for them by design. Africa's development will not be catalysed by foreign assistance; it would be brought about by a meticulous process of harnessing her abundant resources, which may be supplemented by foreign aid.
Subscribe
Subscribe now to receive newsletter from Financial Nigeria.