Efem Nkam Ubi, Acting Director General, Nigerian Institute of International Affairs
Follow Efem Nkam Ubi

@PapaFemo
Subjects of Interest


Economic Development
Geopolitical Analysis
International Affairs
International Trade
No mutual benefits for Nigeria in currency swap deal with China
13 Jun 2018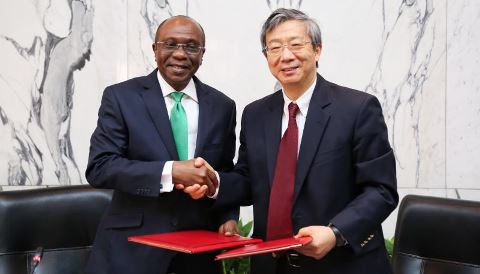 Governor of Central Bank of Nigeria, Godwin Emefiele, and Governor of People's Bank of China, Yi Gang
Governor of Central Bank of Nigeria (CBN), Godwin Emefiele, and Governor of People's Bank of China (PBoC), Yi Gang, signed a bilateral currency swap deal on April 27, 2018, in Beijing. The deal, worth 15 billion renminbi (RMB) (about $2.5 billion) put Nigeria among the very few African countries (South Africa, Egypt, and Ghana) to have currency swap deals with China.

Currency swap deals between countries help to facilitate bilateral trade settlements using their respective national currencies, instead of a third-party currency, in this case the United States dollar, which is the dominant global reserve currency. This agreement between Nigeria and China is designed to "provide naira liquidity to Chinese businesses and provide renminbi liquidity to Nigerian businesses respectively, thereby improving the speed, convenience and volume of transactions between the two countries," according to the CBN.

The deal, which is for an initial three-year period, follows the decision taken by the CBN in 2011 during the tenure of its former Governor, Sanusi Lamido Sanusi, to include the RMB in Nigeria's foreign exchange reserves as a way of diversifying the reserve holdings. Subsequently, in 2014, then-Deputy Governor of the CBN, Kingsley Moghalu, said the apex bank was looking to increase the percentage of Nigeria's yuan foreign reserves from 2 percent to 7 percent as China was becoming an important global player in foreign trade. The meeting between Presidents Muhammadu Buhari and Xi Jinping, during the Nigeria-China Business/Investment Forum in Beijing, in April 2016, eventually culminated in the currency swap deal.

This deal is significant for both countries. Over the years, Nigeria-China relations have been waxing stronger even as bilateral trade between the two nations has grown exponentially. China has been Nigeria's second-biggest trading partner after the U.S. for quite a while. For instance, in 2014, trade volume between the two countries totalled $18.1 billion; thus, making Nigeria China's third largest bilateral trade partner in Africa, after South Africa and Angola. However, Nigeria-China trade cooled to $14.94 billion and $13 billion in 2015 and 2016, respectively. In 2017, trade volumes between the two countries scaled down further to a total of $9.2 billion.

But regardless of the volume of trade between the two countries, their economic and trade relations are imbued with some complexities that need urgent solutions. This is what informs my scepticism about the currency swap deal, despite several analyses on its benefits, which to me aren't out of the ordinary.

Supporters of the deal, including the apex banks of both countries, have argued that it would help protect Nigerian businesses from the harsh effects of third currency fluctuations; enhance financial stability; promote broader economic cooperation between the two countries; and help both countries in their foreign exchange reserves management; among other benefits.

Without being antagonistic towards the above-touted benefits of the deal, I believe for it to make any substantial impact on Nigerian foreign trade and the domestic economy, two important factors must be addressed. Currently, Nigeria runs a trade deficit with China. According to Bloomberg, Africa's largest economy imported $7.6 billion worth of goods, including textiles and machinery from China, in 2017, while exporting $1.6 billion worth of goods, mainly oil and gas, to China. The biggest culprit in Nigeria's trade imbalance with not only China, but also other countries across the globe, is the lack of value addition to its exports.

The questions we should begin to ask ourselves are: What is the nature of Nigeria-China trade in terms of exports and imports? What is the percentage of China's import from Nigeria as compared to Nigeria's import from China? Furthermore, how can Nigeria see itself as a trading hub with the rest of the world, when the country is more of an importer of finished products than an exporter of same? On a final note, why should we celebrate a Nigeria-China currency swap deal when the governments of both countries have made it difficult, especially for business people, to obtain visas to their respective countries?

Therefore, what would guarantee mutual benefits for both countries under the Nigeria-China currency swap agreement is to have the Nigerian government revamp the industrial sector to be globally competitive. Until this is done, it is hard to see how Nigeria can maximise the benefits of holding yuan liquidity in Nigerian banks. It is also hard to see how China would not continue to have a disproportionate advantage over Nigeria in the two countries' economic relations.

As already mentioned, a big hindrance to trade facilitation between Nigeria and China, apart from foreign exchange scarcity, is the difficulty in obtaining visas to both countries. In a study on "Nigeria-China Economic Cooperation" I carried out between November 2015 and February 2016, the major problem that was raised by respondents in both countries was the issue of visas. The two governments, therefore, need to understand that economic cooperation between both countries can only be driven and strengthened by the people.

In conclusion, the Nigerian government should show greater commitment and give impetus to its ambitious industrialisation programme, which the Buhari administration had inaugurated the Nigeria Industrial Policy and Competitiveness Advisory Council last year to drive. Part of the aims of the programme is to make Nigeria a manufacturing hub in West Africa and diversify the economy from its over-dependence on oil.

For Nigeria-China currency swap to be of mutual benefit and win-win development, the Nigerian government should first revamp its industrial sector and ailing cottage industry to be able to compete with their Chinese counterpart with regards to trade. Industrialising the Nigerian economy is the sine qua non to a favourable balance of trade and economic development. Also, it is high time the Nigerian government and the Chinese government proposed talks on how to manage the visa problems.

Efem N. Ubi, PhD, is a Research Fellow and Head, Division of International Economic Relations, at the Nigerian Institute of International Affairs, Lagos.
Subscribe
Subscribe now to receive newsletter from Financial Nigeria.