Olajide Olutuyi, Co-Founder/ CEO, Top-Olax Energy Limited
Follow Olajide Olutuyi

@jideolutuyi
Subjects of Interest


Frontier and Emerging Markets
Private Sector Development
Sustainable Development
Nigerian start-ups need government support
13 Sep 2019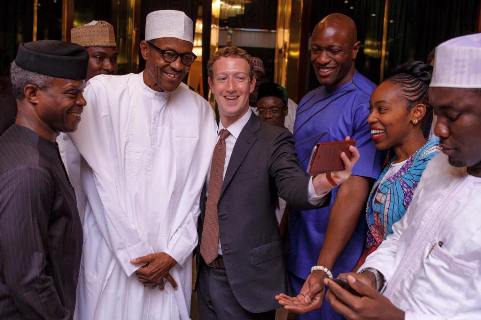 President Muhammadu Buhari with his administration officials receiving
Facebook Founder Mark Zuckerberg in Aso Rock on September 2, 2016

In my column in the May 2019 edition of this publication, I posited that entrepreneurship education (EE) and government support for start-ups are key factors that have set the United States and China apart as the world's entrepreneurial powers. Government support is very important to the survival, growth and sustainability of the start-up ecosystem in those countries. Sadly, the Nigerian government has not started doing enough to support start-up activities in the country.

Start-ups have been variously defined as companies in "the first stage" of their operations and "initially bankrolled by their entrepreneurial founders" (Investopedia); or "fledgling business" enterprises (Merriam-Webster). Neil Blumenthal, co-founder and CEO of Warby Parker, an American online retail company, defined a start-up as "a company working to solve a problem where the solution is not obvious and success is not guaranteed." The start-up process can take a long period of time. A company that has operated for five years could still be regarded as a start-up.

With recent developments in the Nigerian start-up ecosystem, it is evidently clear that government support will be of immense benefit to both the start-ups and the economy in general. Even without government support, Nigerian start-ups have created new frontiers, disrupted existing markets and created several jobs. So strong is the impact of the Nigerian start-ups that they got the attention of Mark Zuckerberg, Facebook's founder, who visited Lagos three years ago. That was his first visit to sub-Saharan Africa. The highlight of his trip was his visit to Yaba, an area of Lagos that is now widely regarded as the Silicon Valley of Nigeria. Zuckerberg met with about 50 local start-up founders at the Co-creation Hub (CcHUB), the city's innovation centre.

In June of that same year, two months before the Facebook founder visited Lagos, his foundation, the Chan Zuckerberg Initiative, invested $24 million in Andela, a start-up that trains software developers in Africa. In November 2017, Facebook announced some initiatives to further drive innovation, skills development and economic impact across Nigeria. In May 2018, NG_HUB was launched in Yaba, Lagos.

The hub, an aspect of Facebook's Nigeria initiatives, has a virtual reality lab, a creator lab, and a co-working space. It brings together developers, startups, and the wider community to share their ideas, skills, and time. The hub promised to train and support 50,000 students, SMES and entrepreneurs across the country through series of digital skills training.

In terms of government's efforts to support entrepreneurship, Vice President, Yemi Osinbajo, inaugurated the Technology and Creativity Advisory Group of the Nigeria Industrial and Competitiveness Advisory Council in June 2018. The group was given a charge to draw up a roadmap for promoting the technology and creative sectors to enable the sectors create jobs, contribute to economic growth and improve the well-being of Nigerians.

When the council was created in 2017, it had 50 members, including 28 tech entrepreneurs. Some of them accompanied the Vice President to Silicon Valley in a bid to attract foreign investment into the Nigerian technology ecosystem.

The Vice President's office is also in charge of the National Social Investment Programme (NSIP), which introduced Startup Nigeria – an intervention programme whose aim is to support innovation hubs and help to increase entrepreneurial and innovation capacity across the country. Nevertheless, we are yet to see a concrete plan from the government regarding support for start-ups.

Nigerian start-ups are creating value for the society, including supporting one of the government's prime agenda of job creation. A couple of months ago, I was introduced to PiggyVest (formerly called Piggybank). PiggyVest is a financial technology start-up that allows users to save money through its platform. Founded by Odunayo Eweniyi and Joshua Chibueze, the company has raked in $1.2 million in funding since it started. I enrolled on the platform and frankly, nothing in my adult life has been more helpful in terms of savings. The company has grown its registered members to about 195,000 with over N1 billion in monthly savings.

Then, there is Paystack, which provides online and offline payment services to businesses across Africa. The fintech has grown to process nearly 15% of all online payments in the region. It has also raked in about $11.7 million in funding, mostly from venture capitalists. Mines.io, a digital consumer credit platform for emerging markets, has received $17.2 million in funding.

These start-ups are not restricted to the fintech sector. They exist in agribusiness, healthcare and transportation sectors. Recently, Kobo360, a logistics start-up founded in 2017, raised a total of $30 million in funding for expansion. Its $20 million Series A round was led by Goldman Sachs. The remaining $10 million was working capital financing from Nigerian commercial banks. Considered to be the Uber of freight logistics, the company uses its app to connect truckers and companies.

Developments in the growing e-logistics and transport space saw the launch of ORide, a bike hailing app, in May 2019. ORide's parent company, OPay, a mobile-based platform for payment, received $50 million from Chinese and American venture capitalists in July 2019. The introduction of ORide is a pivotal moment in the emerging Nigerian motorbike hailing market. Other players in the market are Max and GOkada.

Other start-ups providing solutions in various sectors include Thrive Agric and FarmCrowdy in the agricultural sector; LifeBank in the health sector; Estate Intel in the real estate sector; and KiaKia in the lending and credit sector. The existence of these companies is indication of the compelling opportunities for investment and job creation in the start-up sector. The government cannot afford to treat the sector with short shrift.

Singapore has become a regional powerhouse for technology because it is backed by a supportive government. Recently, the government announced that it has set aside $29 million to support 5G research and innovation to drive the island nation's aspiration of becoming a 5G innovation hub. Singapore's government policy is to combine business-friendly policies with heavy investment in the tech sector.

Acknowledging that access to capital is very paramount to start-ups, the country rolled out series of funding schemes to help start-up companies at different stages of growth. Two of the schemes are the Action Community for Entrepreneurship (ACE) start-up grant, which provides about S$50,000 seed funding for early stage start-ups; and the IDM Jump-start and Mentor (i.JAM), which grants between S$50,000 to S$200,000 to start-ups through government-appointed private sector incubators. The start-ups must demonstrate their proof-of-concept.

Aside funding, the government of Singapore supports start-ups by providing an environment for innovations to thrive. The country has a commitment to keep research and development (R&D) spending at 1% of GDP. Furthermore, it has pledged to invest US$14 billon into scientific and technological research as part of its Research Innovation and Enterprise (RIE) 2020 plan.

In India, the Narendra Modi government has come up with several initiatives to support start-ups and foster a culture of innovation. The government has ensured that there are policy initiatives geared towards helping start-ups to raise funds for growth and expansion. Amongst the government initiatives are the Start-up India, launched in 2016. The initiative promotes and assists entrepreneurship by mentoring, nurturing and facilitating start-ups through every stage of their development.

There is also the Digital India which was setup to make all government services accessible electronically. The primary aim is to build India as a digitally-empowered society and knowledge economy.

Governments around the world continue to build strategic programmes to attract innovative start-ups and talents to strengthen the entrepreneurial culture in their respective countries. The start-up dream has become the new chase. You do not have to be a citizen of a country to be eligible. All that is required is to start your venture in the country. Start-up Chile was created by the Chilean government to attract early stage and high-potential entrepreneurs to help bootstrap their start-ups, using Chile as a platform to go global. Funding ranges from $15,000 to $90,000.

Start-ups and Entrepreneurship Ecosystem Development (SEED), an acceleration initiative of the Minas Gerais state government of Brazil, supports both local and international entrepreneurs to develop tech-based projects. Funding ranges between $21,000 to $25,000. The French Tech Ticket is a French government initiative created to attract gifted and ambitious individuals from all around the world to start their start-ups in France. The funding for the programme is $48,000.

Sweden has proven to be the most ambitious of all when it comes to supporting start-ups. Little wonder most of the notable start-ups like Spotify, Minecraft, Candy Crush Saga, Skype and Soundcloud started there. The country is home to Europe's largest tech companies and the capital, Stockholm, is the world's second most virile tech hub on a per capita basis, behind Silicon Valley. The country's average internet speed is only bettered by Norway and South Korea. More than 60% of the country has access to a superfast fibre optic broadband and that figure is projected to rise to 90% in 2020.

Nigeria is among countries with the highest cost of mobile data as a percentage of average income. Despite these hurdles, the country remains a top destination for start-up funding in Africa, coming only second to South Africa. According to WeeTracker, a leading African media company, South Africa attracted about $241 million in start-up funding in 2018, while Nigeria attracted about $134 million during the same period. Kenya came in third position with $111 million.

Nigerian governments at all levels must begin a policy shift towards supporting start-ups in their respective jurisdictions. They need to understand that the more start-ups they have, the more solutions, the more jobs, the more the revenue, and ultimately the more investments that will flow in.

The government must work with respective stakeholders to bring down the cost of data and increase the internet penetration rate. Government policies and programmes that help to promote access to credit for start-ups will be crucial in enhancing the country's innovation capacity.

At a time when some of our youths are engaging in fraudulent acts via the internet, there is no better time to start directing their skills and passion to something more productive and fruitful. The government must realise that promoting start-ups will play a central role in achieving the country's aspiration to become a top global economy.
Subscribe
Subscribe now to receive newsletter from Financial Nigeria.