Nigeria in 2017: Separating expectations from realities
Feature Highlight
High interest and exchange rates and forex scarcity can thwart a rapid rebound.
Executive Chairman, Xcellon Capital Advisors Limited, Chamberlain S. Peterside
The year 2016 went down as one of the toughest and most challenging years for most Nigerians. The challenges experienced by most citizens and business operators in the country in 2016 may not be quickly forgotten. Their effects may even linger for the foreseeable future. This is due to the far-reaching implications of some underlying factors in the macro environment such as the devaluation of the naira, high inflation, amongst others.

A negative fourth quarter 2016 GDP growth figure would mean that the year recorded one of the worse GDP slumps in 12 years. Data from the National Bureau of Statistics (NBS) show a consistent decline in the country's aggregate output in the first three quarters (Q1 = -0.36%; Q2 = -2.06%; Q3 = -2.24) of the year, with the country officially entering a recession in the second quarter of the year. The decline recorded in aggregate output was in stark contrast with a prolonged 5%-7% GDP growth rate recorded annually between 2005 and 2014.





During the presentation of the 2017 budget to the national assembly, President Buhari himself characterized the current situation as the worst economic crisis in the history of Nigeria. Who will argue with that?

If 2016 was dismal in terms of economic performance, what can we expect in 2017? How realistic are our expectations that 2017 will be better? Let's look at some pointers and try to decipher these questions.

Outlook for 2017

True, the shock waves arising from the crude oil price drop and the slide in domestic output were the major factors responsible for the recession. Nevertheless, the weak policy response from the government made macroeconomic conditions worse. But there seems to be some silver linings. Based on a projection by the International Monetary Fund (IMF), the current negative trend is expected to reverse in 2017 as Nigeria's economy is expected to grow at 0.6% compared to an estimated -1.7% GDP growth rate in 2016.

Also, the International Energy Agency (IEA) has said that the glut in the international oil market will gradually begin to recede. This will lead to price recovery that is projected to reach $60 per barrel of crude oil. Prices have edged up to $56-$57 per barrel. This price level is supported by the production cuts agreement reached by the Organisation of the Petroleum Exporting Countries (OPEC) – an agreement that has been long overdue but that is also contingent on some non-OPEC members agreeing to production cuts.

On the home front, what factors can we expect to influence economic growth and impact lives in 2017?

Temper your expectations

It is quite normal that following a difficult 2016, most people would hope for a healthy rebound as fast as possible. Unfortunately, we might have to wait for much longer. Whereas Nigeria is expected to grow in 2017, the pace of growth will only be marginal. Only in 2018/2019 can we realistically attain positive economic growth rates that would get close to what the country used to have in the 10 years before 2015. The reason we need to temper our expectations is we have to take into account lost productivity and foregone investment opportunities. Sectors of Nigeria's economy such as agriculture, mining, IT/telecommunication, financial services, news media and music/movie industries would experience accelerated recovery than say construction, housing, manufacturing, transportation/logistics, oil and gas, power, etc.

A persistent high interest rates regime, coupled with high exchange rate plus forex scarcity, could conspire to throw a monkey wrench into any potential rapid rebound. By the time we enter into the second quarter of 2017 and beyond, it is possible that conditions would normalize. But this scenario would depend on whether the Central Bank of Nigeria (CBN) would lower its Monetary Policy Rate (MPR) from the current high of 14% and if inflation reverses course from the current uptrend.

Spending Nigeria out of recession

The caption of the 2017 budget proposal that was submitted to the National Assembly in December was: "Budget of Recovery and Growth." An important development was that the budget was submitted about one week earlier (December 14, 2016) compared to the date the 2016 Appropriation Bill was submitted (December 22, 2015). The size of the budget at N7.2 trillion is also quite encouraging. Over 30% is earmarked for capital expenditures, which is a shift from previous budgets. The Ministry of Power, Works and Housing is getting N527 billion, and Transportation N262 billion. The impetus does exist for massive infrastructure spending that could catalyze growth and job creation.

The proposed benchmark oil price of $42.5 per barrel and target output level of 2.2 million barrels per day is very critical to achieving the desired results. The key question is: can it get worse than what we witnessed in 2016? Radical reforms like the repeal of the outdated Land Use Decree, enactment of National Free Compulsory Basic Education Law, plus passage of the long-pending Petroleum Industry Bill (PIB) will be key to lasting legacies of the Buhari administration. If he can pull these off this year, then 2017 should be a year to set the foundation for strong future economic growth.

Easing pressure on naira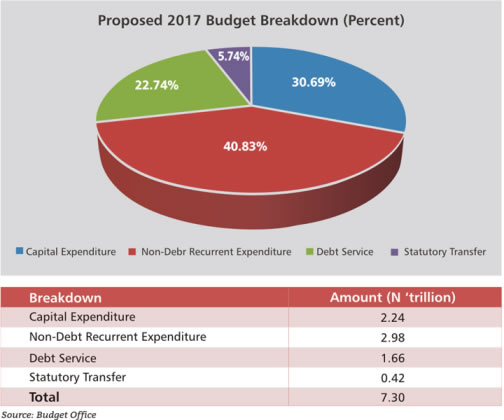 More forex inflow from crude oil exports would lead to a much desired breather for the local currency in the short run. To also reduce pressure on the naira, some measure of progress has to be achieved in agricultural output, especially rice production. It should be noted that rice importation is amongst the top five activities that gulp the country's forex. As some states begin to invest in rice production and milling, it is a matter of time before Nigeria becomes self-sufficient in the grain and even begin to export same.

Processed agro products and other intermediary materials are increasingly being sourced locally. If all this can be achieved to scale, the demand for forex would reduce. But it is a pipedream to expect the exchange rate for the naira to recover to pre-2016 levels. Exchange rate stability and predictability as well as forex availability will be major investment drivers in 2017.

Social security services and quality of life not looking good yet

I can boldly say this because it will take many years of sustained investments in social and economic infrastructure to make a dent on poverty, joblessness and overall well-being in Nigeria. The gap remains quite deep due to years of neglect in the education, healthcare, and power sectors. Not even with Nigeria becoming the largest economy in Africa or recording consistent 5-7% GDP growth rate annually for almost a decade did we see a steep decline in poverty and unemployment. The situation has worsened owing to the precipitous devaluation of the naira, erosion of purchasing power and degrading asset value. Allocation of more resources to the education sector (N448 billion – recurrent and capital) and healthcare sector (N303.9 billion – recurrent and capital) in the 2017 budget signals some effort to address poverty and inequality; nevertheless, it will take much more than one year's budget to achieve positive outcomes.

Internal crises in the North-East and the Niger Delta regions are all outcomes of prolonged neglect by successive governments. The security risks in these regions pose an existential threat to the country. It is worth acknowledging that the singular greatest investment with the highest multiplier effect on social progress is education.

Political stability and clear regulatory environment translate to greater economic prosperity

This is a simple logic that has been proven in several countries, including in Africa. The outcome of elections and peaceful transfer of power, coupled with clear and predictable policy/regulatory environments pretty much can determine how well a country performs. Nigeria avoided the crystallization of political risk in 2015 as it similarly did since 1999. However, the policy terrain since the emergence of the Buhari administration has left much to be desired. It is imperative for 2017 to be different.

Given the flurry of criticism the administration has faced in this regard, it is hoped that the economic team has learned some vital lessons. The investment community won't condone the policy summersaults and misdirected efforts of 2016 without voting with its wallet. In such circumstances, no amount of high oil price will save Nigeria from a continuation of the 2016 debacle.

With the right mix of policies and programmes as enunciated in the government's economic recovery plan, it is hoped that 2017 would be a banner year in the annals of Nigeria. Lessons learnt in 2015/2016 should be guideposts for moving forward. But if we fail to plan and we cannot save for the rainy day, we would stay longer in a slump that is avoidable and deny millions of Nigerians the opportunity to move closer to finding a decent job and coming out of poverty.

Wishing everyone the best of 2017 and beyond.

Chamberlain S. Peterside, Ph.D, is the Executive Chairman of Xcellon Capital Advisors Limited in Lagos, Nigeria.