In the Indian elections, voters will weigh jobs against security
Feature Highlight
Regardless of the upcoming election's outcome, however, the next government in New Delhi will be forced to grapple with creating jobs while advancing the country's lagging industrialization.
Indian Prime Minister, Narendra Modi, speaking at a campaign event
The defining event of the Indian political calendar is just weeks away. By May, over half a billion voters will choose 543 representatives to serve in India's lower house of parliament. The elections, which are the world's largest democratic exercise, will take place over several weeks, and the stakes are high: Narendra Modi, the most powerful Indian prime minister in a generation, is leading his incumbent Bharatiya Janata Party (BJP) against a raft of opposition parties under the Indian National Congress (INC) banner, all unifying in a bid to dislodge him from power.

In 2014, the BJP's victory marked the first single-party majority in nearly three decades. And now, the party is looking to set another precedent in Indian politics by achieving successive non-Congress majority governments. But aside from having the INC as its main opponent, the environment that handed the BJP its victory five years ago bears little resemblance to the one it faces in 2019 – this will force Modi to recalibrate his campaign tactics to secure his place in power.

Modi's critics argue that he is prone to corruption and has not done enough to create jobs and boost the economy. The prime minister is countering with the assertion that his mission is not yet complete, while zeroing-in on national security as a critical issue in the upcoming election, which is traditionally a strong point of the BJP's platform. Escalating tensions with Pakistan will give Modi the opportunity he needs to shore up support ahead of the election.

That Was Then

The BJP owes its historic victory in 2014 to several factors. Numerous corruption allegations against the Indian National Congress (INC), for one, had hobbled the then-ruling party's re-election prospects after a decade in power – thereby widening the BJP's path to New Delhi by playing up an anti-corruption platform.

When it came to the leaders of the two parties, Modi also outshined and outperformed INC President Rahul Gandhi by positioning himself as a stronger and more capable leader. Modi's campaign hinged on the message of economic prosperity – promising to bring his successes as the three-term chief minister of Gujarat, where he oversaw rapid growth and industrialization, to the national level.

Paired with this universally appealing narrative, Modi's humble origins (as the son of a tea seller) also enabled the BJP to expand from its traditional base of urban, upper-caste Hindu voters by rousing the support of more lower-caste voters. A descendant of India's Nehru-Gandhi political dynasty, Rahul Gandhi, by contrast, hailed from a long line of former prime ministers. And next to Modi, he came across as inexperienced and entitled – relying on the prestige of his namesake to win, rather than his wits.

And as a result, the 2014 election yielded a gain of 282 parliamentary seats for the BJP, along with a humiliating loss of 44 seats for the INC – dropping the INC to its lowest-ever seat count after decades as the dominating force in Indian politics.

This Is Now

But a lot has happened since the BJP's rise to power in 2014. And while Rahul Gandhi's critiques against Modi remain pointed, the political landscape otherwise bears little resemblance to the one that led him to his victory five years ago.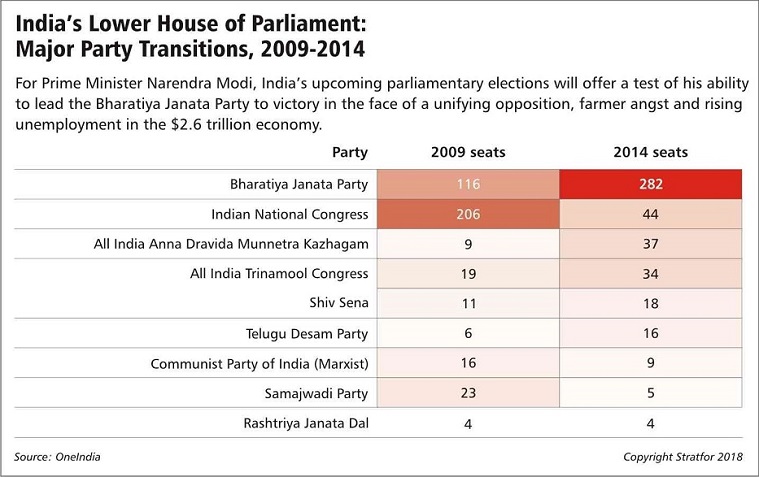 In 2014, Modi unveiled his "Make in India" campaign to create millions of jobs and position India as a global manufacturing hub and an attractive investment destination. Getting the campaign to work, however, has proved difficult – bolstering manufacturing jobs is challenging in a country whose lopsided transition from an agricultural-based to a services-driven economy partially skipped over industrialization.

In recent years, India has faced slowing economic growth and labour market deficiencies. With the national unemployment rate at a more than two and a half-year high at 7.2 percent, a recent survey found employment was the top concern among Indian voters. Unsurprisingly, Modi's failure to create jobs as promised represents a core concern for the BJP's election prospects.

In adjusting to this new reality, Modi has focused his 2019 campaign on development and continuity – arguing that the BJP's mission of transforming India's economy remains unfinished and that the party, therefore, deserves another term to see it through. This shift has been evidenced by some of Modi's recent trips in the country, which include inaugurating a hospital in Karnataka; launching national highways in Tamil Nada; announcing a national pension plan in Gujarat; laying the foundation stone for a temple beautification project in Uttar Pradesh; and commencing a refinery expansion project in Bihar.

But in addition to focusing on boosting development in the country, Modi will also zero-in on national security as a critical issue in the upcoming election, which is traditionally a strong point of the BJP's platform. Escalating tensions with Pakistan – which erupted in reciprocal airstrikes between the two countries in February after a militant bombing in Indian-administered Jammu and Kashmir – will give Modi just the opportunity he needs to rally up support ahead of the election by positioning himself as the leader best-suited to defend the nation against Islamabad and other outside threats.

Meanwhile, in an effort to take back the parliament, Rahul Gandhi and his INC party have led a months-long campaign accusing Modi of impropriety in a French fighter jet deal worth billions. But Modi has largely floated above these allegations of corruption so far – dismissing them as the last-ditch efforts of a desperate opposition party, whose agenda contains little substance beyond a shared disdain for himself and the BJP.

India's 17th Lok Sabha elections nonetheless come at a volatile time in the country, with a rapidly expanding economy that desperately needs to produce more jobs, rising farmer angst as a result of collapsing crop prices, lagging industrialization and increasing social tensions pertaining to religion and caste. And then there is the growing threat of China's expansion into South Asia.

While Modi's candidacy may not be as strong as it was in 2014, he will still prove difficult – but not impossible – to beat. Regardless of who wins the election, though, the next Indian government will inherit a country at a crossroads. New Delhi must balance immense challenges against the tremendous possibilities afforded by a country with India's geopolitical profile. But everything hinges on the effectiveness of India's leadership and the direction the country chooses to take, and that will be decided at the ballot box in the coming weeks.

"In the Indian Elections, Voters Will Weigh Jobs Against Security" is republished under content confederation between Financial Nigeria and Stratfor.
Quick Search for Upcoming Events