Empowering women helps the society
Summary
Over 20 per cent of the grantees of the Samuel Olutuyi Foundation opened bank accounts for the first time to receive their grants.
Executive Director, Samuel Olutuyi Foundation
In this exclusive interview, Financial Nigeria Columnist and Executive Director, Samuel Olutuyi Foundation, Olajide Olutuyi, discusses the areas of activities and interventions of the foundation and their broad impacts so far. He spoke to Managing Editor, Financial Nigeria Magazine, Jide Akintunde.

Jide Akintunde (JA): The Samuel Olutuyi Foundation (SOF) appears to be grassroots-focused. How was the life and work of the late Samuel Olutuyi, in whose name and memory SOF is founded, connected to the proverbial "ordinary" Nigerians?

Olajide Olutuyi (OO): I will start by thanking you Jide for having me and making this interview possible. To answer your question, I will say if Samuel Olutuyi Foundation (SOF) were a person, its goals, operations and focus would be similar to the lifestyle of my late father, Samuel Olagoke Olutuyi. As an organisation founded in my father's name, SOF is inseparable from the ideals he lived by.

This organization could not have come alive without his inspiration. It may interest you to know that for over three decades – from my childhood to adulthood – I watched my father carry out philanthropic deeds. One of his attributes was his association with the downtrodden. As a matter of fact, he identified himself as an ordinary Nigerian.

JA: What are the broad areas of intervention of the Foundation?

OO: The foundation's major programmes span four major areas. These are: access to quality education with a focus on girl-child education; health and wellness; civic orientation and entrepreneurship development with a focus on "womenpreneur" or women entrepreneurs.

Despite the established programme areas, the foundation has delved into other areas. We are compelled to do so because of the multitude of problems that exist in the environment we operate in. For instance, we have provided intervention for medical-related issues, resulting in the inclusion of a medical grant in our 2020-2022 three-year rolling plan, which we christened Adedeji Owolabi Medical Grant. We are also currently providing interventions under our Covid-19 Palliatives programme.

Generally, our 2020-2022 plan include grants and programmes such as SOF Petty Traders Grant, SOF Womanprenuer Grant, SOF Education Grant, SOF Apprenticeship Grant, SOF Wealth & Wellness Initiative, which includes the medical grant I mentioned momentarily.

And you know there is so much good to be done. So, we cannot be limited to our plans. Sometimes, we must take a different approach. Another practical example is that we are working on a partnership with a foreign organisation to help provide safe drinking water in some communities. The goal is to reduce the stress on the girl-child who is always burdened with fetching water from the stream. As a result, she is denied the opportunity to concentrate on education. On the surface, what we are doing is a water project, but its secondary goal is to promote girl-child education. The foundation aims to continue to use this approach of designing projects with multidimensional outcomes in the years to come to expand its impacts.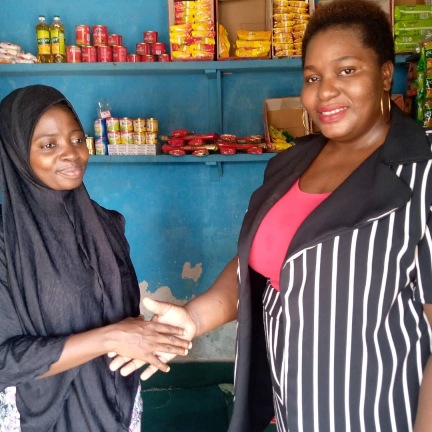 From left: A woman entrepreneur grant recipient of the Samuel Olutuyi
Foundation being congratulated by an official of the Foundation

JA: You are an entrepreneur yourself. But why do you think it is important for SOF to promote women entrepreneurship at the grassroots level?

OO: As you may also be aware, my father was an entrepreneur. But there is another entrepreneur in our household that we rarely mention and that is my mum. I grew up knowing her as an entrepreneur even before my father became one. My father had been employed in the private sector for 20 years before he ventured into private business. So, my mum carried the torch as a womanpreneur for a long time, while making invaluable contributions to the family.

At SOF, we believe that empowering women helps the society. Statistics show that six out of ten of the world's poorest people are women. Women also face more obstacles in accessing credit and receiving training. The Brookings Institute has identified entrepreneurship as a way to empower women living in extreme poverty. Several studies show that when women have their own financial freedom, they don't only lift themselves out of poverty; their children also live healthier and the overall economy is all the better for it.

At SOF, we cannot agree more with the assertion of the World Bank that "empowering women is smart economics." We believe that the idea of womenpreneur is an untapped source of job creation and economic growth in a developing country like Nigeria.

JA: It seems SOF has deftly chosen its areas of activities and interventions, which are broadly very critical to Nigeria's economic growth and development. What message is SOF sending on the Nigerian development imperatives?

OO: You are right, the scope of our interventions is broad. These are areas we believe governments at national and subnational levels have continued to drop the ball on.

Take our civic orientation initiative as an example; we believe that a society will not achieve its full potential without its people being oriented toward civic engagement. This is an area that governments need to take a critical look at, especially for the sake of our youths who are the leaders of tomorrow.

The SOF civic orientation initiative seeks to create involved citizens instead of demanding customers. We believe that governments can solve some of society's problems if they partner with non-governmental organizations (NGOs) and charitable organizations like SOF.

In developed countries, portions of the governments' budgets are provided as grants to support NGOs and charitable organisations, which are considered community-based organisations (CBOs) because of their proximity to the communities. In effect, the CBOs are invaluable partners of change.

JA: While it is not too early to start collating data on the impacts SOF is making, would you like to start reporting the impacts by identifying a few of them now?

OO: As a matter of fact, yes. One of the courses that prepared me for this role was a certificate course in Social Impact Leadership from the Haas School of Business of the University of California, Berkeley, in conjunction with the Philanthropy University. A major component of this course is the measurement of social impact. So, as an organisation, SOF considers measurement of impact very seriously.

But measuring social impact has become an overly complex task in the philanthropy industry in recent times. Nevertheless, keeping data on the impact of our interventions means a lot to us at SOF. It helps us plan and direct our funds. If you look at the report of our last health and wellness initiative programme held in Delta State, you would be amazed at how many Nigerians are walking around without knowing their blood sugar level.

During the campaign, blood sugar tests were done on site. Over 60 per cent of those who did the tests were doing it for the first time. The results showed that about 15 per cent of the people had high blood sugar at levels that needed immediate medical attention. We considered this outcome a positive impact. If the tests were not conducted, they would not have known their blood sugar conditions.

We have also seen huge impact with our SOF Petty Traders Grant. Sometimes, I am amused at the comments of some Nigerians on the federal government's TraderMoni programme. They ask what can NGN20,000 do for a person? NGN20,000 means a lot to some traders. Do you know some traders' whole inventories are worth less than NGN10,000?

Although the SOF Petty Trader Grant is not a loan like the FG's TraderMoni, grantees are carefully and painstakingly selected. Some of them are even nominated by trustees of SOF.

The impact of this programme has been huge. We have used this programme to not only empower some petty traders, we have also used it to help increase financial inclusion. A requirement for grantees is a bank account. For this reason, over 20 per cent of our grantees opened bank accounts for the first time to receive their grants.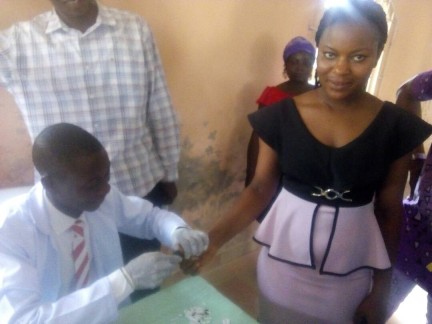 A scene of a medical outreach of the Samuel Olutuyi Foundation

JA: SOF may in the time being be focused on a limited geographical coverage, and that will be understandable because of the challenges of resources and administration. However, in what ways do you think the impacts the Foundation sets out to make can be scaled up or replicated?

OO: This is a very good question. With limited resources and funds, it becomes expedient for us to streamline our activities in terms of geographical spread. In view of this, we are more focused on the south-western states and one state in the south-south where we still have an office.

Indeed, most of our programmes can be replicated, especially the ones that have been measured to have high social impact. Streamlining our activities to a geographical location like south-west makes replication much easier in terms of language similarity and the cultural philosophy among states in the region.

To drive this agenda, we have put in place a machinery to move our head office to Akure, Ondo State

JA: Foundations are an elite concept. While many of them serve to build or preserve the legacy of elite personalities, many of them are making real development impacts. What roles would you like to canvass for foundations in Nigeria?

OO: First, we do not consider SOF as an elite entity. Having said that, it is true that people have the perception that foundations are an elite concept. However, that perception is changing.

The truth is that foundations have been the most used platforms for the rich and elite to preserve their legacies and continue doing philanthropic works, especially in developed societies. However, there are also public charities that receive donations from the public and have broad public support, unlike private foundations whose benefactors are mostly the founders.

The funding structure of SOF puts it strictly in the category of a private foundation. However, as we move into the future and the need arises to seek funding from other sources, we may become a mix of private and public foundation.

The philanthropy industry is also evolving in Nigeria as there are now so many non-elite-sponsored foundations.
Subscribe
Subscribe now to receive newsletter from Financial Nigeria.