Appraising the Economic Recovery and Growth Plan
Feature Highlight
Time will tell whether the ERGP will crystallize tangible outcomes or whether it would simply remain just another plan.
Chamberlain Peterside
What manner of plan?

Recently, Nigeria unveiled its long-awaited Economic Recovery and Growth Plan (ERGP). Some analysts believe that the plan was crafted to meet the conditionalities of World Bank and African Development Bank (AfBD) loans. It might also have been developed as precondition for assent by the National Assembly for the $30 billion borrowing plan proposed by the federal government.

Quoting the opinion of some African analysts, the Financial Times wrote that Nigeria is never short of economic blueprints. In fact, analysts were of the view that the country is usually "long on plans and short on execution." The fact that a plan was conceived and put together, whether in response to recent economic turmoil or as pressure from multilateral lending agencies, is an important development.

Nevertheless, the plan leaves many questions unanswered, some of which are:
1. How is the plan going to be executed?
2. How would the set targets be achieved and sustained given the current delicate political climate?
3. What will the federal government do differently to handle the National Assembly that could stand in its way or truncate the overall plan?
4. How, in practical terms, will the plan achieve the key performance metrics such as job creation, economic diversification, reduction of Debt Service-to-GDP ratio, increased electricity supply, and expanded tax-base?

Past and current administrations cannot be blamed for not having economic reform plans. But the plans have been disjointed and haphazard. They have also lacked commitment and strong political will to implement them. Therefore, one of the questions keen observers should ask is how this plan and its execution will be different. So far, the campaign slogan of "change" that ushered the current administration into office in 2015 is yet to materialize.

Signposts to the future

My perspective in appraising this latest economic blueprint will be on three fronts. First, the ability of the plan to pull Nigeria out of the current doldrums between now and 2020. Secondly, the role, if any, of this plan in launching the country into the league of the top 20 economic powerhouses beyond the year 2020. Thirdly, the job-creation ability of this plan based on a deep understanding of the demographic characteristics of the country. Suffice to note that economic growth trends in Nigeria over the last decade have shown that the growth did not produce jobs.

It is a clear fact based on figures from the National Bureau of Statistics (NBS) that over 65% of Nigeria's population is relatively young and could be considered "millennials." However, a large number in this segment of the population remains unemployed. Despite the robust GDP growth number (average 6%-7%) achieved between 2004 - 2014, Nigeria's unemployment rate continues an uptrend as economic growth failed to bolster overall employment opportunities, especially amongst the youths. Data from NBS put Nigerian youth unemployment/ underemployment rate at 45.65% as at Q3, 2016.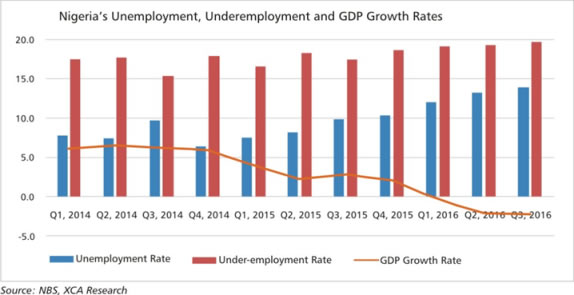 With an annual population growth of 2.6%, economic growth in Nigeria needs to outpace population; otherwise we might be heading towards a negative inflection point, with dire consequences. Thus, beyond the heavy investments in infrastructure (power, transportation and housing), government policies should also target nascent sectors that could create gainful employment and entrepreneurial opportunities for this population group. This emphasis is hardly discernible in the just released economic plan. The "youth bulge" (or having disproportionally high young population) in Nigeria has tremendous long-term advantages but it can easily present formidable social and political challenges if not well-managed.

The focus of economic recovery in the near-term and long-term growth prospects ought to be entwined and driven by this underlined demographic factor. It is very possible that with the proposed plan, Nigeria's economy could rebound if we focus on rebuilding dilapidated steel plants, investing in large-scale gas-fired thermal power plants and improving electricity generation and distribution. The expected economic recovery is also dependent on revamping agriculture, investing in oil refining/petrochemical plants and increasing crude oil production. However, this analysis is dependent on favourable oil prices in the short- to medium-term.

But when the chips are down, it is critical to understand the kind of tectonic shift occurring in the global arena, namely in the technology space as well as alternative or renewable energy. While technology is changing the way in which businesses are run, thereby reducing costs and increasing productivity, there are implications for the labour force. This requires retraining people to acquire new skills. In the energy sector, the transition to renewable energy could render our huge oil/gas assets obsolete in the next 20 years and beyond.

These are all signposts to the urgent need for federal and state governments to invest either directly into the ICT and media sectors (including infrastructure backbone, content development and distribution) or indirectly by providing the regulatory framework and policies for the sectors to thrive. The Nigerian music and movie (Nollywood) industries that were propelled by budding entrepreneurs have now become global phenomena. Fintech (e-payment, mobile money and digital financial services) entrepreneurs are also changing the dynamics of the financial services industry and driving economic growth. From less than 1% of Nigeria's GDP about a decade ago, these sectors combined, now represent over 12% of Nigeria's GDP, according to the NBS.

To further illustrate this trend, let us consider some basic facts:
• In December 2016, there were 154 million mobile phone lines in Nigeria compared to 500,000 before the advent of GSM in 2001.
• Out of a total population of 181.6 million people as of June 2015, there were 92.7 million internet users reported in Nigeria, according to www. internetworldstats.com.
• As at June 2016, there were 16 million Facebook users in Nigeria, which translates to a penetration rate of 8.3%.

Nigeria was ranked 17th in the world based on smartphone utilization; the equivalent of 30% penetration based on data from eMarketer. The country was said to have 23.1 million smartphones in 2015, a figure projected to increase to 34 million in 2018.

Let's plan for tomorrow

Moving forward, Nigerian policymakers at national and regional levels ought to consider these facts and then plan for tomorrow. How can Nigeria modernize the agri-business sector and make it more technology-driven in order to attract new labour force into its critical value chain? That should be the key component of the growth agenda and policy mix.

Based on the analysis of the top ten most-valued companies in 2006 compared to 2016, technology-based firms such as Apple and Google have displaced a lot of traditional companies like ExxonMobil and General Electric in their valuation. The point at stake for Nigeria is – where does the country want to be in the food-chain of global economies, not merely in terms of size but with respect to the quality of investments, infrastructure assets, service-delivery and human capital development?

Below are a few points to inform the direction of policy interventions.
• Captive power plants (both thermal and renewal energy) can be quickly installed and operated more efficiently in Nigeria by the private sector.
• Modular refineries can be rapidly deployed and operated more effectively by entrepreneurs than by the government.
• Computing speed is getting cheaper through faster and more robust microprocessors on various electronic devices just as internet connectivity is becoming more affordable and accessible. This will help to raise a new breed of online entrepreneurs in Nigeria.
• Hardware devices and smartphones are getting cheaper and affordable, creating a new generation of citizens that will crave more information, contents and services.
• By training computer programmers and investing massively in ICT, India is currently on the global IT map. A lot of Nigerian university graduates are unemployed due to either lack of opportunities or experience, even though many of them are also IT literate. A policy to engage and harness these young people's talents would go a long way in having a vibrant IT sector that is supporting economic growth and providing employment.





Although I support the economic recovery and growth plan of the current administration, the task ahead remains quite daunting. The government's ability to decipher the right approach and design the practical framework to achieving its plan will, to a large extent, determine the success of the plan. Ultimately, time will tell whether the ERGP will crystallize tangible outcomes that can improve life and set the nation on the path of long-term economic and social progress. Or whether it would simply remain just another plan.

Chamberlain S. Peterside, Ph.D is the Executive Chairman of Xcelon Capital Advisors - a Lagos-based financial advisory firm.
Quick Search for Upcoming Events