Jide Akintunde, Managing Editor/CEO, Financial Nigeria International Limited
Follow Jide Akintunde

@JSAkintunde
Subjects of Interest


Financial Market
Fiscal Policy
Understanding the perennial power supply challenges in Nigeria
10 Apr 2022
It used to be straightforward to accurately tell who is responsible for the epileptic power supply situation and lack of access to grid electricity in Nigeria. The government, through its state-owned power sector monopoly, National Electric Power Authority (NEPA), was responsible. Since the government had exclusive authority for the delivery of many services in the country, including telecommunication and power, the agencies directly responsible for the services were blamed for the inefficient or unavailable services.

For instance, the now-defunct Nigerian Telecommunications Limited (NITEL) was responsible for the poor penetration of telephone lines in the country and the regular loss of dial tone when attempting to make telephone calls with NITEL land lines. All of that changed with the roll out of GSM numbers by private sector mobile telephony providers in 2001. Government's responsibility is now no more than licensing and market regulation for Nigerians to enjoy mobile phone services. Therefore, nobody blames NITEL today if his or her mobile phone is not working.

But it is not the same with NEPA in the provision of electricity. Although NEPA is no longer in existence, it is still being cursed when grid-electricity supply is off, and "up NEPA" is spontaneously shouted when supply is restored. At the initial stage of the ownership reform of the power sector assets, NEPA was changed to Power Holding Company of Nigeria (PHCN), but Nigerians refused to recognise the change. Many continued to call PHCN "NEPA". What was needed was a dramatic improvement in power supply and not a new name for the inefficient supplier. Moreover, PHCN was still government-owned and a monopoly.

This fundamentally, but not completely, changed in 2013 when the power sector assets were split into three operating categories, with two of them privatised. The power generation assets were privatised to generation companies (GenCos). Similarly, the distribution assets were privatised to distribution companies (DisCos). However, the transmission assets were retained under the control of the government, through the Transmission Company of Nigeria (TCN). Nearly a decade after, not much improvement has been consistently delivered in terms of power supply to Nigerians who are wont to identify the culprit for the blackout they were experiencing.

For a number of reasons, Nigerians are not blaming the private sector GenCos and DisCos. It is TCN that is mostly cited as the supply bottleneck in the Nigerian Electricity Supply Industry (NESI). One of the reasons is that the people are not used to getting stuck with inefficient private suppliers of goods and services. Instead of endlessly blaming an inefficient private supplier, Nigerians would simply switch to other brands or providers, in a vibrant and competitive marketplace where the consumers can hardly be persuaded to patronise local brands as opposed to more expensive foreign ones.

Two, although TCN was incorporated like a private sector company, it is owned by the government, and it is a monopoly in national electricity transmission. In which case, TCN may be casually, or mischievously, depicted as the "NEPA" of the NESI post-privatisation.

Three, the centralised structure of the grid means TCN is a constant in every community served with grid-electricity, whereas a DisCo is assigned exclusive coverage of a specific part of the country. This means Ikeja Electric, the DisCo covering Lagos, would not be seen as culpable for power distribution failure in Edo State because it is BEDC Electricity Plc that is covering the area. But TCN's transmission serves the entire nation. When, as in recent time, power generation nosedives, the grid could "collapse" and TCN would be wrongly blamed for it.

Finally, the grid is quite expansive, covering the entire country. This makes it always susceptible to adverse weather conditions in different parts of the country. Also, access to the transmission facilities for maintenance work may prove difficult in heavily wooded areas. And the huge size of the country makes it difficult monitoring the transmission facilities in the absence of a fully automated system for the function. This situation is compounded by the tendency of some Nigerians to vandalise national assets for economic or political reasons.

Recent Grid Collapses

The national grid has collapsed twice this year. The frustration of the nationwide outages had TCN as the usual suspect. But the company, in a comprehensive statement, has disproved the notion of its responsibility for the blackouts. In a statement on 8 March 2022, signed by its General Manager, Public Affairs, Ndidi Mbah, TCN sought to set things straight: "The Transmission Company of Nigeria wishes to notify consumers of electricity that the current load shedding being experienced nationwide is as a result of very low power generation by the Generation Companies (GENCOs) for TCN to wheel through the transmission grid to distribution companies nationwide."

The statement explained that TCN can only transmit the quantum of power generated by GenCos through the national grid to distribution load centres nationwide. Since it does not generate electricity, TCN only transports cumulative power generation from all the generation companies to distribution load centres. The transmission company allocates power to distribution companies based on the percentage formula approved by the industry regulator, Nigerian Electricity Regulatory Commission (NERC).

According to the TCN's statement, the cumulative power generation nationwide was low. The GenCos had attributed this to several factors including poor gas supply, fault in generating units of the generation companies, and scheduled and unscheduled maintenance, all of which had caused most of the GenCos to generate less power or none.

The statement provided substantiation for its claim. According to it, a summary of the power generating profiles in January and February 2022, for instance, clearly shows that 14 gas-fired power plants – out of 23 grid-connected generating plants – were either not generating at all or had limited generation at various times within the period. The power generation plants in this category included Omotosho units 5 and 6; Olorunsogo units 3, 4 and 6; Omoku units 3 and 6; Omotosho NIPP units 3 and 4; Delta units 15, 17, and 18; Afam VI units 11 and 12; Ihovbor NIPP unit 2; Sapele Steam unit 3; Sapele NIPP unit 1; Odukpani NIPP units 1 and 3; and Okpai units 11, 12 and 18.

Also, within the same period, Jebba Hydro and Shiroro Power Generating Stations were either out or had limited generation, causing additional loss of 232MW from the grid, while other power generating plants such as Omotosho units 3 and 4; Olorunsogo units 1; Delta units 10 and 20; Afam VI unit 13; Ihovbor NIPP units 4; Geregu NIPP units 22 and 23; and Odukpani NIPP units 2, 4 and 5 had also been out either on faults or for scheduled maintenance, causing a further cumulative loss of about 3,180MW from the grid.

TCN said a combination of the above situations has persisted and the total effect on the grid is persistent low generation, which it has had to strive to dispatch in a way that will not jeopardize the stability of the grid.

Providing more clarity on the situation of last month, from 1 – 4 March 2022, there was generation shortfall due to water management in Shiroro and Jebba hydropower plants, with the loss of 307MW and 125MW, respectively, from both stations. Within the same period, there were fault and technical problems in Egbin, causing 514MW shortfall and in Geregu causing 230MW shortfall, while reported fault at Alaoji NIPP reduced generation from the substation by 263MW.

Gas constraint alone in Olorunsogo gas-fired plant reduced generation from the station by 104MW, Omotosho lost 102MW, and Sapele NIPP lost 263MW. In Omotosho NIPP, there was generation shortfall of 233MW and 112MW in Omoku. Two units in Okpai had limited generation due to technical problems, causing a 204MW drop in generation; and in Afam VI, 511MW drop in generation occurred.

Gas constraint and fault in Olorunsogo NIPP reduced generation by 240MW, Geregu NIPP by 435MW, and Ihovbor by 142MW. Also, due to gas pipeline pigging, Odukpani NIPP was shut down – which caused a reduction of generation by 575MW.

"It is important to note that except cumulative power generation increases considerably for TCN to transmit to distribution companies nationwide, TCN will be left with no choice than to continue to load shed. We will, however, continue to work hard to ensure the efficient allocation of the total load generated by power generating stations into the grid, bearing in mind the need to ensure that the national grid is stable in spite of the challenges posed by insufficient load on the transmission grid," the statement concluded.

With a total installed capacity of 10,396 MW and all-time peak generation of 5,801.60 MW, Nigeria needs to dramatically increase the capacities. As Africa's largest economy, with $430 billion GDP in 2020, and the continent's largest population of over 200 million people, there is a mismatch of the country's power capacities and demand for electricity. Nigeria's gross power generation inadequacy is thrown into sharp relief given that South Africa, the continent's second-largest economy of $370 billion GDP, and having a population of 60 million people, have power generation capacity of 58,000 MW, compared to Nigeria's 10,396 MW. Nigeria's meagre power generation cannot accommodate inevitable losses of output due to fault, maintenance, or lack of gas for the thermal power plants or adequate water levels for the hydros.

Grid Maintenance

TCN under the current management has been working assiduously to maintain and expand the grid. Based on its information sharing with Financial Nigeria publications, Financial Nigeria plans to X-ray on a regional basis information on TCN's grid maintenance and installation works. While the regional reporting may underrepresent the totality of the work being done nationwide to maintain the national grid, it will provide the current situation of the grid infrastructure in the area of coverage of issue publication, beginning with the Abuja Region.

Abuja Region

The Abuja Region of TCN comprises three Sub-Regions, namely Abuja, Ajaokuta and Gwagwalada. The Region has four 330/132kV and 14 132/33kV substations. The substations have a total wheeling capacity of 3,303.5MVA made up of 1,386MVA on 330/132kV level and 1,917.5MVA on 132/33kV level. The operation of the Region covers Abuja, Nasarawa, Kogi, parts of Edo, Niger and Kaduna States. It interfaces with the Abuja Electricity Distribution Company (AEDC).

The Region has completed several projects while many others are ongoing, including installation works on the three substations located in Kogi State, the construction of the Obajana Substation which comprises two 150MVA, 330/132KV capacity transformers and two 60MVA, 132/33kV transformers in Ajaokuta; work is also simultaneously ongoing on the 120MVA capacity Ayingba Substation which will host two 60MVA, 132/ 33kV power transformers, and the 120MVA capacity Kabba Substation, where two 60MVA, 132/33kV power transformers are nearing completion.

The "Abuja Transmission Ring Scheme" is of significant importance to TCN's rehabilitation and expansion programme, targeted at improving transmission capacity of the national grid. It is a donor-funded project financed by the French Development Agency, which is entirely a Green Field Project made up of five new substations and a new 330kV transmission line into Abuja through Lafia.

The following is a summary of the Abuja Ring Project: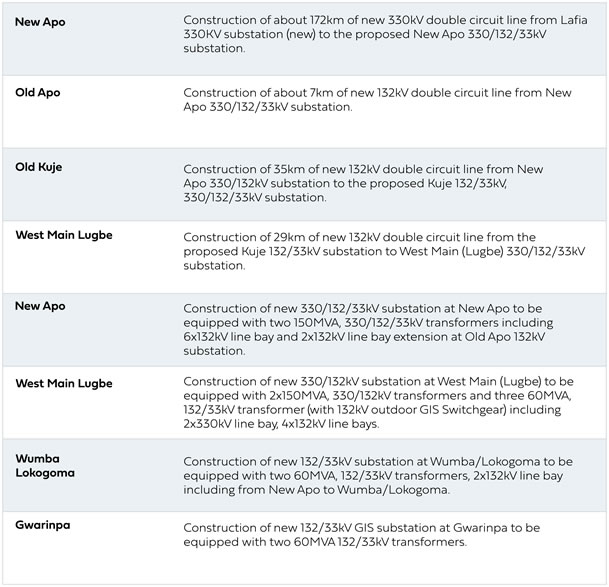 The Abuja Ring Project is aimed at ensuring that in the next 20 years, the DisCo serving this area will not lack power for its consumers, as the project will ensure that there will not be transmission constraint once completed.

On inspecting the level of the project execution in February this year, the AFD ream lead by the AFD Country Director, Xavia Murou, expressed satisfaction with the level and quality of the projection execution. The five substations and two new lines, Financial Nigeria learnt, will be commissioned before the end of the year.

Also, President Muhammadu Buhari recently commissioned the new Lafia 2x150 and 2x60MVA 330/132/33KV substation, which will be handed over to TCN, adding to its expansion drive. The substation, which is equipped with modern digital control and protection facilities, was funded by the Federal Government through Niger Delta Power Holding Company (NDPHC).

In-House Capacity

Transformer installation, and major repairs on equipment have recently been successfully carried out by TCN in-house engineers within Abuja Region. For instance, TCN engineers successfully repaired the 162MVA 330/132/33kV power transformer at Ajaokuta 330kV Main Substation, its 330kV circuit breaker which has been replaced, and its associated equipment has been commissioned.

In Kubwa, the company's engineers successfully installed and energized a brand new 60MVA 132/33KV power transformer. The transformer has 33kV feeders – the Dam, Dawaki, Deidei feeders and all the others are in circuit carrying a cumulative load of 21MW. Also, in Katampe, Karu, and Keffi Substations among others, in-house engineers installed 60MVA transformers which are currently in circuit.

Vandalism

There have been incidents of vandalism of high-tension transmission lines in the Region. The most recent is that of two spans of the Shiroro-Katampe 330kV transmission line, which was, however, repaired under 48hours by in-house engineers and the circuit restored. The miscreants also vandalized the Gwagwalada-Apo Line 132kV transmission line, which was also repaired by TCN in-house engineers.

The Minna-Suleja, Kubwa-Suleja and Apo-Kubwa 132kV Lines, were vandalized at various times and were all restored by in-house engineers. In an attempt to tackle the issue of vandalism, a team was constituted comprising the Nigeria Security & Civil Defence Corps (NSCDC), TCN lines men and local vigilante to patrol the lines 24/7. Their efforts are paying off as vandalism has reduced drastically on that axis.

Encroachment

There have been observed cases of encroachment on transmission lines route; many structures have been built under the transmission lines Right of Way (RoW), ignoring the inherent danger. Culprits claim that the land belongs to them, even as the government will not give any individual or group Certificate of Occupancy on land under TCN Line. For new lines, landowners are paid off before the project commences.

Conclusion

The National Integrated Infrastructure Master Plan estimates that $900 billion is required over 30 years (2015 – 2045) to develop the power sector and fix its infrastructure deficits. While efficiency measures across generation, distribution and transmission needs to improve, the big challenge is mustering the required investments. Only a fraction of the yearly investment target is being met. Derisking the sector and boosting national economic productivity are critical to improving the situation.

Jide Akintunde is Managing Editor, Financial Nigeria, and Director, Nigeria Development and Finance Forum.
Subscribe
Subscribe now to receive newsletter from Financial Nigeria.