Event Details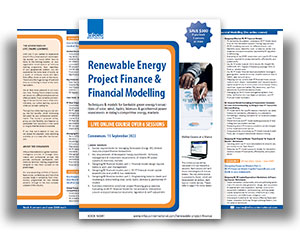 Techniques & models for bankable green energy transactions of solar, wind, hydro, biomass & geothermal power investments in today's competitive energy markets

In the global marketplace of 2020's both developed and developing economies urgently need to master the key techniques and models for financing the tra
Today's wind, solar, hydro, biomass, and geothermal project finance (PF) transactions require a higher level of expertise not only in programming more sophisticated and flexible financial models, but also in incorporating the latest risk mitigation and credit enhancement instruments. This online course covers both the key PF financial modeling requirements and techniques, risk analysis instruments, as well as bankability practices. The objective of this course is to provide participants with an enhanced understanding of the financial modelling and key documentation requirements of all interested parties to today's RE PF transactions. This programme provides you with proven PF modelling techniques and transaction management techniques which will enable you to quantitatively assess risks, resolve constraints, and reach project financial closure. The practical models for wind, solar, hydro, biomass, and geothermal PF models will be demonstrated through a series of real case examples of projects and transactions from Southeast Asia, South Asia, the Middle East, Europe, and North America.
Quick Search for Upcoming Events
Event Categories
Subscribe
Subscribe now to receive newsletter from Financial Nigeria.