Amina Salihu, Development Sector Specialist, Civil Society
Follow Amina Salihu

@Amina_Salihu
Subjects of Interest


Governance
Sustainable Development
Living on 'Innocent Chukwuma' Street
06 Sep 2021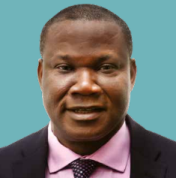 Innocent Chukwuma (1966 – 2021)

I mulled over the idea of writing a tribute to Innocent Chukwuma (1966 – 2021), the civil society icon, for weeks. But I hesitated. What else could I say, after all the splendid eulogies for him? My boss, Kole Shettima, his friend of many years, had written one. Other colleagues and friends had written beautiful words about him; even the government of Nigeria had eulogised him. Everyone who shared a tribute had experienced the Innocent phenomena in different and personal ways.

Innocent is the kind of male change champion I would have written my International Women's Day letter to, as a "male ally who has been a firm handhold and a foothold for women and girls". Since that chance is gone, in the end, a tribute is an opportunity I couldn't let pass, to salute this stellar human being.

In our small circle of development sector practitioners, we compared Innocent's death with the loss of other colleagues who passed away between November 2020 and May 2021. Mallam Salihu Bappah, my treasured one-of-a-kind teacher, friend and mentor at the Ahmadu Bello University (ABU); Sunbo Odebode, a passionate organiser and voice of women and children, of UNICEF; Banke Akinrimisi, a sister, co-collaborator, and co-founder of Centre for Women's Health and Information (CEWHIN); and the pro-democracy icon, Yinka Odumakin.

While these former colleagues were known to be ill, Innocent's death was like a meteor hitting when you are not an astrologer or have been weather watching. It was, indeed, a very hard hit. The suddenness of his death was just like the man himself – one not to make a fuss or create any fanfare of any occasion. He simply got on with it, and segue nicely into a next phase, after sorting out what is most important.

Innocent's life was a talking drum. He spoke to many things right and wrong about our continent, our dear country, and fellow citizens. My reflection on him will touch on those lessons and issues, as they border on professional, organizational and policymaking themes, by posing the following questions.

Where is your anchor?

A belief in something bigger than oneself will enable one to expand the space for others, providing opportunities and enabling effective, inclusive and equitable use of resources for the benefit of other people. It does not matter whether we know the beneficiaries or not, and notwithstanding the disappointment we may suffer from some of them. It is a duty to pay it forward.

Innocent's career, across the Civil Liberties Organisation (CLO), Centre for Law Enforcement in Nigeria (CLEEN) and the Ford Foundation, amongst other organisations, demonstrated uncommon courage to give oneself and give accountability. Many of us demand accountability from duty bearers, but how accountable are we? How many in our communities have benefited from our gains? How are we democratizing economic freedom? What future have we enabled and for whom? How often do we speak truth to power and to ourselves? Do we punish small infractions and excuse grand corruption – for whatever reason, including being an ally of the alleged offender? The lyrics of the African China's song, "Mr President", capture the endemic class and power injustice facing our society:

Poor man wey thief maggi
Omo, dem go show im face for crime fighter
Rich man wey thief money
Omo, we no dey see their face for crime fighter
Tell me something I don't know …

Do we know when to get off the bus and head in a different direction?

When Innocent was stepping down from the Directorship of the Ford Foundation West Africa office, he broached the subject under 'any other business' item at one of the meetings of the 'G3' in philanthropy in Nigeria: MacArthur, Open Society and Ford foundations. He said he was ready to retire. The words he used then, which I didn't pay much attention to until after he was gone, were 'I am tired'.

The political economy of Africa is in chaos partly because we have at the helm of affairs some duty bearers who don't know enough about the art or science of governance, management of resources, and accountability. They are not committed to doing the hard work needed to move the continent forward. They also do not want to go. They are tired: they look it, make others feel it, but continue to warm their seats, including by abusing the constitutional process to extend their incompetent regimes.

The youth are watching and growing restive. By 2050, over 60% of Africa's population will be under 25 years. Would we have a demographic dividend or a demographic doom? More likely it would be the latter, thanks to our sit-tight leaders, who are not investing enough for the future and refusing to prepare and support our youth for leadership.

How do we stay true to our values and the relationships we contract?

Innocent was a gift. His calm mien, and yet ability to ask hard and right questions, and listen when not talking, were fascinating. He took the values of inclusion and equity seriously. He was the Chair, Fundraising Committee of our 'Comrades Legacy Fund', an idea to support comrades or the families they may have left behind.

Innocent would not sit on an all-male panel; he would ask, 'where are the women'? Being married to a feminist no doubt helped. He and Josephine Effah-Chukwuma were inseparable. I had heard about how close they were, but the last and indeed, the first time I would see them together was at the premiere of Ishaya Bako's 4th Republic, a film on political accountability in Nigeria at Filmhouse Imax, in Lekki, Lagos, on a sultry evening of April 19, 2019. They came hand-in-hand and posed around on the red carpet, laughing and taking photos. They were a beautiful couple to behold. That Innocent deeply loved his three daughters was to be expected, and he unquestionably adored his wife. She called him her soulmate.

What inclusive policies do we enable in our places of work, at home, and in society?

As a development sector expert, Innocent grappled with thorny issues on making the world a better place. There are so many questions begging for answers that we must all ponder on. For instance, if we have 10.5 million children out of school in Nigeria, what does each one of those children represent? What is the consequence of this tragedy to the children, their families, communities, and inevitably the Nigerian state?

Between March and June 2020, at the height of the COVID-19 lockdown, the then-Inspector General of Police, Mohammed Adamu, informed the country that the police received reports of 717 cases of sexual and gender-based violence (SGBV). What does this mean to us? How many are awaiting trial unrepresented? CLEEN has taken on the difficult but necessary task of improving the police force and policing services, working at the nexus of the criminal justice system and human rights.

How do we stay grounded as more opportunities come?

Innocent was brilliant, he didn't need to brag about it and didn't. I never knew he was so full of life, humour and mischief until our Harvard Kennedy School Class on behavioural insight in 2018. He contributed profoundly to the class and had a tongue-in-cheek answer to questions, which drew deep laughter. He was simple and sophisticated.

One day, after loads of complaints, advocacy, resistance and rebellion to get services for the tenement rate we pay, including a street name, waste disposal and street cleaning, the Abuja Municipal Area Council finally honoured our street with a name. I shouted for joy and informed my husband, Lukman, who was away. "Guess who our street has been named after, who?" Excitedly, I didn't wait for his answer. I answered my own quiz. "Innocent Chukwuma," I declared.

"Ahh, it is not the Innocent you think; it is a certain captain of industry with the same name," I was calmly informed, but to my dissappointment. I was deflated, after I had thought that the state had duly recognized a civil society icon in a rare moment of foresight.

Sometime later, when I got the chance to mention the incident to Innocent, he quipped along the lines of 'you should be worried if a street were named after me in Abuja'. Such was his unassuming nature and humility. We all should live on 'Innocent Chukwuma' street.

Dear Innocent, every time I drive on our street and see your namesake's name, I remember you. I pay more attention to my civic duties, including ensuring our street's nameplate is placed correctly on its pole. Your name is more than a street name. It is a signpost that we all can do our part as you did, and no good action is too little.

Thank you for your power of personal example and for enabling hierarchies – not of power but of imagination. Thank you as you signed out after nurturing others through your work, handing over a baton, well warmed, and worn smooth, to another generation to grip firmly and to run forward with.

Amina Salihu is a development sector specialist.
Subscribe
Subscribe now to receive newsletter from Financial Nigeria.