Amina Salihu, Development Sector Specialist, Civil Society
Follow Amina Salihu

@Amina_Salihu
Subjects of Interest


Governance
Sustainable Development
Learning Governance
16 Feb 2022
Life-changing moments often come without prior notice. A new beginning might come upon you stealthly, like you are not meant to know that it is a new dawn. It could start with a conversation, a word, an idea, but the moment you say 'yes', you begin a journey to a new place.

I started a new journey in 2019 when, upon the recommendation of someone who I still do not know, Obiageli 'Oby' Ezekwesili approached me to participate in the Work-Study Group of the Fix Politics Movement, for which she is the convener. Before then, I was invited to the Robert Bosch Academy and supported its Lagos introductory meeting. Dr. Oby, as Ezekwesili is popularly known, shared the result of her research, 'The Triangular Pillars of Democracy', under the auspices of the Von Weisacker Fellowship. For the next two years, I was the curriculum lead and the Dean of the pioneer stream of the unconventional School of Politics, Policy and Governance (SPPG), an initiative of Fix Politics.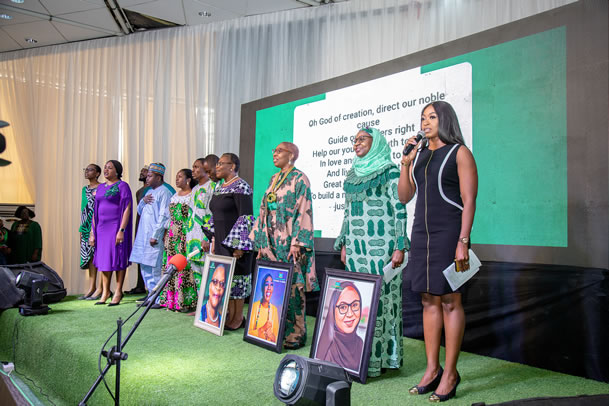 Officials of SPPG and dignitaries during the pioneer class graduation ceremonies on Jan. 29, 2022 in Abuja

The SPPG graduated that first stream in January 2022, and my job as Dean is done. I would like to elaborate on what it means to create a new generation of leaders and duty bearers, which the African continent sorely needs.

How do you curate a start-up – either in business or as in this case politics – that has, and can unleash, positive disruptive capacity? The SPPG is a perfect example of how to do that, and it is through the transformative power of ideas. I have always been a believer of money following ideas. Passionate innovators co-created and nurtured the SPPG. The first seed was not money but ideas and people. Money without planning and accountability guardrails has undone much of Africa's potentials.

A base of talented public leadership is critical to the emergence of Africa as a well-governed, prosperous, and stable continent. SPPG is the first intentional leadership development programme that is designed to focus on the practical realities of translating good ideas into material policy outcomes by focusing on growing a core of value-based leadership class that can fix both the politics and policy lacunae of Nigeria and the continent. Of course, if one in every four Africans is Nigerian, Nigeria's success is Africa's success.

This is the ethos that drives SPPG. The school focuses on helping students run for office through delivery of a hands-on curriculum and access to political insiders. SPPG also has a programme to support its students when they win elections or get appointed into political offices, to understand how to navigate political processes and drive change.

SPPG is an empirical public leadership development model, designed to identify all the skill gaps that grossly limit the effectiveness and efficiency of governments in Africa and customise curriculum content to address them. Dr. Ezekwesili calls it the "public leadership laboratory."

SPPG is a deliberate Africa-owned public leadership development programme to raise talented changemakers at scale and support them to run for office and govern public institutions ethically and competently for the rest of the 21st century. The programme is unique in identifying talents, democratizing access to knowledge of political institutions and policymaking through its unconventional curriculum. The students learn how to generate and take action with evidence, and SPPG is committed to providing a lifelong community to support them as they do.

It is a powerful metaphor: SPPG opens up the blackbox. Its inaugural cohort of students in Nigeria had a former Chairperson of the Nigerian Electricity Regulatory Commission, the CEO of Nigeria's third-largest bank, the founder of two African start-ups valued at more than $1 billion and multiple presidential candidates as faculty members. The highly accomplished individuals and experienced technocrats revealed to the students how to create and deliver value, the functioning of political institutions, and how decisions are made to have positive impacts on communities and markets.

Actionable blueprints, analytical inquiry, and conceptual clarity on basic political economy concepts are at the core of the curriculum, even as disruptive innovation ideas – like civic technology – dialogues, debate spaces, understanding of the evolving policy landscape and the electoral system are taught. The school also teaches what inclusive and open government should look like, culminating in a three-pronged practical capstone project which consists of clear individual political manifestos, a strong community of practice for the sustainability of ideas and solidarity, and co-created solutions with local communities.

Fostering lifelong support through an alumni community, SPPG offers a lifelong community that consists of dedicated faculty and work-study groups who continue to serve as sounding board and lever of opportunity for the entire SPPG and alumni. The alumni are committed to transformative public service and are a resource that can reproduce itself by referring new students and working collaboratively to solve problems and support each other.

In 2023 - 2026, SPPG will scale the size of cohorts from 200 to 500 for each class across African countries. Cameroun, Ghana, Kenya, Mali, Namibia, and Senegal are standing by to replicate the SPPG model. SPPG plans to raise 10,000 alumni by 2027, at least 10 percent of whom will be in government, including elective and bureaucratic roles. Their presence will translate to value addition by saving over $7 billion annually through policy changes, effective service delivery, community mobilization, and resource tracking, all of which will contribute to saving and improving lives. This financial value translates to 5 percent of the $148 billion Africa loses every year to corruption and poor governance.

Solving the public leadership deficit in Africa at this time is our most critical challenge. If solved, it can generate ripple effects for tackling many other challenges that have limited the prospects of the continent and its people. The idea of producing ethical and effective public leaders at a scale and speed will address the root-causes of the continent's underdevelopment.

Parth Ahya, an ally at Schmidt Futures, describes SPPG and captures its essence as 'the effort of Dr. Ezekwesili and the strong team of equals she brought together … to drive economic development on the continent by channelling that wisdom and network to tens of thousands of aspiring African changemakers'.

I repeat here the closing part of my 'Dean's Remarks' in the students' year book, 2022:

"Dear Pioneer class, remember each one of you is a unique person. Be yourself. Invest in yourself and your relationships. Find strength in the interconnectedness we share with other members of our human community. Respect the rights of all, protect the earth. Travel the world. Be global, be rooted locally, for what are we without roots that ground us and remind us of who we are and what matters. Hold onto each other. Forgive each other. It is strength to forgive. You find peace and a higher moral ground which no one can knock you off. Love, laugh, cry. Show kindness and expect those who benefit from you to pay it forward, not thank you. This is the best way to build a strong ring of succour, which in the end, comes back to us when we least expect it.

"Above all, remember those Julia Stasch words: 'be bold, be optimistic, be involved.'"

Amina Salihu is a development sector specialist.
Subscribe
Subscribe now to receive newsletter from Financial Nigeria.