Event Details
Electric Vehicles & the Grid
Category : Energy
Place : Singapore, Singapore
Date : 21 November - 21 November, 2022
Event URL : https://www.infocusinternational.com/ev
Status :
Registration in progress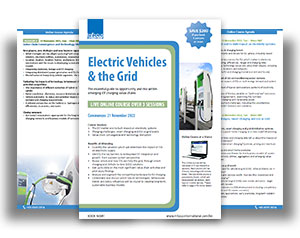 The essential guide to opportunity and risk within emerging EV charging value chains.
Even without the rapid growth of EVs, our current power systems are in the midst of a disruptive transition towards cleaner, diversified and more flexible structures. If a transition from internal combustion engines (ICE) to electric vehicles (EVs) is to be achieved, what will be the impact on these systems? What are the barriers to scale and which solutions (and hence market opportunities) will be essential? This course provides a comprehensive introduction to the multi-sector issues that must be understood and integrated, plus the competitive battles ahead, including: technology status and trends, management of electricity demand & supply, charging network players and competitors, consumer behaviour influences.
Quick Search for Upcoming Events
Event Categories
Subscribe
Subscribe now to receive newsletter from Financial Nigeria.