Cheta Nwanze, Lead Partner, SBM Intelligence
Follow Cheta Nwanze

@Chxta
Subjects of Interest


Fiscal Policy
Geopolitical Analysis
Governance
Politics
Bridge deficits along Nigeria's road arteries
10 Apr 2017
I travel a lot in my line of work. So, I know a little about Nigeria's transport infrastructure. There is a complex social, economic, and even political relationship between Nigeria and its transport infrastructure. And there are two aspects of this infrastructure that bring the complex relationship to the fore. One aspect is about roads, while the other is about bridges. Understanding the interplay between these two can provide a better perspective on the direction of current efforts to pull this country out of its malaise.

First, let us examine the broad design of our roads. Nigeria's major highways, from South to North, are the A1, A2, A3 and A4. All the other roads spawn from these four.

The A1 starts at Ojota, in Lagos. It effectively starts at the point where Ikorodu Road splits. The A1 then continues all the way to Birnin-Konni in Niger Republic – in what should be a 19-hour drive, traversing through Ibadan and Ogbomoso in Oyo State, Ilorin and Jebba in Kwara State, Gimi Beri, and Sokoto. Then it terminates at Birnin-Konni, where the Nigerien jurisdiction takes over. From that point, it becomes the N1.

The A2 starts in Port Harcourt, Rivers State, passes via Elele in the same state; it then moves westward through Warri in Delta State to Benin City, in Edo State. In Benin, the A2 twirls northward onto Ekpoma, also in Edo State, before getting to Okene, in Kogi State, Abuja, then Kaduna, and Zaria. The highway goes all the way to Kano before terminating at the border with Niger.

The A3 begins at the same point in Port Harcourt as the A2, somewhere around Choba, in the capital city. But rather than going west, it finds its way north, through Eastern Nigeria. This road passes through Aba and Umuahia in Abia State, Okigwe in Imo State, Enugu and Nsukka in Enugu State, Makurdi in Benue, Lafia in Nasarawa, Jos in Plateau, Bauchi, and Potiskum in Yobe State. The highway then continues through Borno State's capital, Maiduguri, before finally terminating in Gamboru, a town in Borno State, 140 kilometres from Maiduguri, on the border with Cameroon.

Finally, there is the A4, the one which I have explored the least. The A4 runs from Calabar in Cross River State to Maiduguri, Borno State. Along its entire route, nowhere is it too far from the border with Cameroon. If you choose to make that journey, you will pass through Ikom, Cross River State, and Wukari and Jalingo, both in Taraba State. The A4's path passes through areas close to Yola in Adamawa State, and a few kilometres away from Chibok, Borno State.

If you take a map of Nigeria's highways, you will see the logic and the planning that went into designing these roads. The four of them form roughly straight lines from our three major ports to our northernmost borders, while all other roads are linked between them, forming a grid pattern.

The second aspect of this discussion on the interplay of our transport infrastructure is more about history, and the lack of bridges. On January 4, 1966, Prime Minister Sir Abubakar Tafawa Balewa commissioned the Niger Bridge. It turned out to be his last official engagement outside Lagos, the Federal Capital at the time, as he was shot by Major Emmanuel Ifeajuna eleven days later. A series of events following Balewa's death eventually led this country to a three-year civil war and endless derailments afterwards.

Back to the main story here.

Built by the Brits, the Niger Bridge cost £5 million at the time, the equivalent of £83.2 million or ₦34.7 billion today. To underscore how important the bridge was, Balewa was accompanied to the commissioning ceremony by a large (for those days, at least) delegation that included the Federal Minister of Works and Survey, Shehu Shagari (who would later become President), and the Premier of Mid-Western Region, Dennis Osadebe. Premier of the Eastern Region, Michael Okpara, and the Governor of the region, Francis Ibiam, both boycotted the occasion because of a political spat between the Northern People's Congress (NPC) and National Council of Nigerian Citizens (NCNC). Just as an aside, Balewa, Osadebe and Shagari paid a toll to cross the bridge both ways from Asaba to Onitsha. That was in line with a public-private partnership model that we have failed to replicate successfully ever since.

Fifty-one years have passed since that ceremony, and despite many false starts, Nigeria has not built a second bridge across the River Niger. Given the volume of trade that goes between Asaba and Onitsha, and the fact that many people who work in Onitsha actually live in Asaba, this lack of a second bridge is a disgrace.

For the sake of accuracy, however, we must correct a common misconception that there is no second bridge across the River Niger. There are bridges at Asaba, Lokoja, Ajaokuta and two bridges at Jebba – a rail bridge, and a road one. If we want to be pedantic, we can add the bridge across the Forcados River at Patani to the count. But the Forcados River is a tributary of the Niger, and not the Niger itself.

The River Niger flows through our country for hundreds of kilometres, bisects the country in two, lends its name to the defining character of this nation, and we have only five bridges across it. This deficit of bridges is consistent with the practice by which we have a nation that is not serious about exploiting its natural and human resources to the fullest. Just for giggles, China has seventy-five bridges and six tunnels traversing its longest and largest natural artery, the Yangtze River. The vast majority of the bridges were built after 1990! Meanwhile, there are ninety-six rail and road crossings across the German section of the Danube alone!

Even South Africa has managed to build thirty-four bridges across the much shorter Orange River, which – except for Upington, the centre of a bustling wine-making industry – does not pass through any major cities.

At the very least, we should have no less than sixteen bridges across the River Niger and its sister, the River Benue. For one, we need a bridge linking Kebbi and Niger States around Yelwa, Kebbi State. That is prime agricultural territory that is wasting away, and the current Yelwa-Mokwa road simply does not cut it.

The Kainji Road, which runs parallel to the dam's reservoir is criminally neglected given the importance of that area to the country's power generation needs. Going downstream, the bridge at Jebba needs rehabilitation, and in my view, a bit of an upgrade. And yes, the bridge at Jebba is a part of the A1 highway.

How many Nigerians know that there is a monument to Richard Lander and Mungo Park at Jebba? How many Nigerians remember who these gentlemen were? How many Nigerians have heard of Juju Rock? This is prime tourist country being wasted because of lack of proper road access.

Going further down the River Niger, we need to build a road or rail that links Bida in Niger State with Lafiagi in Kwara – preferably rail. This will open up those areas and get them more economically productive. In the 1970s, we had grandiose plans for a bridge taking off at Pategi in Kwara. I don't have too many complaints about the bridge just outside of Lokoja, though I think there should be a second one.

The bridge at Ajaokuta, Kogi State, needs to be expanded. The last time I passed there in October 2016, the roads leading up to that bridge were in terrible shape. Coal-carrying trucks drive across the bridge at Ajaokuta. I will reserve further comment on that, but the lack of bridges downstream at Agenegbode and Idah is a crime against the Nigerian economy. These towns, each quite important in Edo and Kogi States, respectively, could very easily experience an economic boom if there were a connecting bridge.

Going further south towards Asaba and Onitsha, there should be at least three bridges across those areas. Besides the current one, there can be a second bridge taking off from around Mission Road in Onitsha to terminate at Cable Point in Asaba. Then the third bridge should take off at the location of the current construction for the Second Niger Bridge project being led by the Nigeria Sovereign Investment Authority (NSIA). We are not sure yet where the construction will start and end.

Finally, as the River Niger snakes south, why can we not throw in another bridge to link Ndoni in Rivers State and Aboh in Delta State? After all, back in the day, the peoples of both Aboh and Ndoni used to row across to trade, play and inter-marry. These days they look at each other and pretend that they do not share common ancestors.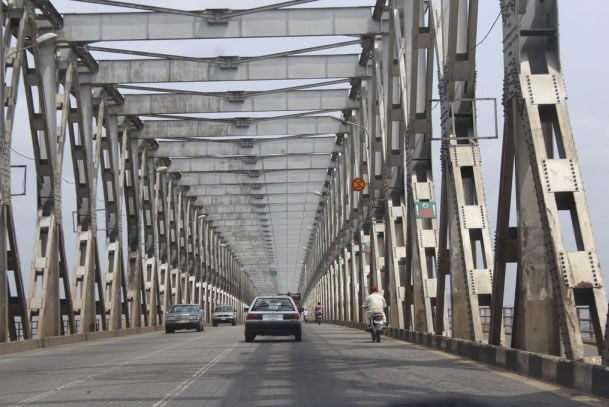 Niger Bridge

Thus far, we have been on the River Niger. I have not travelled the path of the Benue as thoroughly, but imagine the kind of employment the construction for the associated roads and bridges would create. Imagine the knock-on effects if those areas that were previously untapped become open. Travel times would be shortened and this would have significant effect on the price of tomatoes and other agricultural produce in Lagos.

Our legislators are too lazy to remove such things like transport infrastructure from being an entirely government preserve. As a result, the private investors cannot build bridges to get to places where they want to set up industries, and create jobs to help millions of Nigerians who live around our waterways.

Unlike the current leaders, our planners from half a century ago had foresight, and envisaged a lot for the country. Unfortunately, further implementation of their ideas has left a lot to be desired. A good road maintenance culture is all but non-existent.

The reality is that a drive along the A1 is not nineteen hours. Indeed, it could last four days during the rainy season – that is if you are lucky. Is it anyone's surprise that Niger Republic, despite having both the A1 and A2 highways terminate just inside its borders, prefers to use the ports in Lome, Togo, and Cotonou, Benin Republic, to receive most of its imports?

As long as these roads remain in their current states, and without the bridges to link them, no economic reform strategy can save Nigeria.
Subscribe
Subscribe now to receive newsletter from Financial Nigeria.