Omobolanle Victor-Laniyan, Head of Sustainability, Access Bank Plc
Follow Omobolanle Victor-Laniyan

@@sustainablebobo
Subjects of Interest


Corporate Communications
Social Development
Sustainability
Sustainable Development
Access Bank and youth entrepreneurship
05 Oct 2017
The Nigerian National Youth Policy defines "youth" as people between ages 18 and 35 years. Based on the 2016 estimate of 193 million as the entire population of the country, with 31.7% youth, the Nigerian youth population was 61.3 million. This youth population exceeded the entire population of some of the wealthiest nations on earth, including Italy, Canada and South Korea.

National wealth has correlation with population. The world's four most-populous countries or territories – China, India, the European Union and the United States – account for 64.2% of global GDP in 2016. Given its population size, Nigerian youths can be the catalyst for the country's economic growth. But in the meantime, the Nigerian youth unemployment is rising; it increased to 25.2% in the fourth quarter of 2016.

The upward trending youth unemployment in the country needs to be reversed. With youth entrepreneurship as a veritable solution, it means the problem of youth unemployment can be solved within the youth demography. This is not to say the problem will solve itself. Interventions to help Nigerian youths unleash innovation through entrepreneurship to create jobs are quite critical now.

As a responsible institution, youth empowerment is integral to the social good Access Bank Plc actively pursues, in line with our broad sustainability strategies. With the Bank's commitment to support innovation, it actively supports entrepreneurship among the youth. We blend advocacy with our programmes of sustainability, which include socially- and environmentally-responsible financing as well as giving back to society.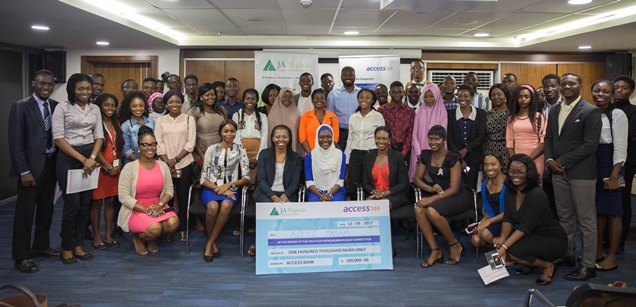 A view of the group photograph from the programme of the commemoration of the International Youth Day 2017, at Access Bank Plc's headquarters in Lagos.

Accordingly, Access Bank partnered with Junior Achievement Nigeria to commemorate the International Youth Day 2017. We jointly organised the Youth Entrepreneurship Essay Competition. To foster entrepreneurship as a strategy for upward social mobility and national economic growth, the essay competition elicited from participants suggestions of solutions that could help solve the youth unemployment crisis in Nigeria. Various digital channels were deployed to foster interaction and knowledge-sharing among the participants from various parts of the world. This reflects both the diversity within Access Bank as an African bank and a global corporate citizen, and innovation as the heartbeat of our operations. In all, over 2,000 essay entries were received.

Mariam Azeez, an Economics undergraduate of Obafemi Awolowo University, South-West, Nigeria, emerged the winner. The young lady intones what we already know. When given the opportunity, women can prove they are competitive. Women also think business. On receiving her award, Mariam submitted that, to bring about a transformational change, the country needs to create a vibrant entrepreneurial ecosystem, noting that this is a joint responsibility of both the private and public sectors.

Olayinka Yomi-Tokosi, Head of Youth Banking at Access Bank, agreed. He said "A great way of investing and empowering the youth is to drive them towards entrepreneurship, as entrepreneurship creates jobs, increases innovation, raises competition and is responsive to changing economic opportunities and trends." This is the essence of Access Bank. And Amaechi Okobi, Head of Strategic Brand Management, reiterated at the programme of the Awards that "Turning Passion to Portfolio is part of what Access Bank believes in."

In June 2016, Access Bank began a partnership with the Lagos State Government to adequately equip 500 undergraduate students with required skill-sets that will help them excel in the corporate world and entrepreneurship. So far, 21 students from Lagos State College of Health, Lagos State Polytechnic, and Lagos State University have completed the inaugural six months internship programme.

These are two of the many programmes of Access Bank on youth empowerment. Generally, these programmes are designed to be scalable and address a wide canvass of areas of intervention, with the aim of sensitising on what can be done and inspiring other institutions to take actions.

Omobolanle Victor-Laniyan is Head of Sustainability, Access Bank Plc.
Latest Blogs By Omobolanle Victor-Laniyan
View More
Subscribe
Subscribe now to receive newsletter from Financial Nigeria.