Cheta Nwanze, Lead Partner, SBM Intelligence
Follow Cheta Nwanze

@Chxta
Subjects of Interest


Fiscal Policy
Geopolitical Analysis
Governance
Politics
The reality of buy made-in-Nigeria
16 Sep 2019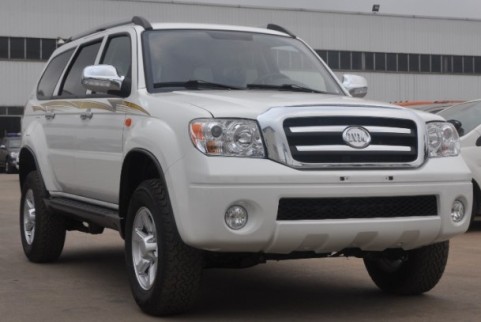 An Innoson SUV

There was another uproar on social media recently, when Governor Emeka Ihedioha of Imo State overlooked Innoson Vehicle Manufacturing company (IVM), a Nigerian automobile manufacturer, in ordering 100 trucks from Ford Motor Company, an American manufacturer. Ihedioha's detractors said his action was unpatriotic. They pointed out that President Muhammadu Buhari's federal administration had recently made purchases of Innoson vehicles and asked why the Imo State Governor, who happens to be from the same geopolitical zone as Innocent Chukwuma, the owner of IVM, could not do the same.

The Buy Made-in-Nigeria campaign of the federal government is a step in the right direction. Patronage of Nigerian products is, potentially, a major solution to the economic challenges the country is facing. Some of the challenges, which include high youth unemployment rate, low capacity utilisation in industries and high poverty rate, would be effectively addressed by increasing domestic production.

However, this solution would not be achieved by symbolic gestures or ethnic jingoism. The federal and state governments – as well as Nigerian private consumers – regularly purchase foreign vehicle brands. The rationale would be that the locally-made vehicles are not competitive against their foreign counterparts in terms of quality.

But the local vehicle manufacturing brands also face competition from the local assembly plants of foreign vehicle manufacturers. In this regard, Governor Ihedioha had explained that he did not purchase the trucks in question directly from Ford. The trucks were assembled in Nigeria by Coscharis Motors Assembly Limited, an indigenous company. According to the National Automotive Design and Development Council, a total of nine auto manufacturing companies are currently assembling vehicles in Nigeria. These firms are Peugeot Automobile Nigeria, Nissan Motors, Honda Motors, IVM, Hyundai Motor Company, Ford Motor Company, GIC Motor Companies Ltd, JAC Motors and Kia Motors.

But the vehicles, whether they are foreign vehicles assembled in Nigeria or an indigenous brand, present significant cost barriers to Nigerian buyers. Not many Nigerians can afford them. For instance, a brand-new Honda Accord assembled in Nigeria costs ₦17 million. The high selling price of made-in-Nigeria vehicles are significantly impacted by the high cost of doing business in the country. The cost of powering the assembly or manufacturing plants are huge. The companies cannot leverage the benefit of scale with regard to electricity as they have to power themselves in the absence of reliable grid-electricity supply.

The Nigerian macroeconomic climate has changed significantly from the glory days of the 1970s to the early 1980s, when many Federal Government employees could afford to buy brand new, locally-assembled vehicles. The Peugeot vehicles were quite popular at the time. But from the mid-1980s, the emergent middle class was decimated by the economic downturn of that era, caused mainly by short-sighted government policies. In the absence of purchasing power by the Nigerian working class, and cases of mismanagement of some of the local vehicle assembly plants, Nigeria experienced investment collapse in domestic vehicle manufacturing.

There was a resurgence of the middle class in the 10 years between 2004 and 2014. In that period, consumer loans for the purchase of vehicles fuelled demand for automobile. But at that time, there was near-complete dependence on importation of vehicles into the country. Thus, the demand surge was little useful in boosting domestic vehicle production capacity.

The decade-long economic boom ultimately dovetailed in another downturn, caused by poor management of the economy. The banks performed poorly with risk management, while the federal government squandered the opportunity to build reserves for the raining day – apart from unconscionable high level of corruption in the public sector. When oil prices took a downward turn between 2014 and 2016, Nigerian purchasing power eroded again and the banks retreated from their previous aggressive credit growth strategies. Many local and international analysts now believe that Nigeria is facing both acute debt and revenue challenges.

Nevertheless, the Nigerian government constitutes a large market segment for vehicles in the country. It can, therefore, use its spending power to complement its policy tools to spur local vehicle manufacturing in the country. Its success in this regard would lead to job creation and attract foreign direct investment (FDI) into the economy.

It is important to note, however, that the Nigerian local automobile manufacturing industry can hardly take off in a meaningful way for local production if the country remains unable to produce steel. India has been able to make advancements in local automobile production because of its productive steel industry. Indeed, India's Tata Motors, which started operations in 1945, rode on the crest of Tata Steel – a company that started operations in 1912 and had by 1939 become the largest steel producer in the entire British Empire. But as a juxtaposition, Nigeria's Ajaokuta Steel Mill, established in 1979, has even become moribund after decades of investment and management restructuring only put the mill further away from production of steel.

The local steel industry is key to driving down the cost of producing vehicles in Nigeria. For Innoson, its input cost would be higher relative to its competitors who are assembling vehicle parts already fabricated in their global manufacturing plants – with the associated economies of scale. This is an uphill challenge to the promise of Innoson as a virile and pride-of-Nigeria automobile brand.

Apart from overcoming the input cost challenge, Innoson also needs to improve its vehicle designs and marketing. The Chinese models Innoson's products are based on have undergone radical changes in their design, even as China has been moving up in the global industrial value chains. For Nigeria to be able to follow suit, we have to invest in technology. The overall technological environment is very important for a company like Innoson and other industrial manufacturers. But this is another area that the government has been failing in. Not only does the country need to prioritise science and technology education, the government must make very targeted additional investments in R&D to produce the pool of knowledge and skills base for Nigerian companies to draw from.

It remains to be seen what the impacts of the moral suasion of the Buy Made-in-Nigeria campaign would be. Nigerians have long developed exotic tastes. Even where local alternatives are available, Nigerians from middle- to upper-class would rather buy foreign products. We, as a people, tend to prioritise our taste above patriotism and we are one of the most conspicuous consumers in the world. In this regard, the government often preaches what it doesn't practice. For instance, President Buhari rides around in a customised German Maybach, brought in from Germany.
Subscribe
Subscribe now to receive newsletter from Financial Nigeria.