Cheta Nwanze, Lead Partner, SBM Intelligence
Follow Cheta Nwanze

@Chxta
Subjects of Interest


Fiscal Policy
Geopolitical Analysis
Governance
Politics
Tales of how Nigeria is going nowhere fast
10 Jul 2020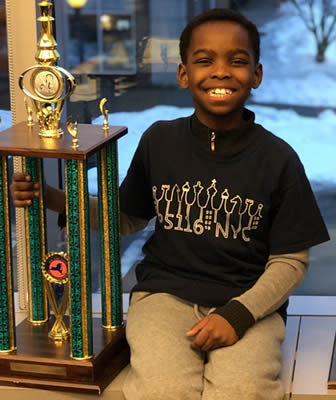 Young Nigerian chess prodigy Tanitoluwa Adewumi

Tanitoluwa Adewumi, 9-year-old Nigerian who lives in New York, United States, is on track to become the youngest-ever chess grandmaster. He has been predicted as such by no less a personality than Hikaru Nakamura, the Japanese-American chess grandmaster who became the youngest American to have the grandmaster title at the age of 15. Tanitoluwa's International Chess Federation (FIDE) rating is currently 1730.

Chess grandmasters are people who spent a lot of time studying all kinds of moves right from their tender ages. They studied moves like Sicilian Defence, Duras Gambit, Torre Attack, King's Pawn Opening, etc. I know these because 25 years ago, I won a chess tournament back in Edo State, and my teacher, Mr. Victor Akinboyewa, a chess enthusiast, wanted me to compete at the national level. As a result, he brought a huge collection of books for me to read. But I backed out.

Tani, as the Nigerian prodigy is called, has been making waves in the US where he has lived with his family since 2017. His parents, Kayode and Toyin, claimed to have received death threats from Boko Haram back in 2015 while living in Abuja. This necessitated the family's decision to seek religious asylum in the US.

Upon arrival in New York in June 2017, his father began driving a taxi, while his mother took a job as a cleaner. They lived in a homeless shelter for a while, and Tani started school. At the rundown public school, there is a part-time chess teacher, Shawn Martinez, who takes pleasure in introducing students to the game. Martinez quickly realised that Tani had a gift and encouraged the boy to join the chess club at the school. There was a $300 (108,000 at the 2017 exchange rate) fee to join the club, but Tani's parents could not spare such amount of money. However, the other teachers recognised Tani's talent and waived the registration fee.

The rest, as they say, is history. Tani's rise has been nothing short of phenomenal. He is now the best player in the US in his age category. An anecdote told in a New York Times report reveals how, in his fourth competitive game, Tani had sacrificed a bishop for a pawn. Afraid that such a combative move would backfire and make him lose the game, his coach fed the move into a chess engine for analysis. The computer confirmed that what appeared to be an illogical sacrifice for just a pawn was the best move. Of course. Tani won the tournament.

In the past year, he has met with former US president, Bill Clinton, as well as chess grandmasters Gary Kasparov, Jennifer Yu, and Fabiano Caruana. He has also been interviewed by Maurice Ashley, the world's first black grandmaster. Tani recently played against the aforementioned Nakamura, losing by four games to one. Yes, he lost, but there is no denying his huge achievement as a 9-year-old who has been playing the game for just three years. At his age, he was competitive against a grandmaster who has been playing since 1994, 16 years before Tani was born.

Naturally, when a Nigerian is making waves outside our shores, the country takes notice. So, in March last year, Abike Dabiri-Erewa, Chairman/CEO of Nigerian Diaspora Commission, called Tani "a pride to the nation," in a press statement issued the day after the chess champion met Clinton. But what was really the point of Dabiri-Erewa's press release?

Let's ask the question: How many Nigerian prodigies has President Muhammadu Buhari met? And let's look beyond his current presidency to when he was Head of State in the 1980s. Within this period, the list of Nigerians who have left the country and have gone on to achieve their potentials in different fields in other climes is long.

If Tani had remained in Abuja, would he have even learnt to play chess? How many kids in Nigerian schools do you see playing chess? Indeed, not all the stories about the perseverance of Nigerians have ended well.

Take Grace Anigbata, for example. In 2015, she qualified for the Athletics Federation of Nigeria trials in Sapele, Delta State, with a stellar 1.7-metre jump. However, neither Anigbata nor Esther Issa, who came second; not even Ngozi Nwichi, who came third, represented Nigeria at the Rio 2016 Summer Olympics. The country was represented by Doreen Amata, who could not even be bothered to attend the Olympic trials. But to the minds of the Nigerian officials, Ms. Anigbata was too young to go to the Olympics at 18. Amata was placed in the 27th position in the Rio Olympics high jump event.

Nigeria's patent inability to spot and encourage budding talents is hardly confined to the field of sports. In 1961, Loyola College in Ibadan, admitted young Ilesanmi Adesida who had spent the first 12 years of his life in Ifon, in Ondo State. Adesida had problems speaking English, but he was outstanding in mathematics. Despite this shortcoming, most of his teachers lost patience with him. But Rev. Fr. Markle, an Irish Jesuit priest and principal of Loyola College at the time, soon noticed that this young boy was a mathematical genius.

Markle, who was himself a mathematician and could speak Yoruba and Igbo, tutored the boy in English and other courses. In his final exams in 1966, Adesida not only passed English, but he also earned distinctions in mathematics, additional mathematics and physics.

The United States, the world's pre-eminent talent spotter, offered him scholarships that led Adesida to obtain bachelor's (1974), master's (1975), and doctoral (1979) degrees in Electrical Engineering from the University of California, Berkeley. He is now a world-renowned expert on nanotechnology, especially in its application in the design of high-speed communications devices. Adesida is the recipient of multiple awards from various universities, corporations, and foundations. Carnegie Foundation honoured Adesida as a Great Immigrant to America in 2016.

Our casual attitude to identifying, training, and retaining talents has ensured that we are severally lacking human capital in critical aspects of our economy. For instance, Nigeria's COVID-19 response has been hamstrung due to the fact that more than half of the 72,000 doctors registered with the Medical and Dental Council of Nigeria (MDCN) now practise medicine outside the country. As a result, Nigeria has one of the lowest doctor-to-population ratios in the world at one doctor for every 2,753 people, well below the World Health Organisation's recommendation of one doctor for 1,000 people.

This has important implications not only for the management of endemic diseases such as malaria, typhoid and sleeping sickness, but also for high-profile incidents such as the recent outbreaks of cholera, Lassa fever and Covid-19.

While numbers are hard to find for other economic subsets, it is clear anecdotally that many professions, including sport, are witnessing massive emigration to more conducive climes. Meanwhile, Nigeria needs the brains and talents to drive desperately needed development. According to the Washington DC-based Migration Policy Institute (MPI), Nigeria was the largest source of African immigration to the United States, growing from an estimated 25,000 Nigerian immigrants in 1980 to approximately 376,000 (including first and second generation Nigerians) in 2015.

46 per cent of Nigerian migrants in Europe and 83 per cent in the United States are highly skilled, according to a 2009 study by the International Organisation of Migration (IOM) and the European Union (EU). A 2006 study by Frédéric Docquier and Abdeslam Marfouk showed that on average, 64 per cent of Nigerian emigrants in member countries of the Organisation for Economic Co-operation and Development (OECD) had tertiary education. The real-world consequences of this is that there is a dramatic outflow of economic productivity. According to the United Nations Conference on Trade and Development (UNCTAD), each African professional that is lost to other countries represents a loss of $184,000 to the continent.

This economic loss is, nevertheless, partly offset by remittance flows. However, the innovation that comes from actively seeking and rewarding talent across a broad spectrum of economic and social activities is a more sustainable approach to building economies. Remittances simply reward those people who are lucky to have a relative or a friend in another country. Remittances will not make up for the loss of the prowess of a Tanitoluwa Adewumi, the prospects of a Grace Anigbata or the world-changing research of an Ilesanmi Adesida. A country that does not recognise talent is going nowhere fast.
Subscribe
Subscribe now to receive newsletter from Financial Nigeria.