Mojisola Karigidi, Founder and Product Developer, Moepelorse Bio Resources
Follow Mojisola Karigidi

@OjebodeMojisola
Subjects of Interest


Food Security
Governance
Health
Sustainable Development
Tackling water stress in the face of climate change
15 Mar 2018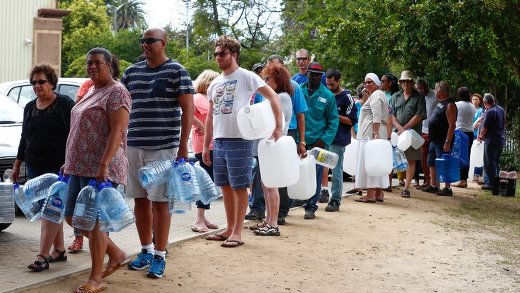 People in long queues to collect water from a natural spring in Cape Town, South Africa
Cape Town's water taps are dangerously close to running dry if the water levels in dams supplying the city continue to fall. The government has dubbed July 9th as "Day Zero", the day the city is predicted to run out of water. Cape Town might be the first major city to ever be without access to running water. If this happens, the four million people living in this city will have to queue up at 200 collection points for water rations. This ordeal is the result of three years of droughts, although the impact could have been reduced if careful water management practices and environmental policies were put in place.

More than ever, climate change has contributed tremendously to diminishing fresh water resources. Indeed, there are other factors such as population growth and urbanisation, which have reduced the availability of fresh water. Water stress occurs when the demand for fresh water exceeds supply at a certain period or when there is a deterioration in the quality of fresh water. The world is expected to experience a 66 percent reduction in water availability by 2050 due to issues interwoven with climate change.

As we have seen in recent times, climate change negatively impacts all aspects of the water cycle. The rise in global temperatures have led to greater incidents of floods and droughts, increase in uncertain weather patterns and natural disasters. Regions that are currently vulnerable to droughts include the Middle East and Sahel in Africa. There are other regions that were not previously affected such as Central Africa and East Asia that are expected to begin to experience droughts.

Much of Africa will have to deal with the numerous challenges that are associated with the reduction in fresh water supply. One area of concern is reduction in food production. The impact of climate change on water availability could cripple food production since agriculture largely depends on water availability. In fact, up to 70 percent of global water resources are used for agriculture.

According to the Food and Agricultural Organisation of the United Nations (FAO), global food demand in 2050 is projected to increase by at least 60 percent above 2006 levels. This is as a result of population and income growth, and rapid urbanization. Without enough water to meet this rising demand for food, food prices will continue to increase and food scarcity will worsen.

Beyond 2030, the impact of climate change on the productivity of crops, fisheries, livestock and forestry will be increasingly severe in all regions. However, climate change and water scarcity have greater impacts in low-income populations. Therefore, developing countries are mostly at risk of the effects of climate change and should deploy resources to tackle these challenges.

Because food production accounts for the largest share of water consumption, a lot needs to be done to continually make water available for irrigation, especially at times when rainfalls are unpredictable and undependable. We must also collectively make conscious efforts to conserve our water resources and invest in new water sources in the face of climate change.

Irrigation systems should be used more efficiently to avoid water wastage. For instance, the drip irrigation system delivers water directly to the roots of plants through systems of plastic or ceramic tubing with small holes. This method of irrigation conserves up 50 to 70 percent more water than the traditional method. It also increases crop production by 20 to 90 percent.

Farmers in farming communities could be sensitized and assisted to properly manage water on farms. Apart from better water management practices on farms, the use of some organic materials can also help to improve crop yields. Judiciously applying livestock waste, food processing waste, industrial organic waste, scraps of foods and wood processing waste to farmland – instead of just burning them – could help retain soil moisture and improve soil fertility.

Undeniably, there is an urgent need for governments and stakeholders in developing countries to invest in climate smart equipment and infrastructure, which are already available in other parts of the world to achieve fresh water security. We do not have to wait for the worse to happen before responding to water shortages.

Groundwater development, water recycling and re-use are mechanisms that could be used to manage water supply. As opposed to surface water, sustainable use of groundwater resources plays an important role in meeting water demand, especially in areas where there are water shortages. Waste water is often rich in plant nutrients and could be re-used for agricultural purposes after thorough treatment with low-cost technologies. All in all, countries should put policies in place to help manage water sustainably for the years ahead.

For societies to better understand how much water is available, where it is, how it is used and determine whether the current patterns of use are sustainable, water must be accounted for. Water accounting refers to measuring societal supply and use of water resources. Strategies to cope with water stress might not be effective without properly accounting for water. According to a report by FAO, water accounting is a vital component of policies or programmes targeted at solving or preventing the problem of water shortage.

I must mention the need for quick repairs of leaks and replacement of old pipes in our cities and towns. Most countries in Africa do not have resources like Cape Town to tackle water shortage. Yet, available water is allowed to carelessly wet the streets through broken pipes. The problem of water wastage is not restricted to leaky pipes, however. Households have a role to play, too. For water to be available for more productive purposes, households should monitor water use judiciously.

One way to effectively monitor water use in homes, industries and other properties is to install water metres. A water metre measures the volume of water delivered to a property. So, properties can be charged based on volume of water consumed. When people begin to pay, depending on how much water they use, we will worry less about water wastage and shortage.

National water authorities should take steps towards the construction of multi-purpose dams and inter-basin transfers in regions undergoing serious water stress. Inter-basin transfer involves transfer of water from water-rich basins to water-scarce basins. Desalination plants could also be created to remove salt from sea water and brackish water. In addition, water authorities should monitor water environmental flows and greatly discourage pollution of water bodies by adapting and enforcing water laws, administration of water rights and embarking on continuous public awareness campaigns.

Some countries have over the years employed strategies to combat water scarcity. For example, in Tunisia, some water supply enhancement measures have been employed, including building of large dams and small earth dams, mixing fresh water with treated waste water, transfer of water from inland to coastal areas and desalination of brackish water for domestic use.

In Spain, strategies such as waste water re-use, desalination, on-farm and district storage have been employed. The country has also been able to manage demand for water in agriculture through the re-allocation of water to high-value crops and improved irrigation systems. While in South Africa, promotion of water-users associations, encouragements of efficient use of water and licensing reforms have been adopted. Countries prone to water stress should localise some of these already tested approaches.

It is also very necessary for developing countries to support the development and commercialisation of localized drought-resistant crop varieties. Examples of such crops already in existence are the varieties of pearl millet and sorghum (hardy dry land staples) developed by the International Crops Research Institute for the Semi-Arid Tropics (ICRISAT). There are also the multipurpose grain legumes, for example, cowpea, that have been released in more than 60 countries with support from International Institute of Tropical Agriculture (IITA).

A recently published study by experts from the University of Seville, in Spain, shows that certain varieties of tomatoes, for instance, the cherry tomato could be grown to maturity with only half of the water required by the conventional tomatoes. 50 percent of water will produce tomatoes of same quality as the traditional tomatoes and with more benefits such as an increased level of carotenoids (a group of antioxidants that support eye health, cardiovascular health, male fertility, skin health, immune system boost and prevention of certain cancers). More of such works should be supported and financed in developing countries.

Whether we like it or not, climate change is impacting almost every area of our lives and economies. And water scarcity is another phenomenon energized by climate change. The best we can do is to strengthen attempts and strategies to prevent or reverse the effects of climate change on our water resources.

Financial Nigeria Columnist, Mojisola Ojebode, is a Nigerian biochemist and the founder and product developer at Moepelorse Bio Resources. She is also a Global Innovation Through Science and Technology (GIST) awardee, a Mandela Washington fellow, and an Aspen New Voices fellow.
Subscribe
Subscribe now to receive newsletter from Financial Nigeria.