Event Details
Summary
The Project Finance Fundamentals for Infrapreneurs is a course designed for CEOs with little or limited finance knowledge but who are incubating projects in Energy and Infrastructure space. It provides practical transaction issues, risks and challenges for entrepreneurs developing large-scale projects.
More Event Information
The three-day course is part of the Brickstone Dealcamps Series designed for the African Infrapreneur developing projects but lack the knowledge of project and corporate finance principles in making deals happen.

At the end of these courses the participants would have learned and developed appropriated leadership skills, knowledge and attitudes in basic project finance, acquisition, investment and resource mobilization for their chosen projects.

At the end, we also have our "Workshop Panel Discussions" that would focus on discussion of Transaction risks how to deal with them. Key risks include credit, market, interest, infrastructure, engineering, liquidity, supply, currency, political and environmental. Guest Speakers to be invited to share their knowledge.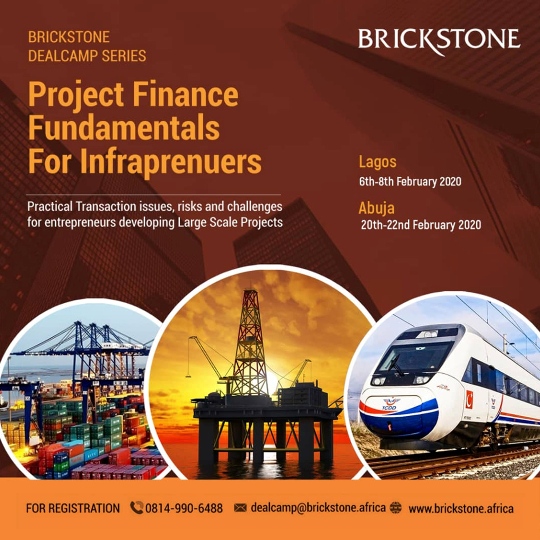 Quick Search for Upcoming Events
Subscribe
Subscribe now to receive newsletter from Financial Nigeria.