Latest News
Nigeria ranks as second-largest recipient of UK money transfer
News Highlight
Nigerians in the UK sent home an estimated £2.97 billion in 2018, while Indian residents sent home £3.04 billion.
New analysis by Paysend, a United Kingdom-based financial technology (fintech) company, shows that Nigeria was the second largest money transfer market for UK residents in 2018, after India. While Nigerians in the UK sent home an estimated £2.97 billion (or 12.3 per cent of the total £24.2 billion transferred in 2018), Indian residents sent home £3.04 billion (12.6 per cent).

In a statement sent to Financial Nigeria on Wednesday, Paysend said the top five money transfer markets for UK residents – India, Nigeria, France, Pakistan and China – accounted for nearly one-third (£10.2 billion) of the total sent home. The Paysend report shows there were only two African countries among the top 10 UK money transfer markets in 2018: Nigeria and Kenya, whose UK residents sent home £563 million.

Other markets among the top 10 recipients were Poland, Germany, Spain and Philippines. According to the World Bank data analysed by the UK fintech, foreign workers, international students and expatriates in the UK send money to more than 130 countries worldwide. Paysend stated that money sent back home provides significant support for recipients and their communities, especially women.

"Moving money changes lives. We can see how a group of new internationalist workers, students and expats are driving the growth of money transfers in the UK," said Alberto Macciani, Paysend's Chief Marketing Officer. "Often, these transactions are life changing for those that send or receive them. Money transferred might go on education, healthcare, or to give families the ability to buy a home or start a business."

According to the World Bank's latest data on migration and remittances, global remittances grew from $595.7 billion in 2015 to $682.6 billion in 2018, and was on track to reach $706.6 billion in 2019 as of October of last year. The bank also said more than 247 million people were living outside of their countries of birth in 2013.

The data also shows that remittances to Nigeria grew by $1 billion from $24.4 billion in 2018 to $25.4 billion last year – the equivalent of 5.7 per cent of Nigeria's gross domestic product (GDP) in 2019.

Launched in 2017, Paysend said it already serves over 1.3 million users worldwide. The company said its growth stems from the growing mobile segments of the workforce and the continued growth of international students.

"Global transfers enable our customers to move money in an instant. With fixed, transparent and low fees, more of our customers' money is enjoyed by those they care about," said Macciani.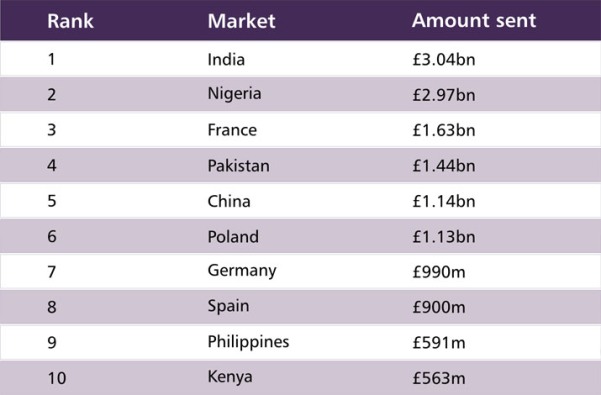 Related News
Helium said it plans to use the latest funding round to expand its market footprint across Nigeria, Ghana, and Liberia, while ...

The World Bank said remittance flows are expected to become even more important as a source of external financing for LMICs as ...

The government said the funds will enable it to tackle the impact of COVID-19 pandemic on the economy.
Quick Search for Upcoming Events