Oguche Agudah, Regional Director, Nigeria, OurCrowd
Follow Oguche Agudah

@ogucheagudah
Subjects of Interest


Development Finance
Finance and Investment
Fiscal Policy
International Trade
NIGERIA FIRST-agenda for the Honourable Ministers
10 Sep 2019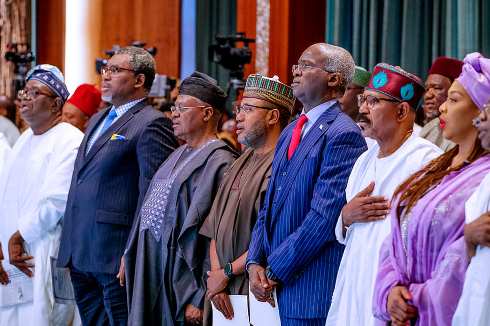 A cross-section of the members of President Muhammadu Buhari's new cabinet
sworn-in on August 21, 2019

Dear Honourable Ministers,

I'd like to believe that you would have finished reading all the congratulatory messages that came your way on your nomination, screening and subsequent swearing-in as Ministers of the Federal Republic of Nigeria. Some of you have had thanksgiving ceremonies in churches and mosques, dinner parties organised by committee of friends, congratulatory and solidarity messages in the papers, and rousing welcome by ministry staff – with some of them carrying placards displaying solidarity messages.

Fortunately, or unfortunately, (depending on the way you look at it), these come with the territory. From now on, when you walk into a room in your ministry, everyone will stand up for you until you sit down. You will have a retinue of security personnel attached to you and a convoy of vehicles complete with sirens. You are now immune from the "mad" traffic gridlocks, even if your convoy exacerbates them occasionally. You won't have to pay for even your routine personal expenses for the next four years. This is the system we have created for ourselves as a nation. We magnify government officials and positions such that they are totally removed from the society they are meant to serve.

To be fair to you, you didn't create these problems. But you should be aware that the system has a way of sucking in ministers. You can easily forget and lose the real essence of why you were appointed, regardless of why you, among several other qualified Nigerians, were appointed ministers. Our country cannot afford non-performing ministers. We have an urgent need to turn around the fortunes of the country.

Honourable Ministers, I'd like to offer some advice, which I believe can enhance the chances of fulfilling your legal mandates.

The first thing I would like to start with is definition. This is important because if we don't understand the meaning of something, we cannot engage it meaningfully.

You are referred to as "Honourable Ministers." The first word – "honourable" – means to be morally correct, ethical, principled, right-minded and full of integrity. In practical terms, it means keeping to your word, saying what you mean, and meaning what you say. It means being transparent in your official dealings and being the champion for ethics and principles in your ministry.

The second word is "minister", which derives from the root word "serve." It means to serve and attend to the needs of others. In practical terms, it means being the chief public servant in your ministry, attending to and serving the needs of the public that come under the purview of your ministry.

Essentially, as an Honourable Minister, you are expected to serve Nigeria and Nigerians with honour.

Following the definitions, I'd like to break down what I believe should be your guiding principles and what should be your focus in the first 90 days. I have coined an acronym NIGERIA FIRST, which should be followed literally.

1. Nigerians are looking up to you to enunciate and implement policies and programmes that will aid economic growth and drive development in a nation that has degenerated in so many aspects. Please do not take this task lightly.

2. Initiate contact with and understand your boss. That boss, we know is the President. He nominated you and it is important you understand what his priorities are concerning the ministry you now superintend. Make no assumptions, but also present solid policy proposals to him.

3. Get to know the internal workings of your ministry. How many agencies report to your ministry? Who are the Director Generals and Executive Secretaries? What are their strengths, challenges; when does their tenure expire, which of them needs to be recommended for statutory second term, and which of them is retiring soon? You will need a strong team internally if you are to achieve your objectives. You therefore need to do an internal audit. Read the handover reports of the previous ministers. What did they achieve; what are the ongoing projects? You will also need to understand the budget of your ministry. What are the drivers, how can you generate extra income, how can you reduce expenditure?

4. Engage the constituency you super-intend. These are the people you are meant to serve. This will typically be industry groups and associations that represent either the interests of the private sector or pressure groups. For instance, the health minister should meet with the Nigeria Medical Association (NMA). Understand what their challenges are: What do they need to create jobs and bring development to Nigerians? As a minister, your role is not necessarily to be an operator, but to propose policies that will enable the private sector to increase productivity.

5. Remit. You need to understand what your remit is. What authority do you have and what are your powers? How much do you have to spend? What's your budget and can you get funding from extra sources? (You should engage with the Ministry of Budget and National Planning – now subsumed in the Ministry of Finance – strategically). You need to understand how your ministry fits with the bigger picture of Nigeria's advancement. By now you should have heard from your two bosses: The President and the Nigerian people.

6. Introspect and internalise your role. You need to do an honest assessment of yourself vis-a-vis the tools at your disposal, your internal capacity and limitations. What is the level of support you will expect to get from your boss? Indeed, what resources are available to you, and how important your ministry is in the scheme of things. Finally, what legacy would you work to achieve?

7. Agenda-setting. With all the information and feedback from the above, you now need to set your agenda. This needs to be shared with your core team, the ministry and the public. It would be useful to also share your agenda. Depending on how the National Planning operates now under the Ministry of Finance, you need to share your agenda with the people there for necessary support and for monitoring and evaluation.

8. Find a communications strategy and team to promote your agenda. Connect with the Nigerian people who you are serving. Let them be aware of your plans and what you are doing to achieve these plans.

9. Invite and engage the legislators that have oversight of your remit and ministry. Let them understand your agenda and vision, and solicit their support in reaching these goals for the benefit of the Nigerian people you both have pledged to serve.

10. Reconstitute the monitoring and evaluation team. The team must be constantly monitoring your plans and agenda. Meet with them on a quarterly basis to see how far or close you are to delivering your plan and hold yourself accountable. Let this team also engage the agencies and departments under you to ensure that they keep in tune with your plans and visions.

11. Surround yourself with young people and people who will tell you the truth. You will already have a number of "yes men" who think everything you say or do is correct. You need to connect with the next generation who constitute the largest population in Nigeria. The youngest of you is 43 years old and your cabinet has an average age of 60 years old. You will be making policies and creating a future for people you do not understand. I advise that you hire these constituents as advisers and aides and have regular no-hold-barred sessions with them.

12. Transparency. You need to walk the talk in this regard. If possible, do something radical in this area. Let every contract awarded by your ministry be on your website. Let the bidding process be open and available to everyone. Do a Facebook or Instagram live event to open the bids. Let there be a culture of utmost transparency in your ministry. Your goodwill will astronomically increase. Nigerian history is replete with many minsters who have fallen for contract scams and fraud. You don't want to join that list.

In Nigeria with a population of approximately 200 million people, 43 of you have been chosen to design policies and implement programmes that will determine the direction and the future of the country. I implore you to take this task seriously, soberly and with a great deal of reverence.

Stay humble, stay focused, stay connected to the people. You are meant to be the chief servant, serving with honour.

God bless you and help you.

God bless Nigeria.
Subscribe
Subscribe now to receive newsletter from Financial Nigeria.