Event Details
Global Sustainable Finance Conference 2017
Category : Sustainable Finance
Place : Karlsruhe, Germany
Date : 13 July - 14 July, 2017
Event URL : http://eosd.org/en/gsfc_fi.html
Status :
Registration in progress
Organiser
European Organisation for Sustainable Development
www.eosd.org
Summary
The European Organisation for Sustainable Development (EOSD), in cooperation with its local and international partners, will host the Global Sustainable Finance Conference (GSFC) 2017 on the 13th to 14th of July. The programme of the event includes the Karlsruhe Sustainable Finance Awards 2017.
The Conference and the Awards will bring together in Karlsruhe, Germany, senior leadership of financial institutions, multilateral organizations and other stakeholders.

Among others, the conference delegates will examine strategic issues facing financial institutions and discuss innovations in banking and finance for a sustainable economy. Moreover, the presence of committed practitioners and stakeholders from all over the world will provide a landmark opportunity to set future directions for creating a strong, fair and resilient financial industry.

More Information on GSFC 2017
The GSFC 2017 will promote knowledge and help build networks for creating shared value, financing and investing for a sustainable future.

The conference will address the following:

• The emergence of Fintechs and their impact on the financial services industry
• Financing innovations for sustainability
• Emerging trends in microfinance, financial inclusion and rural financing
• Latest developments in SME Finance
• Large project financing for achieving Sustainable Development Goals
• Investing for green and inclusive economy.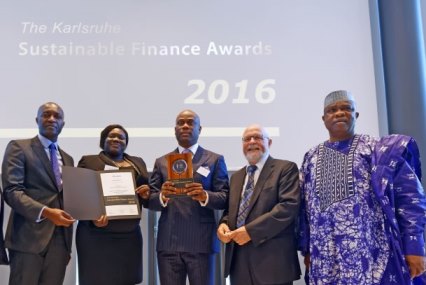 From Left: Roosevelt Ogbonna, Executive Director, Commercial Banking, Access Bank;
Omobolanle Victor-Laniyan, Head of Sustainability, Access Bank; Herbert Wigwe,
Group MD/CEO, Access Bank; Representative of the Lord Mayor of Karlsruhe,
Frank Mentrup; Chargé d´affaires of the Embassy of Nigeria in Berlin, Kenneth O. Okeh.
Access Bank Plc won the award for "Outstanding Business Sustainability
Achievement" in 2016.

Karlsruhe Sustainable Finance Awards

The Karlsruhe Sustainable Finance Awards 2017 will hold to recognise financial institutions and organisations that have made significant contributions in the field of sustainable finance. The Awards aim to, among other things, give recognition to financial institutions that have successfully embedded economic, social and environmental sustainability into their business.

The awards categories are:
Best Innovation in Sustainable Financial Products & Services;
Outstanding Sustainable Project Financing; and
Outstanding Business Sustainability Achievement.

African financial institutions interested in a role at the conference, and for nomination of sustainability initiatives for the Sustainable Finance Awards, please contact info@financialnigeria.com or mail@eosd.org.
Subscribe
Subscribe now to receive newsletter from Financial Nigeria.