Global sustainable debt market grows by 26 percent to $247 billion
Summary
While green bonds made up the largest part of the sustainable finance market in 2018, attention is now shifting to a broader range of sustainable bonds and loans.
New products in the sustainable finance market and increased appetite for sustainable debt by governments and corporations led to a surge in the issuance of sustainable debt products in 2018. This inference is part of a new study by BloombergNEF (BNEF), a research company and subsidiary of Bloomberg.

The study, released on Wednesday by BNEF, shows that the sustainable debt market – comprising labelled bonds and loans that finance projects, which reduce carbon emissions, provide social benefits or a mixture of both – rose by 26 percent to $247 billion last year. Many investors target these debt offerings in order to meet their own sustainability objectives or mandates. Beyond meeting their financial objectives, the global investment community is embracing the sustainability ethos of embedding environmental and social considerations in investment decisions.

"More investors in debt markets are demanding dual social and green benefits, and more investors are demanding customized sustainability options," said Dan Shurey, head of green and sustainable finance at BNEF. "The markets are responding, with new products emerging such as green loans, green commercial paper and sustainability-linked loans."

Sustainability-linked loans are term loans or credit facilities that come with a sustainability pricing mechanism. The pricing mechanism is typically tied to the sustainability score or performance of the borrower, which can go up or down.

According to BNEF, green bonds made up the largest part of the market last year. However, attention is now shifting to a broader range of sustainable bonds and loans. While growth in green bonds slowed to 5 percent in 2018 YoY compared to 68 percent in 2017, sustainability-linked loans surged by 677 percent.

Some of the new products emerging are green loans, green commercial paper and sustainability-linked loans. For example, in November 2018, French electricity utility EDF agreed to a 4 billion-euro facility with pricing indexed to the group's key sustainability performance indicators. If the company underperforms against its targets, then the margin of the debt facility will increase, and if it outperforms, the margin will decrease.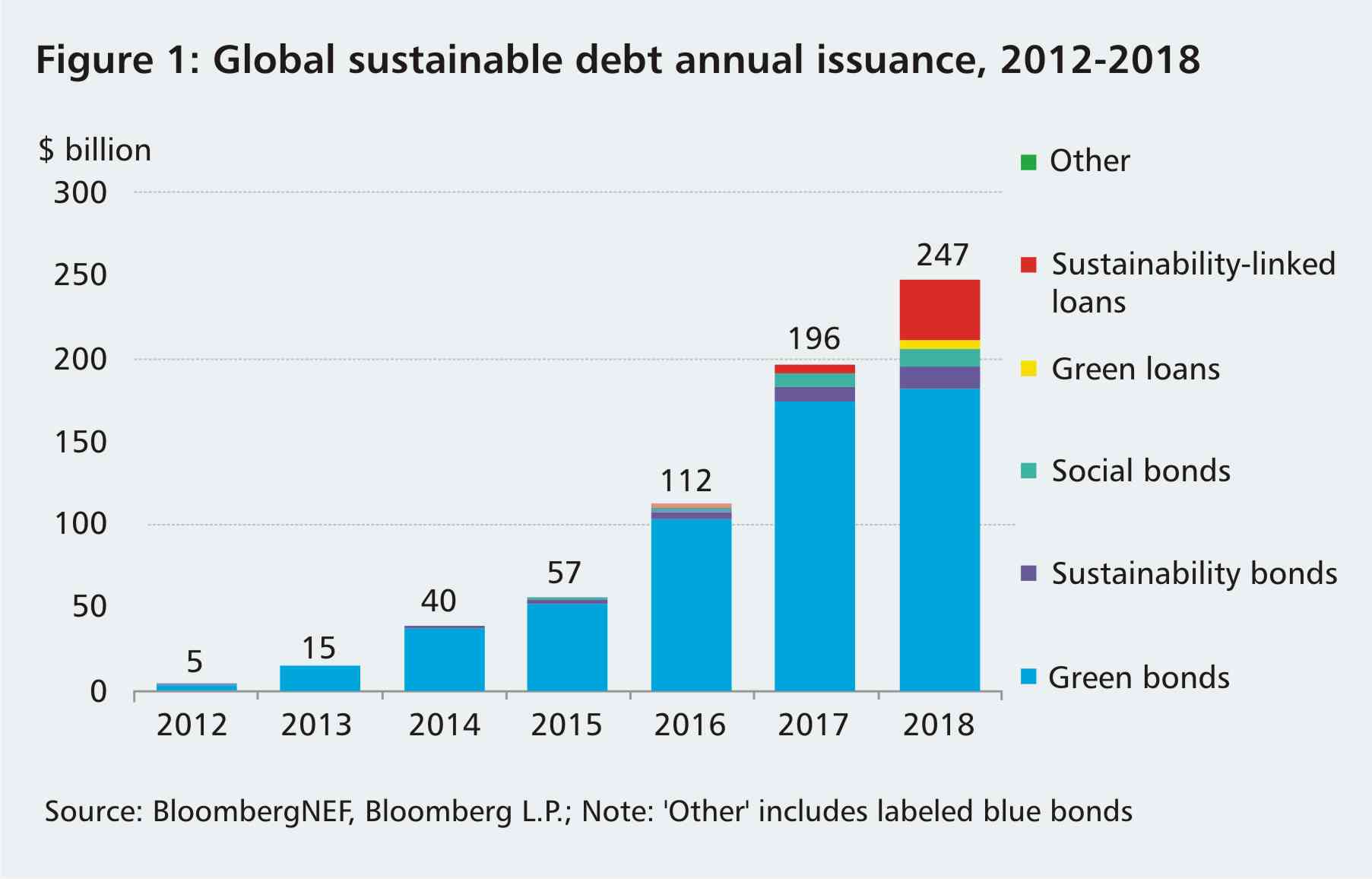 The two leaders in sustainable debt issuance in 2018 were the U.S. and China, said BNEF. $45.4 billion worth of sustainable debt products came to market in the U.S. last year, far surpassing China's $25.5 billion. Mortgage giant Fannie Mae accounted for the vast majority of the U.S. issuance, thanks to its ambitious green financing programmes.

In Nigeria, Access Bank joined FMDQ OTC Securities Exchange and the Securities Exchange Commission (SEC) of Nigeria, to launch the Nigerian Green Bond Market Development Programme in June 2018. The three-year programme was designed to foster investment in green bonds as an alternative to finance infrastructure and sustainable development

BNEF said corporations are not the only ones pioneering sustainable debt. Indeed, a growing number of governments are issuing their own debt instruments with sustainable labels, meaning the money raised will be earmarked to go into environmental or social projects.

"Green sovereign debt hit $17.6 billion in 2018 – a 64% increase from 2017, thanks to inaugural issuance from countries like Belgium and Ireland, as well as further taps on the French sovereign bond," said Aiman Mallah, sustainable finance research analyst at BNEF. "These governments are raising the debt to meet national and international environmental goals, particularly on climate change mitigation and adaptation."

In December 2017, Nigeria became the first African country to issue a sovereign green bond. The country also became the world's fourth sovereign issuer of green bonds. Poland was the first sovereign green-bond issuer, raising $750 million in 2016, followed by France, which raised $7 billion early last year. Fiji was the third sovereign issuer in October 2017. Indonesia also joined Belgium and Ireland in the ranks of green bond issuing countries in 2018.

Also known as climate bonds, green bonds are innovative debt instruments intended to encourage sustainability and to support climate-related or other types of environmental projects. Green bonds are designed to leverage resources from domestic and international capital markets to drive sustainable development.

Also last year, Kong Hong and Japan established various programmes to incentivize market growth, while the European Commission made progress in creating a green bond standard.
Related
Access Bank Group Managing Director and CEO, Herbert Wigwe, was bestowed the award of CEO of the Year (Financial Services).

It is not in the least surprising that Access Bank would emerge as the first African commercial bank to become a ...

In June, the ESM published its Social Bond Framework to enable it issue social bonds.