Oguche Agudah, Regional Director, Nigeria, OurCrowd
Follow Oguche Agudah

@ogucheagudah
Subjects of Interest


Development Finance
Finance and Investment
Fiscal Policy
International Trade
Can football academies supplement revenues of state governments?
16 Jul 2019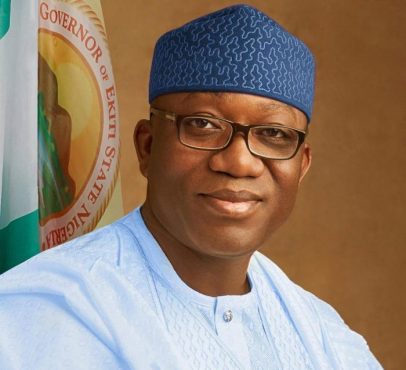 Governor of Ekiti State and Chairman, Nigeria Governors Forum, Kayode Fayemi

The perilous fiscal situation of Nigerian states is no longer news. The fiscal sustainability of many of them continues to be in serious doubt year after year. States do not generate enough revenue. They consequently resort to huge borrowings to meet their expenses. Without the monthly Federation Account Allocation Committee (FAAC) revenue, all the states – bar Lagos – will be unable to meet their financial obligations.

Many of the states tout strategies to increase their internally generated revenue (IGR). But there is hardly a cogent blueprint for the states' revenue mobilisation drives. Whether you are a business or a government, you have to be willing to make some upfront investment or partner with another party to make some initial investment to be able to generate additional revenue. In essence, there is a need to demonstrate capacity if you want to generate revenue.

Clearly, there is a dearth of ideas to help states generate revenue. What is required under the current fiscal situation of the states is for them to focus on creative and unconventional ways to increase IGR. Instead of the current rent-seeking arrangement, the states should harness the country's human resources, which we have in abundance. Rather than focusing only on how they can expand the tax base or increase tax rates, the states should invest in the people and reap profits from their investments.

States that are creative can invest in sports, particularly football. As a matter of fact, Nigerians are united when it comes to football. Globally, soccer is also a huge industry, whose supply chains Nigerian state governments can plug into with minimal investments.

We need to begin to turn our large youth population into an asset class. This is a long-term plan, which will entail investing in the youth in the area of sports. Under a public private partnership (PPP) arrangement, state governments can collaborate with world-class football and sport clubs to situate sport academies in their states. A similar project is the Kwara Football Academy (KFA), which was introduced in 2005 by former Governor of Kwara State, Bukola Saraki.

Let's take a look at the 2019 budget of Yobe State. The projected total revenue of the state for this year is N91.6 billion. In comparison, the sale of three leading young Dutch footballers this summer is estimated to reach 200 million euros (N82 billion). These three young players, Matthijs de Ligt, Donny van de Beek and Frenkie de Jong, are aged 19, 22 and 22, respectively. They all joined youth football academies before they were 12-years-old. The least amount of money their clubs would be willing to sell each of them would be 50 million euros (approximately N21 billion).

The model is simple. These young boys join football academies at a young age and they go through rigorous training, learning the rudiments of football while also getting a formal education. Amsterdamsche Football Club Ajax, the leading football club in the Netherlands, has taken this concept to a new level with its famed academy, called De Toekomst, meaning The Future. Here, the students get a customised education. They learn public speaking, media management, sports marketing and other courses. The aim is for the students to go on and pursue other careers in the event they don't succeed as footballers. However, AFC Ajax's The Future has an 80% success rate in churning out professional footballers.

I believe this is truly the school for the future and Nigerian states should adopt this model. It's a win-win. Young kids will be enthused about going to school to be properly trained in a sport while they are also learning courses that are relevant for the workplace.

To proliferate these academies across the country, it can be a social development agenda of the Nigeria Governors' Forum (NGF). But this would be an agenda with a difference because of its potential multifarious impacts. One of the benefits would be that students would get high quality and state-sponsored education. Graduates from these academies would not only be scouted out by professional clubs in Europe and elsewhere. They would also join clubs in the Nigerian Professional Football League (NPFL). In other words, the academies would also help in developing the domestic football market from which state governments can earn additional revenue from the development and use of football facilities. The state governments would also be entitled to earning a percentage of the sign-on fees of players who graduated from their academies.

The state governments will, however, need to make the initial investments in facilities, and coaches. They also need to negotiate the right partnerships with major clubs – both domestic and foreign. The interesting thing is that the foreign clubs are very much interested in this partnership model. As a matter of fact, AFC Ajax is looking to replicate this model across the globe. They partnered with a Chinese club in 2017 to develop what was touted as "the best youth academy in China."

The state governments will also need to constructively engage former international footballers on these projects for maximum effect. A number of them played for these foreign clubs – in fact Nigeria has as much as six nationals who have played for AFC Ajax, including most famously Kanu Nwankwo and Sunday Oliseh. Their expertise and experience are available to be tapped. These ex internationals will help the states plug into the global ecosystem of the football economy.

The academies will need to be run to the highest standards. They should be devoid of political interference. The focus should be strictly developing young talents, educating them, investing in their future and earning long-term revenue for the states.

A 2017 report by KPMG shows the entire global sports market – including infrastructure, events, training and sports goods – is estimated to be worth between $600-700 billion per year. This is almost double the Gross Domestic Product (GDP) of Nigeria in 2018. State governments in the country need to leverage this market as a creative alternative to shore up their revenues. Apart from football academies, there are also huge potentials in other sports such as boxing, tennis, swimming, amongst others. State governments can also invest in academies for such sports.

Under the PPP scheme being advocated, there is some assurance education budgets will be judiciously spent and the education sector will attract additional funding. Like it is in the Netherlands, the students who graduate from these academies and are not signed on by football clubs would still have acquired other skills to be gainfully employed in other fields. This would go a long way in reducing youth unemployment caused by skills mismatch. Moreover, this scheme would provide a template for other PPPs states can leverage to drive future socio-economic development and achieve fiscal sustainability.

One of my mantras is, "desperate times call for creative and alternative measures." It's desperate times for Nigerian states. Therefore, they require creative and alternative means of augmenting revenue. The solution might just lie in investing to monetise our passion.
Subscribe
Subscribe now to receive newsletter from Financial Nigeria.