Charles Omole, CEO, Prodel Global Services
Follow Charles Omole

@DrCOmole
Subjects of Interest


Commercial Policy
Economic Governance
Fiscal Policy
Law & Economy
Monetary Policy
Political Financial Management
Buhari should avoid a legacy of debt trap
13 Jan 2020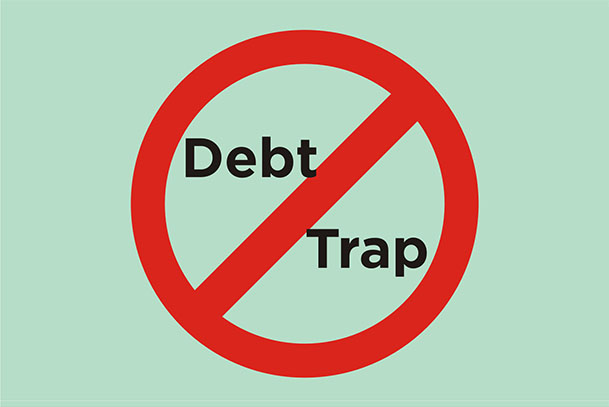 According to the Debt Management Office (DMO), Nigeria's debt profile rose by 5.6 per cent from $79.4 billion in December 2018 to $83.9 billion as at June 2019. These figures represent an increase of N1.3 trillion to the total public debt of the country within the review period. In fact, as at the middle of last year, Nigeria's debt stock had increased by N13.6 trillion (112.1 per cent) from N12.1 trillion in June 2015.

The latest available figures from the DMO are as follows: The foreign debt stock of the Federal Government, States and Federal Capital Territory (FCT) was $27.2 billion (32.38 per cent of the total) as of June 2019. Domestic debt stock of the Federal Government, States and FCT stood at $56.7 billion (67.6 per cent of the total).

In a letter dated November 26th, 2019, President Muhammadu Buhari requested the full approval of the Nation Assembly for the 2016-2018 External Borrowing Plan, which the 8th National Assembly had partially approved. In his letter, Buhari stated as follows:

"Pursuant to Section 21 and 27 of the Debt Management Office (Establishment) Act, I hereby request for Resolutions of the Senate to approve the Federal Government's 2016-2018 External Borrowing plan, as well as relevant projects under this plan. Specifically, the Senate is invited to note that: While I had transmitted the 2016-2018 External Borrowing Plan to the 8th National Assembly in September, 2016, this plan was not approved in its entirety by the Legislature.

Only the Federal Government's Emergency projects for the North East, (Four (4) States' projects and one (1) China Exim Bank Assisted Railway Modernisation Projects for Lagos – Ibadan Segment) were approved, out of a total of thirty-nine (39) projects.

The outstanding projects in the plan that were not approved by the Legislature are, nevertheless, critical to the delivery of the Government's policies and programmes relating to power, mining, roads, agriculture, health, water and educational sectors."

There is near certainty that the current compliant legislative arm of government will approve the full loan, which includes the $22.72 billion in foreign borrowings the President is requesting for the remaining 34 projects.

Nigeria's Debt-to-GDP ratio is around 20 per cent, which is still below the 25 per cent debt limit imposed by the government. While this may sound reasonable, I actually think a better metric for Nigeria's debt sustainability is the country's ability to repay these debts. In other words, the percentage of the government's revenue, which is being spent on debt repayments.

In its latest Nigeria Economic Update, the World Bank stated the key challenge of Nigeria's debt sustainability as low revenues. The government was able to achieve only 55 per cent of its revenue target in the 2018 budget. As at June 2019, the government said its revenue performance was only 58 per cent of the 2019 budget's target.

The World Bank advised that debt-service-to-revenue ratio should not exceed 22.5 per cent. Nigeria's debt-service-to-revenue ratio is at over 61%. The multilateral financial institution said, "The interest payments on public debt are high and rising, due to growing debt stock and because of high interest rates in the domestic debt market and the high proportion of domestic debt."

Government spokespeople have argued that we are in a good place despite these debts because other countries are in a worse situation. For example, the debt-to-GDP ratio of South Africa was estimated at 56.2 per cent in 2019, and 62 per cent in Ghana in the same period.

What they forget to say is that South Africa and Ghana spend less than 50 percent of their governments' revenue servicing their debts, compared to Nigeria's over 60 per cent debt-service-to-revenue ratio.

Part of the reason the government has been running a deficit budget year after year for the past few years is because of the huge chunk of its revenue that goes into servicing debts.

Lesson from the States

The Federal Government should learn from what has happened to many of the States in Nigeria. The past governors borrowed like there was no tomorrow. Most of the projects they borrowed money to invest in did not generate any revenue to repay the loans. Others are at various degrees of incompleteness. But at the time of borrowing; the amounts for debt repayment averaged about 30-40 per cent of their federal allocations. However, when oil prices slumped, the allocations to states drastically reduced.

At some point, debt servicing was consuming 90 per cent of the federal allocations to some states. This led to the fiscal crisis in many states whereby they started to default on payment of salaries. They had too much debt at a time of drastically reduced revenue. And since practically all states rely on federal allocations (due to their low Internally Generated Revenue), any reduction in the allocations spells disaster for them.

So, a debt that seems affordable today can create economic disaster tomorrow when revenues take a hit and the economy slumps. It is this foreseeable risk that the federal government seems to be ignoring in its quest to ramp up the public debt stock.

How will the nation cope if there is a sudden sharp drop in oil prices? (Oil revenue still makes up over 80 per cent of the government's foreign exchange revenue.) What are the gestation periods of the projects intended to be funded by this new loan? Are these projects structured to produce cashable or non-cashable economic benefits?

An uncertain future

If Nigeria were to experience another recession in 2020 or if there is a global slowdown from which Nigeria is not insulated, the country can easily arrive at a place where 80 per cent of the government's revenue would be consumed by debt repayment. For a country that was practically debt-free fifteen years ago, this would be a real disappointment.

This leads me to a pertinent question: Why does this government feel it needs to borrow so much within a short period? Most of these projects would probably not be completed during this second term of the current government. Given our history with abandoned projects as a nation, what are the guarantees that the next government (especially if another political party takes over) will continue with those projects?

Awarding contracts is a major hub of corruption in Nigeria. Therefore, to avoid borrowing money for white elephant projects through which corrupt government officials would siphon huge sums of money, the government should embark on a few projects it can bring to completion within its current term. These would include completing existing projects that were initiated with previously borrowed funds. When these projects come onstream and they start generating revenue for the government, that is when new loans should be considered, if necessary. Nigeria needs massive infrastructural development, but Rome was not built in a day. We need to build at a rate we can afford, which includes the borrowing we can afford.

Moreover, the government has not done enough in reducing its overhead and delivering a more efficient government. What happens in 2020 could determine the legacy of this administration. The government needs to choose wisely what that legacy should be. For everyone's sake, the legacy of the Buhari administration should not be a debt trap.
Subscribe
Subscribe now to receive newsletter from Financial Nigeria.