Access Bank empowers Nigerian households with clean cookstoves during Covid-19 lockdown
Summary
The use of inefficient and polluting fuels such as wood, charcoal and kerosene for cooking is responsible for the deaths of over 64,000 people in Nigeria every year.
A van loaded with clean cookstoves and bio-fuel for distribution under the Access Bank Family Clean Cooking Support Programme
About seventy-five per cent of Nigeria's population relies on solid fuel for their household cooking and heating needs. This is according to the Washington DC-based Clean Cooking Alliance. In fact, Nigeria accounts for the highest number of household air pollution deaths in Africa. The use of inefficient and polluting fuels such as wood, charcoal and kerosene for cooking is responsible for the deaths of over 64,000 people in Nigeria every year.

Most of those who die prematurely from illnesses caused by solid fuels and kerosene, according to Clean Cooking Alliance, are women and young children. Some of the illnesses attributable to household air pollution include acute lower respiratory infections, including pneumonia. Besides the direct human toll, the use of biomass fuels for cooking also leads to the depletion of natural resources and environmental degradation. According to the United Nations Intergovernmental Panel on Climate Change (IPCC), land degradation produces almost a quarter of the world's greenhouse gas (GHG) emissions, which causes climate change.

Within the framework of its sustainability commitments, Access Bank Plc is involved in several initiatives and partnerships as part of its response to the existential threat of climate change. One of such partnerships is with SMEFUNDS, an international social enterprise. In 2018, Access Bank partnered with SMEFUNDS to develop the Green Social Entrepreneurship Programme. The partnership aims to promote the use of cleaner and modern cookstoves and fuels to help reduce people's exposure to the harmful effects of using inefficient fuels.

Apart from fostering a healthy environment and saving lives, the programme has empowered over 200 entrepreneurs in the country. The entrepreneurs provide households with clean cookstoves, which converts waste-based biomass into biofuel.

Access Bank – Africa's largest bank by customer base – has continued to demonstrate its commitment to investing in efficient and innovative technologies, both in its operations and in the communities where it operates, to minimise and offset its environmental footprint and support causes that promote low carbon emission in communities across Nigeria.

The bank recently expanded its response to climate change with the launch of the Access Bank Family Clean Cooking Support Programme amid the COVID-19 lockdown. The programme aims to empower select households across communities by providing them with clean cookstoves and biofuels. The initiative is also part of the bank's direct relief response for some households during the coronavirus disease outbreak, which has negatively impacted the economy and livelihoods of many Nigerians.

For many people whose livelihoods have been disrupted because of the mandated social distancing regulations by the government, resulting in lost incomes, they are faced with the challenge of feeding their families. Coupled with that is the high cost of buying cooking fuels like kerosene to cook. For those who cannot afford that, their last resort is solid fuels such as wood and charcoal.

Speaking on the initiative, the Head of Sustainability at Access Bank, Omobolanle Victor-Laniyan, said the bank will continue to deliver on its commitment towards achieving the Sustainable Development Goals (SDGs) by promoting broader energy access for communities and increasing their use of renewable energy. In doing so, the bank is safeguarding the health and wellness of the people, and also ensuring climate change mitigation through the reduction of GHGs.

Through the Access Bank Family Clean Cooking Support Programme, the bank says it has distributed more than 5,000 litres of biofuels to over 2,500 families and reached over 900 small business owners as at the end of last month. The programme has also helped the recipient households in daily savings of N1,300 per family. Based on the volume of biofuels distributed free-of-charge, in partnership with SMEFUNDS, the programme has contributed in eliminating estimated 8,000 tonnes of carbon emissions.

Other COVID-19 responses by Access Bank include the launch of the Private Sector Coalition Against COVID-19 (CACOVID) in March in partnership with Aliko Dangote Foundation (ADF) and other participants. The coalition is involved in building medical facilities for testing and treating COVID-19 cases, as well as providing food relief. In April, Access Bank partnered with 9ijakids, a Nigerian education technology (EduTech) company, to deliver online financial literacy through educational gamification to school children who have remained at home since March as part of government's measures to control the spread of the novel coronavirus.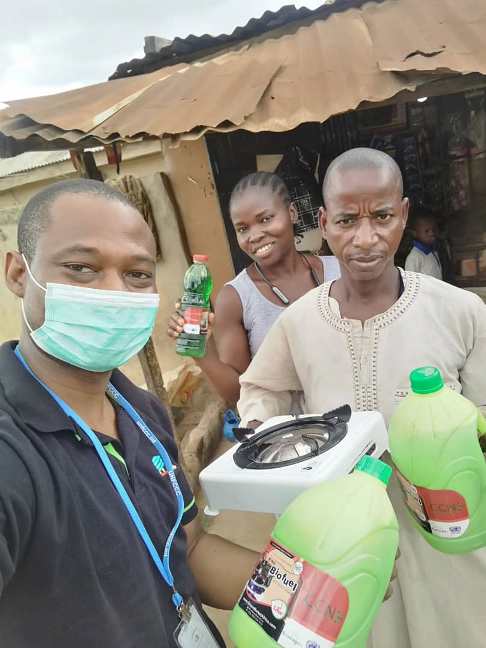 A scene last month of the distribution of clean cookstove and bio-fuel under the
Access Bank Family Clean Cooking Support Programme
Related
EAIF business model targets several development outcomes including green and sustainable economic growth.

The bank was declared the overall best company in Corporate Social Responsibility (CSR) and Sustainability in Nigeria for ...

The AME is Orange's main growth region, which grew its 2020 revenues by over 5 per cent to €5.8 billion.