Daniel Iyanda, Staff Writer, Financial Nigeria
Follow Daniel Iyanda

@DanielIyanda
Subjects of Interest


Communications
Entreprenuership
ICT
SMEs
How agritech startups are helping smallholder farmers
17 Jul 2019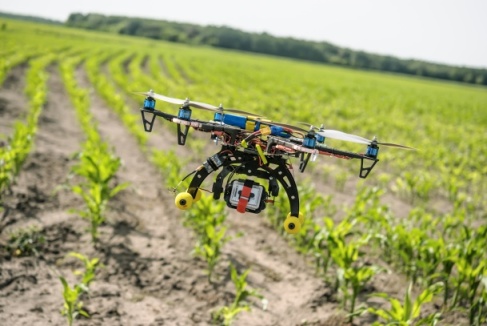 Drone developed for agriculture

Nigeria needs to significantly increase agricultural output to meet the food demand of its rapidly-growing population and reduce extreme poverty. However, the country's agriculture sector is hobbled by a wide range of challenges. The Federal Ministry of Agriculture and Rural Development (FMARD) puts the estimate of post-harvest losses at 60 per cent. The major reasons farmers lose huge amounts of farm produce range from poor farm management practices to lack of infrastructure, including bad roads, lack storage facilities and power supply challenges.

With a ratio of three tractors per 1,000 hectares of arable land, Nigeria remains among countries with the lowest mechanisation rates. The country's agricultural system is largely rain-fed and access to credit, fertilisers, herbicides and pesticides is limited. For this reason, smallholder farmers are in the bottom percentile of Nigeria's social groups, based on income levels, per a 2016 World Bank report.

According to the International Assessment of Agricultural Knowledge, Science and Technology for Development (IAASTD), smallholder farmers account for 70 per cent of the food supply in Sub-Saharan Africa. Another report by the Food and Agricultural Organisation of the United Nations (FAO) shows 80 per cent of the world's food is produced by smallholders, who are predominantly in rural areas. Despite having a favourable climate and over 34 million hectares of arable land, millions of Nigerians are at risk of acute hunger. In its recent Crop Prospects and Food Situation report, the FAO also listed Nigeria as one of the 29 African countries that need external food assistance. According to the report, more than 10 million Nigerians are facing acute food insecurity.

Farmers barely survive on the profit they make from their farm produce. In addition to insecurity and rural-urban drift, the deplorable standard of living of smallholder farmers do not provide any incentive for many young people to venture into agriculture.

The federal government is making a strong push to boost the productivity of the sector, which consists of four separate activities, namely crop production, livestock, forestry and fishing, according to the National Bureau of Statistics (NBS). The government's Economic Recovery and Growth Plan (ERGP) seeks boost the Gross Domestic Product (GDP) growth of the agriculture sector to more than 8 per cent by 2020. Improving the output of this sector is crucial. In real terms, annual growth rate of the sector has declined from over 6 per cent in 2012 to 2.12 per cent in 2018. This is notwithstanding the sector's GDP contribution, which increased by 1.22 percentage points over the same period.

An area that needs to be spotlighted because of its potential to substantially transform the agricultural value chain and boost the incomes of smallholders is technology. The application of various technological innovations has improved efficiency and increased output in different sectors such as communication, commerce, transportation, medicine, etc. Thanks to technology, the developed world has its increased agricultural output and achieved food sufficiency, despite a decrease in arable land as a result of industrialisation and urbanisation.

But the question remains whether Nigeria, in spite of being a laggard in technological advancement, can leverage agriculture technology (agritech) to "leapfrog". Agritech is the use of technology, which can be in the form of services, applications and tools, in farming to improve efficiency and profitability. New innovations, such as autonomous tractors, drones, sensors and blockchain technology are now being used in developed countries. This has led to the rise of precision agriculture, which is simply the use of information technology to optimise the farming process.

Precision farming is being promoted by agritech startups the world over. But in Nigeria, many of the startups in this sector are promoting crowdfarming. This is due to the tunnel vision that lack of credit is the biggest challenge of farmers in the country. Akin to crowdfunding, crowdfarming pulls together small amounts of money from a large group of people to invest in agricultural ventures.

Farmcrowdy, which was established in 2016, brands itself as the first digital agricultural crowdfunding platform in Nigeria. Since its launch, Farmcrowdy has empowered over 12,000 small-scale farmers. Other agritechs that support crowdfarming include PorkMoney, Thrive Agric, Farmkart, eFarms, EZ Farms, SmartFarm and Babban Gona.

Some agritechs have partnered with Piggyvest (formerly Piggybank) – a fintech startup – to enable more people to support farmers, while increasing local production and food security. Through this partnership, an individual can invest in agriculture with as little as N5,000 and get returns as high as 24 per cent on their investment in 12 months. Depending on the agricultural venture, farm cycle and the crowdfunding platform, the returns on investment do vary, with the lowest being 6 per cent. These ventures are insured so that investors don't lose their money in the event of natural disaster or any unforeseen incident.

In addition to providing access to finance, these agritechs also provide farm inputs such as quality seeds, fertilisers, insecticides and pesticides, as well as other extension services to the farmers. They train the farmers on best practices and monitor their progress from the beginning of a farm cycle through harvesting period. After harvesting, the agritechs market the produce to local and international buyers, and share the profit among the stakeholders. The investors can either cash-out or reinvest on the platforms.

Through over 52,000 farm sponsorships, Farmcrowdy has cultivated more than 16,000 acres of land and reared 2.5 million chickens. Crowdfarming startups do not only provide the necessary capital to farmers; they also serve as veritable avenues for social impact investment.

There are other agritechs, such as Verdant AgriTech and BeatDrone, that are not crowdfunding platforms. They address other peculiar challenges in the agricultural value chain. For instance, Verdant AgriTech is a platform where farmers can get information about the market and connect with other stakeholders in the agricultural value chain such as financial service and extension service providers. The company also provides cooperatives, government agencies and financial institutions with unique data solutions that will increase the efficiency of their agricultural programmes.

Indeed, data is crucial to modern agriculture, especially precision farming. Nasir Yammama, Founder of Verdant, in an interview last year, said the goal of the platform is to ensure data is available across the agricultural value chain so that farmers, policymakers and agribusiness owners can make informed decisions. For instance, the Central Bank of Nigeria (CBN) can leverage Verdant's data solutions to ensure the credit facilities disbursed through its Agriculture Credit Guarantee Scheme Fund (ACGSF) and the Anchor Borrowers' Programme are judiciously used.

Most of the agritechs in Nigeria broadly provide four services to farmers: access to finance, agricultural input, training and development, and marketing. The few that cover the whole gamut of production, processing and packaging of farm produce are not as popular as the crowdfunding platforms. Simply Green, for instance, grows fruits and vegetables, and also processes them into fresh juices. Also, Fresh Direct Nigeria uses hydroponics, a type of hydroculture – which entails growing plants without soil, to produce fruits and vegetables and process them into finished products.

Indeed, agritech startups have streamlined the agricultural value chain as they continue to tackle a number of the challenges confronting farmers in the country. However, they need to do more vis-à-vis irrigation, weed control, improved seeds and seedlings, processing, storage, and market linkage. It's also high time policymakers recognised their potential economic impacts and provide them the necessary support to scale up.
Subscribe
Subscribe now to receive newsletter from Financial Nigeria.