Latest News
E-commerce is the new retail reality in Nigeria – Nielsen Global survey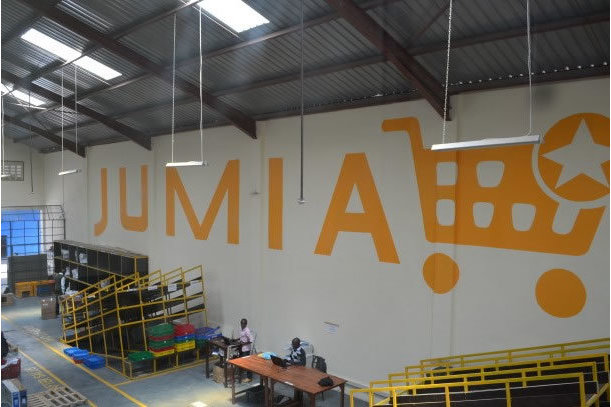 News Highlight
- One of the biggest barriers to online shopping in Nigeria is the inability of customers to inspect goods.

- E-commerce retailers have the opportunity to leapfrog the challenges of the physical store environment, enabled by the growth in s
A Jumia warehouse
Despite the challenges of limited Internet connectivity in Nigeria, a new Nielsen Global Connected Commerce Survey has shown that the number of Nigerians who use mobile devices to make online retail purchases is significantly higher than the average global purchasing rates across several retail categories.

According to the latest report which was released today, e-commerce experience is the new retail reality in Nigeria, especially with the increasing uptake of digital devices.

Nielsen, a global performance management company that provides a comprehensive insight into what consumers Watch and Buy, said it polled more than 13 000 consumers in 26 countries including Nigeria, for the 2016 Nielsen Global Connected Commerce Survey.

"The shift towards mobile purchasing reflects a larger trend that is occurring in retail: proximity shopping," Harsh Sarda, MD of Nielsen Africa Retailer Services and E-Commerce, said. "As more consumers adopt an 'on-demand lifestyle' and turn to mobile devices to shop, the most successful retailers will be those that optimise and differentiate their mobile experience to enhance the in-store experience of shoppers, using 'personalisation' to adapt to the specific realities of each market."

According to the survey of retail categories, 60 percent of Nigerians who have made purchases online said they bought fashion items (e.g. clothing, bags, jewellery). Also 60 percent said they bought IT and mobile items (e.g. cell phones, computer, tablets, IT accessories etc.). 69 percent and 48 percent bought beauty and personal care products, respectively, while 52 percent used online platforms for restaurant deliveries.

39 percent of respondents said they shopped online for travel (e.g. hotels, flights, car rental, travel deals) and 38 percent purchased books/music/stationary.

In terms of modes of payment, 76 percent said they paid cash on delivery, while 59 percent said they used debit cards for payment of goods and services purchased online. Nielsen said cash on delivery is normally popular where credit card penetration and trust are low. 63 percent of Nigerians said they do not trust giving credit card details online. Meanwhile, about 19 percent of respondents said they do not have credit/debit cards.

"For e-commerce to really take off, it has to migrate towards cashless delivery," said Sarda. "To build trust in online and mobile transactions, retailers need to educate consumers about the means they're taking to protect their personal information, and they must find ways to deliver a better experience than what consumers get from cash."

The report said product availability is a strong motivator for online shopping in many developing countries. 59 percent of Nigerian respondents said they shop online for products they cannot find in physical stores and 63 percent said they shop online to access stores that are not available in their area or local stores.

More than half of Nigerian respondents (61 percent) who shopped online in the past six months say they purchased items from an out-of-country or foreign retailer.

One of the biggest barriers to online shopping in Nigeria is the inability of customers to inspect goods. 78 percent of Nigerians who were surveyed stated this factor as a deterrent.

Sarda said that while branded, modern-trade retail penetration is still low in Nigeria, e-commerce retailers have the opportunity to leapfrog the challenges of the physical store environment, enabled by the growth in smartphone penetration.
Related News
Zoto is touted as a revolutionary mobile recharge solution inasmuch as it removes the need for using scratch cards and the ...

Nigeria was ranked 59th in the world for affordability of electronic devices.

Naspers said revenue rose by 16 per cent year-on-year to $6.8 billion driven by its businesses outside South Africa, which ...